Tryon 2018: Japan and Dutch reasons to dance
Freestyle competition concludes historic finish at Worlds
23 Sep 2018
Imagen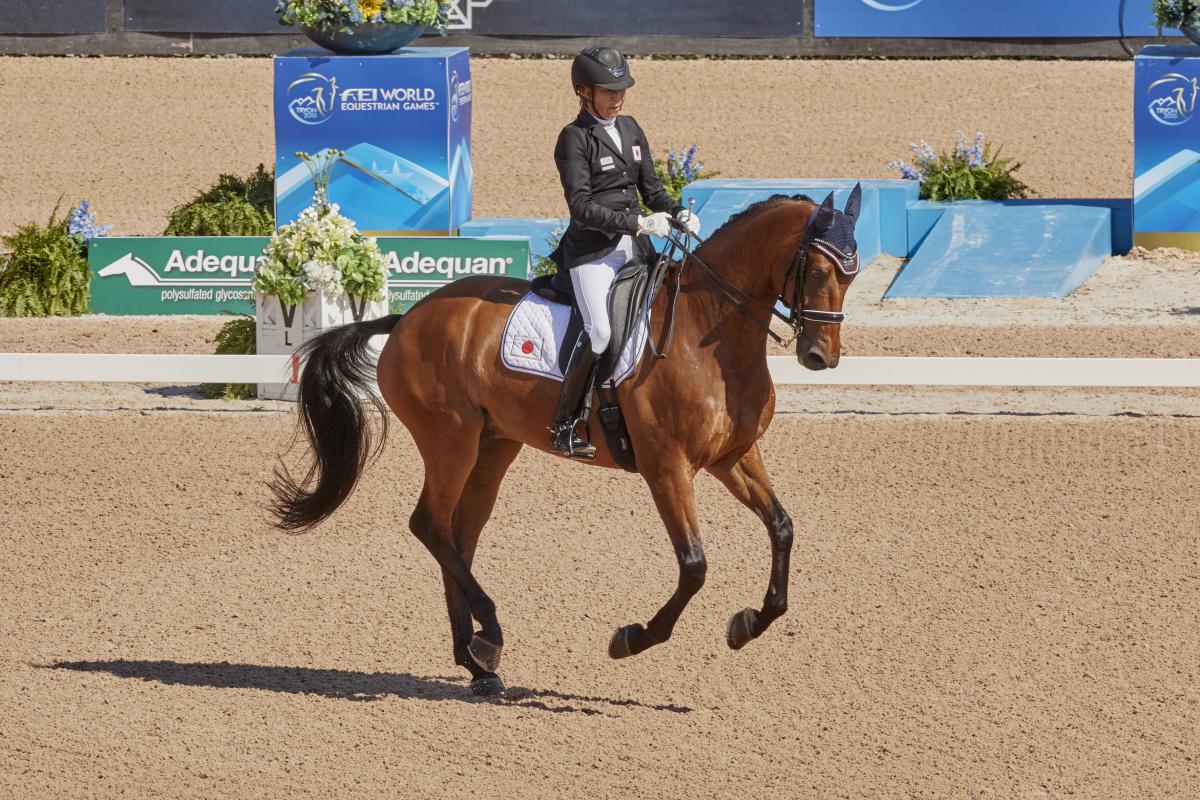 ⒸLiz Gregg/FEI
By Rob Howell for the IPC
The last day was a day of firsts at the 2018 World Equestrian Games (WEG) that saw Japan and the Netherlands' Sanne Voets make history on Saturday (22 September) in Tryon, USA.
Riders and horses danced to freestyle to wrap up the WEG, and Japan secured their first Para dressage medal, giving even more reason to dance ahead of their home Paralympics in Tokyo. Competing in the grade V competition, Japan's Tomoko Nakamura and Djazz F took a surprise bronze medal.
"I was so nervous and it went so quickly and I feel so honoured to be in such a big competition," Nakamura said. "I am so thankful to my horse as well."
An impervious score of 80.150 per cent was more than enough for Great Britain's Sophie Wells to pick up her second gold in Tryon in the grade's freestyle. Riding C Fatal Attraction, Wells finished ahead of the Netherlands' Frank Hosmar.
"He was a little bit tense today and on edge but he's come out this week and given me everything," Wells said. "I was a little bit stressed last night as I thought it may be too difficult and we have only done it once before, but he's come out today and made me very proud."
Victory again for Voets
Voets also had reason to dance, as she became the first non-British to win three golds in one major international championships. Riding Demantur N.O.P. and dancing to her Rio 2016 winning music by Dutch dance music producer Armin van Buren, Voets scored 79.645 per cent to win the grade IV freestyle ahead of of Brazil's Rodolpho Riskalla on Don Henrico. The USA's Kate Shoemaker took bronze on Solitaer.
"This horse two years ago won the first ever Paralympic gold medal for the Netherlands, and he contributed very much to our first ever team gold medal on Friday, and now he is the first one taking home triple gold for the Netherlands in the World Games," Voets said.
'This is even more than a gold'
A stunning display of control and grace by Italy's Sara Morganti took the freestyle gold in the grade I competition – her second of the Games. Riding Royal Delight, her horse for the past eight years, Morganiti scored 78.867 ahead of Latvia's Rihards Snikus, who picked up his first global medal.
"It's incredible and so big an emotion I can't even describe it," Morganti said. "We won three out of three [the pair had the highest score in their grade's team test as well] and I was hoping for a medal, but I didn't dare hope for two gold medals. It's a dream come true and so very fantastic."
"I needed to come out here with my horse and show how good she is," Morganti added after a disappointing Rio 2016 Paralympics. "We worked so hard at home to do our best and she's improved since I've been riding her. This is even more than a gold."
The USA's Roxanne Trunnel, riding Dolton took bronze to the home crowd's delight.
Stinna does it again
A huge squeal of delight from Denmark's Stinna Tange Kaastrup greeted her score in the grade II contest. Riding Horsebo Smarties she posted 78.947 per cent to take the gold ahead of Austria's Pepo Puch and the Netherlands' Nicole den Dulk - a replay of the grade's individual and freestyle.
"It's been out of this world and incredible and much more than we ever hoped for," Kaastrup said. "All the years of hard work make this all meaningful. I'm really happy about the last three years."
Rixt rounds off day
There was drama in the grade III. The Netherlands' Rixt van der Horst joined teammate Voets as a triple gold winner of these Games, scoring 77.437 per cent on Findsley. Continuing the USA's incredible Games, Rebecca Hart added silver to her bronze from the individual on El Corona Texel, further cementing her country's incredible performance in these Games. Germany's Angelika Trabert took the bronze.
"It really is something else," van der Horst said. "It has been such an amazing year for the Netherlands. I have no words for it, both in terms of me and what the team did."
But drama came to the event when Great Britain's Paralympic champion Natasha Baker was thrown from her horse, Mount St John Diva Dannebrog during her ride, eliminating her from the competition.
"My ego was bruised and so was my backside," she joked afterwards, "but at least I landed on the centre line."
So at the end of a brilliant week of competition the Netherlands sit comfortably atop the overall medal table, with five golds, two silvers and two bronzes, followed by Great Britain with two golds, and one silver. Denmark were third with two golds and a bronze.