Inspiring story of Paralympian Jaana Kivimaki turns into film
Movie highlight's Kivimaki's emotional process from being distraught, dispirited and frustrated, to powerful, reinvented and unstoppable
02 Apr 2020
Imagen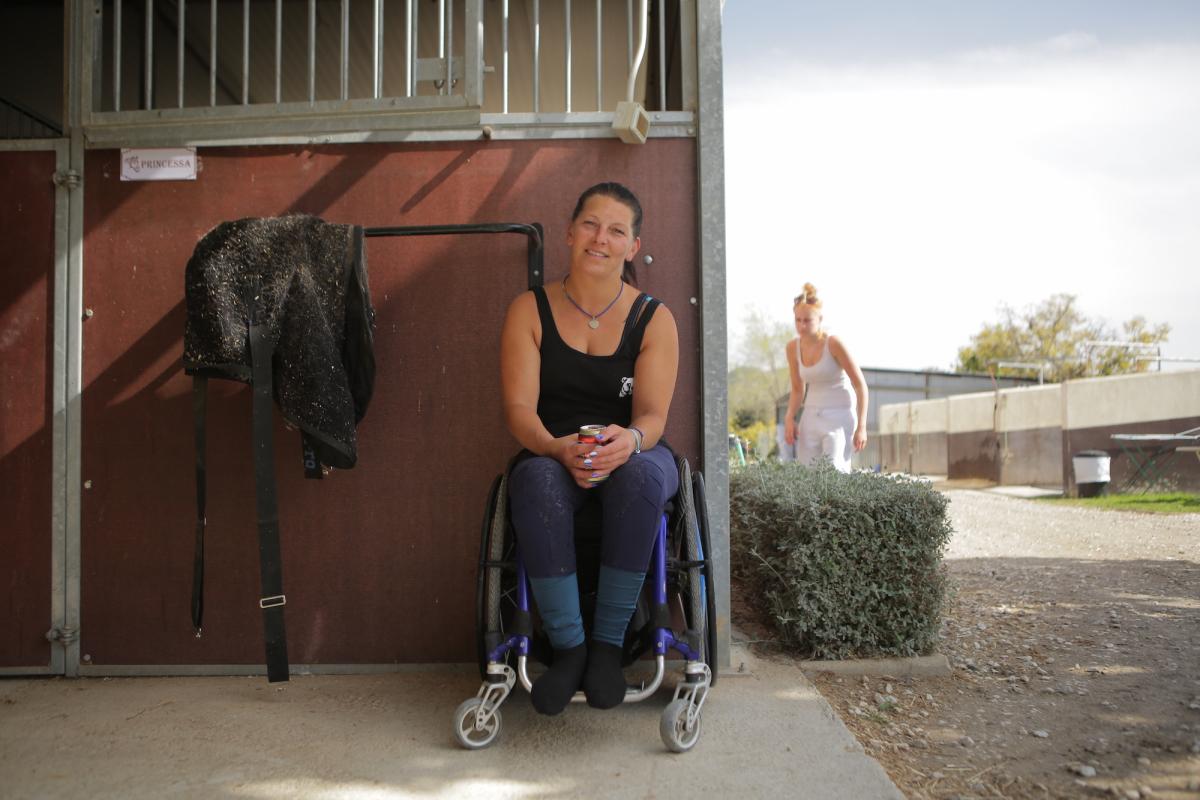 ⒸFEI
By Rob Howell | For FEI
Finland's Jaana Kivimäki is the subject of a new film Aika Jonka Sain (translated The Time I Was Given) released in March, based on her life story and transition from show jumping to Para dressage. 
It covers a woman navigating a difficult relationship, being a mother of two, and ultimately, the accident that costs her the ability to walk or ride in the same way ever again.
While the film is fictionalised, it is strongly based on Kivimaki's life. The producers, Tuukka and Olga Temone, approached her with the idea of telling her story on screen – to which she agreed. Temone, who also plays the Kivimaki character in the film, is a keen rider herself and trained at the same stables as her. "I read articles about her and was thinking about making a movie. I wanted to make a film with horses and thought it would be good to do a story about a Para dressage rider. We thought of Jaana so I contacted her and she told me her story."
Kivimaki became paralysed from the waist down following a freak accident in 2004 when, on her way to a competition, she stopped to check on a loud noise from her horse truck. It was then that the hydraulics on the 500kg loading bridge failed and flew down on top of her, crushing two vertebrae and severing her spinal cord.
The film highlights the agony and struggle that the athlete goes through following that moment. It also shows that because of her deep connection with horses, as well as her "guts, faith and strong will," she has been able to stride forward in life as a survivor.
Conveying the physical aspects of that struggle was a challenge for Temone too. "As an actor a challenge was to learn how to use a wheelchair, and somethings were difficult to learn," she said. "I had to ride without a saddle for example, and I had to learn to not use my legs when riding.
"It was the same thing with using the wheelchair – and was painful a few times when I had to fall out of it."
The film took almost two years to make.
"I still cry every time I watch it," Temone admitted. "One nice thing that happened was when we were renting cars for the movie. I needed an old car and the man we rented it from asked what the movie was about. His daughter was a wheelchair user and we were able to tell her that that's not the end, she can use Jaana's story as an example that she can do anything."
Kivimaki added: "I hope others see the movie as a survival story. Whatever happens in your life, you can and will survive with your strong faith, determination, perseverance and ability to accept what has happened to you.
"I also hope that I could be a role model for someone who needs that and give them the courage that's needed to go through the surviving process."
Kivimaki has been a Para dressage athlete for around 15 years, with several accolades to boot, including competing in the 2012 London Paralympics, winning a silver medal in the 2009 European Championship individual test, and recently winning three bronze medals from the Finnish team test, individual and freestyle events in France.