New routine to tell incredible journey of Sanne Voets and Demmi
The Dutchwoman and her horse Demmi have ridden to triple crowns at Worlds and Europeans. Next up is the Paralympics
01 Apr 2020
Imagen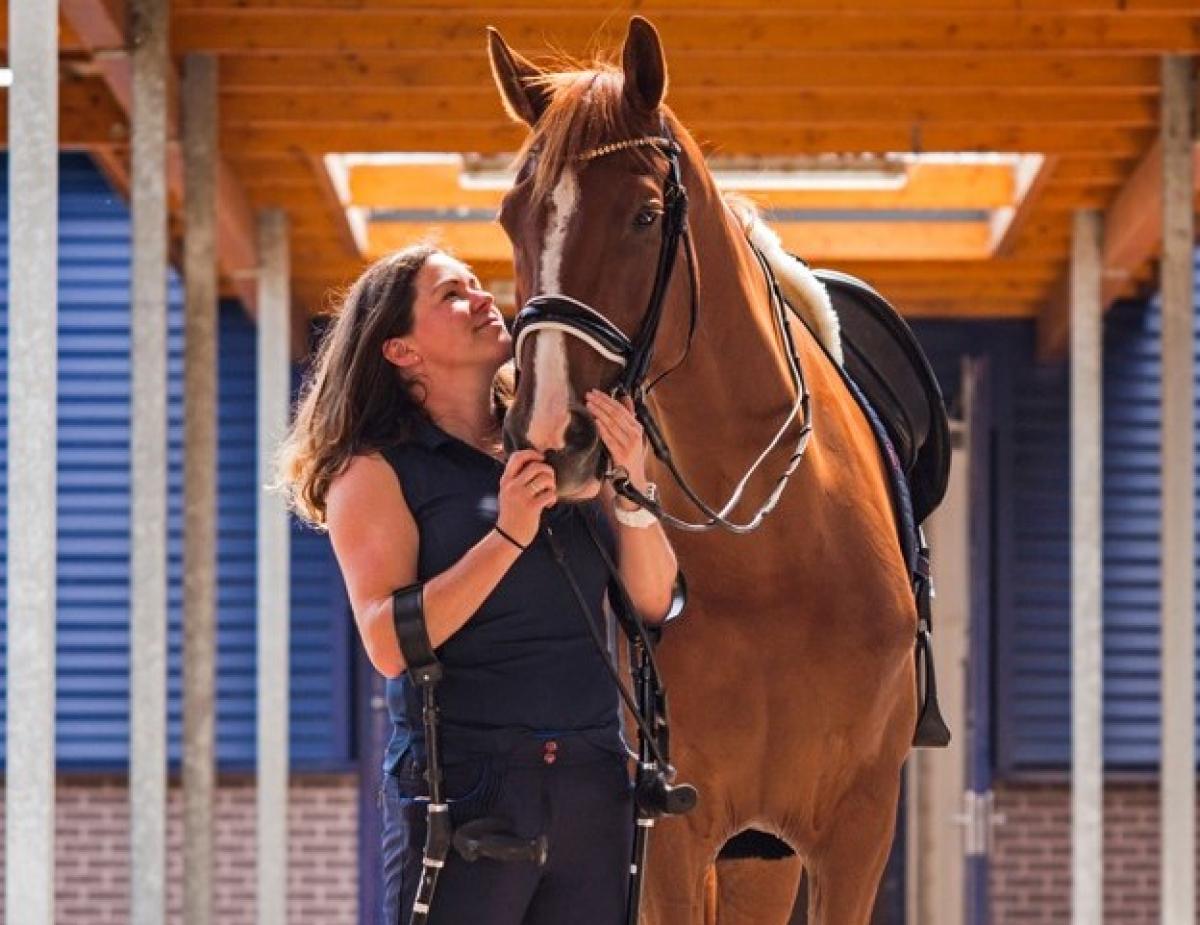 ⒸKathleen van Winden
By Rob Howell | For FEI

The Netherlands' Sanne Voets can cement her position as one of the all-time greats of Para equestrian at the Tokyo 2020 Paralympic Games.
While the Dutch ace has to put that status on hold with the Games postponed to 2021 due to the COVID-19 pandemic, she remains the only rider in the world to hold team, individual and freestyle gold medals at World and European Championships. She can become the first rider to achieve the triple-triple of golds since Great Britain's Deborah Criddle back in the early 2000s.
It has been seven years since Voets picked up her first major international gold medal, at the European Championships in 2013. Since then she has racked up another nine golds, including the clean sweeps of the 2018 World Equestrian Games in Tryon, USA, and last year's home European Championships in Rotterdam. 
The 33-year-old still plans to go for Paralympic gold alongside her delightful Demmi with a whole new and exciting freestyle routine, developed in collaboration with top Dutch freestyle producer Joost Peters, and one of her country's most popular bands, HAEVN.
It is a deeply personal move, one many fans unfortunately will have to wait August 2021 for.
"This freestyle tells our story," Voets explained. "Our sport is often about expression and power, but the most intimate moments remain invisible. But it's those moments that set the base for true partnership and harmony between me and my horse."
 
And what a horse it is. Demmi - also known as Demantur RS2 N.O.P. - came into Voets' life four years ago.
"It wasn't the easiest of starts!" Voets recalled. "When I first tried Demmi I immediately fell off him, even before I was properly in the saddle! But I felt there was a connection between us and now we know each other through and through and have experienced so much together. Our bond is very special. That is, what I believe, the part that makes equestrian sport so beautiful."
Since picking up the grade IV freestyle gold in Rio in 2016, Voets' freestyle routines have been to the song 'This is What it Feels Like" by Dutch music producer Armin van Buuren. 
Four years on though, it is time for something new. 
"When I started thinking about a new freestyle," she said. "I discovered HAEVN's music. It touched me and did not let me go so I called Joost with a suggestion to work with the band. 
"With that in mind I approached them after a concert and just asked if they would consider working with me to create the new freestyle."
HAEVN's lead singer Marijn Van der Meer laughed: "We don't know anything about horses, but Sanne talked about her riding so passionately we became curious, and now the rest is history."
Voets, Van der Meer and Peters have developed a routine to HAEVN's hit song 'Where the Heart is'.
"The song is all about chasing your dream," she explained. "By making your own decisions and daring to stand out. It's beautiful music that really puts the focus on the harmony between the horse and its rider."
Since the Europeans last year, Voets and Demmi have stayed away from the normal round of winter and spring competitions.
"We only did a few small shows and focused on our training instead," Voets said.
"Since he is well conformed in all of the exercises, we worked mainly on improving his body usage, so it gets easier to have his hindleg activity flowing towards the front."
The riding duo wanted to debut the new freestyle in Brabant in March. Their first big competition was planned for the Dutch National Championships in May. But those were canceled due to the global pandemic.
However, the Dutchwoman's perspective ahead of Tokyo remains mature.
"I'm older now than when I first won a major medal, and that experience puts things more into perspective," Voets said. "Of course, I'm aware of it, and in all honestly the Paralympics are the medals that count. But the main thing is to be prepared in the best possible way, for whatever occurs. This freestyle is a part of that preparation, and that should lead us to another gold. It's just my favourite colour!"