British Para equestrian great Lee Pearson trots into new phase in life
Having a family feels like 'fulfillment' for the Paralympic star from Great Britain
20 Apr 2021
Imagen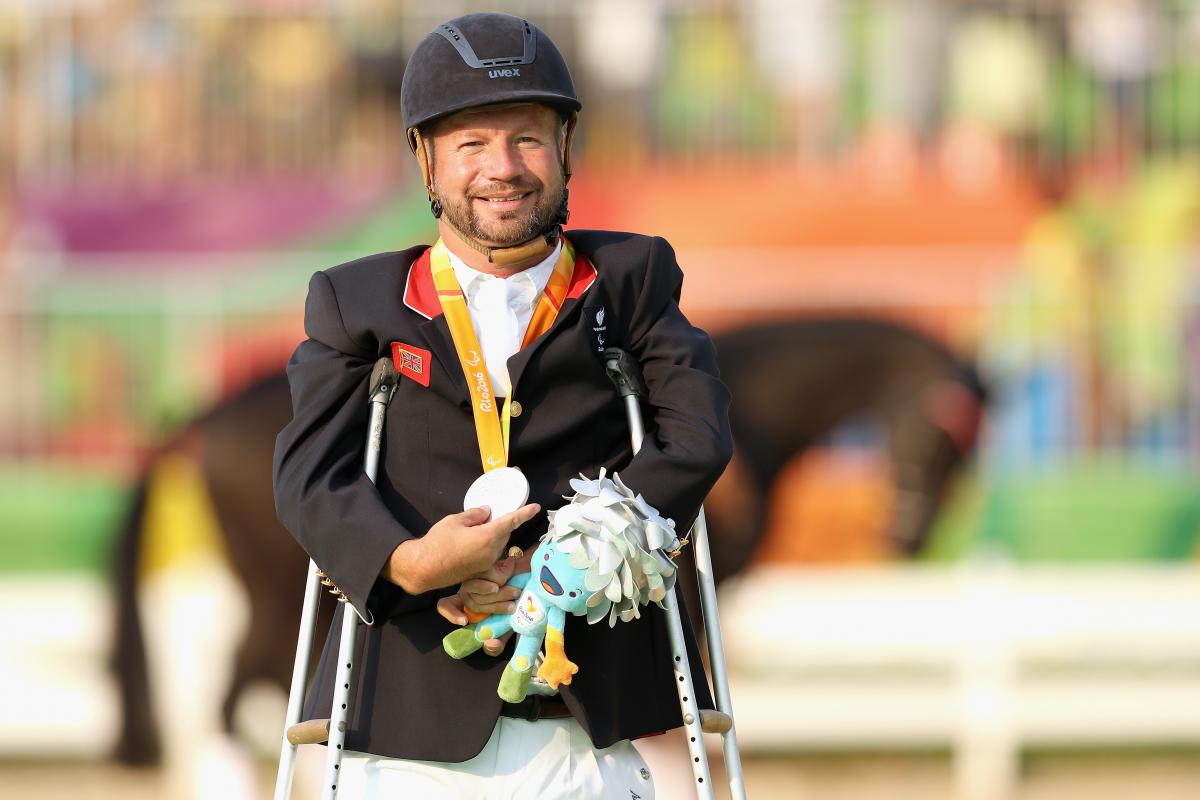 ⒸGetty Images
By AMP Media I For the IPC
Lee Pearson has done it all — he has won 11 Paralympic gold medals, claimed 14 World Championship titles, been voted Great Britain's flagbearer for the Opening Ceremony at Rio 2016 and was knighted four years ago for his services to sport and charity.
But in 2020 the 47-year-old took on perhaps his greatest challenge.
"It can be an emotional rollercoaster at times. I am probably the worst parent on the school run," laughed the Para dressage pioneer who became a foster father for the first time midway through 2020.
It was something Pearson had been considering for many years but did not feel quite ready for. As, in his own words, a "single, individual, middle-aged man with a disability", the Englishman was worried he would not pass the in-depth assessments. The fact he is also homosexual added to Pearson's sense of insecurity.
He need not have worried. Assessors read pages and pages of forms he had filled out, and interviewed his family, friends and ex-partners. Afterwards, their main concern was that his profession would not leave him enough time to care for his child.
"I explained that generally I ride one to two horses either on one day or over two or even three days sometimes at the moment. So I can do the school run and I can do the horses and any teaching I do in-between the school run and then I'm ready to do the school run in the afternoon as well," Pearson explained, his grin indicating just how much he is loving his new life.

The man who took three golds at Sydney 2000, Athens 2004 and Beijing 2008, plus one each at London 2012 and Rio 2016 may be new to parenting. But the skills that have delivered him so much success in the saddle are proving invaluable.
"Even the lady who assessed me said, 'Lee, you are very instinctual, aren't you? We can give you all the books and all the literature and all the training but you're very instinctual, aren't you?' And I was like, that's really strange, I am like that in my dressage world as well," he said.
"I don't read how to train a horse and I'm not the easiest person to train because it is my instinctiveness and talent in the sport that's actually gained those medals, really."
While his parents always taught Pearson to embrace his disability – he was born with arthrogryposis multiplex congenita, which means he cannot move his ankles or knees – and "not give a monkey's what people think", there have been some very tough times on the way.
"I think my darkest hour in my life was trying to come out and accept that I wasn't heterosexual, probably. That was really tough, nearly life-ending, really," said Pearson, who has written an autobiography, due out in May, entitled 'I am who I am' in which he is searingly honest about his struggles with his sexuality.
"It took me years to come to terms with it myself."

As an openly gay man, he was proud to be voted Great Britain's flagbearer at the last Paralympic Games in Rio de Janeiro.
"It was a strong message to countries where people are still treated unbelievably horrid due to something they are born with," he said.
He hopes to get another chance to show off everything he is at the Tokyo 2020 Paralympics. He admitted the postponement did him a "favour," affording him more time to work with his brilliant, but highly sensitive top horse.
With Para dressage becoming ever more competitive as nations around the world catch up with Great Britain's much-praised approach to the sport, more gold is far from guaranteed. In fact Pearson's first concern is making Great Britain's Paralympic team.
"You've nearly won a medal if you get selected now," Pearson laughed.
But with his son in his corner – "it just adds a section of my life that was missing," Pearson said.