Australia's Emma Booth finds reason to ride again
Para dressage athlete recalls moment in hospital that led her back on a horse 
22 Sep 2020
Imagen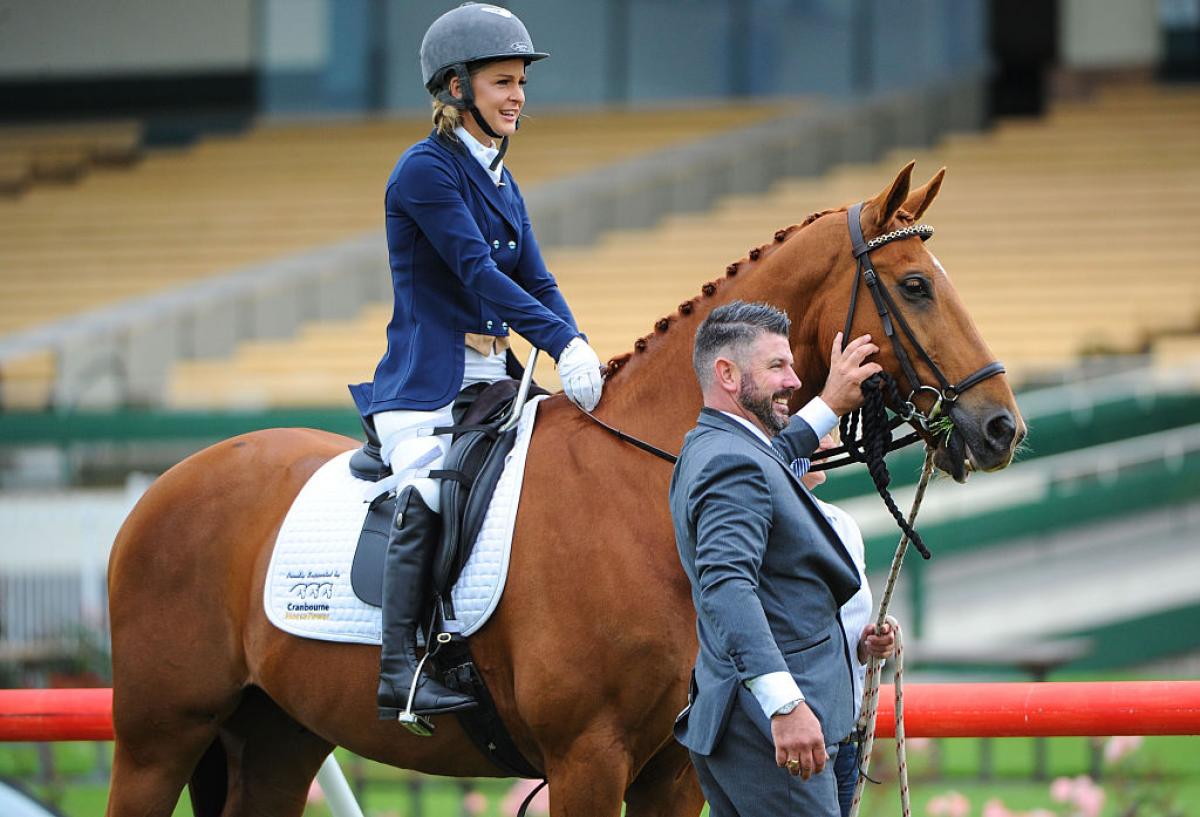 ⒸGetty Images
By Gaurav Joshi | For the IPC
Emma Booth was lying on the hospital bed, her abdomen wrapped in bandages and two casts on her legs.  It had been two weeks since she survived a car crash. There was a strong chance she would not be able to walk again. 
Her father's boss gifted her an iPad, and the first words she typed into Google would connect her past to her future. "I started Googling things like Paralympics, Para sport, Para equestrian, Para dressage.  It was at that point that I saw the next Paralympics was in 2016," said Booth, who took part in the 24-hour Instagram Live Relay on the @Paralympics account as part of the #WaitForTheGreats campaign.
Later that evening Booth told her parents: "By the way I'm no longer an Eventor (equestrian event) I'm going to be a Para dressage rider and I'm going to the Rio Paralympics."  
That was about 15 days since her car collided with a truck while returning home to Victoria after an equestrian event in Albury NSW, in April 2013.
"There were plenty of tears in that initial period, but I just wanted to ride again," she said. 
Growing up in Langwarrin, 50kms from Melbourne, Booth was always fond of horses.  When she was 11, she entered a national competition with 30,000 participants and won. "I won a pony for 12 months with every cost covered – including lessons." 
Over the next few years, Booth started to ride and compete at various levels.  At 19, she was offered an opportunity to work for an international dressage riding company in Germany.  "That experience and exposure was incredible. It was when I came back I decided to be an equine vet."  
It was halfway through the first semester when she had her accidentand was no longer be able to walk.  
"It really was only a few weeks after my accident that I started to recover quite quickly. At that point I just knew that I was going to give riding a go no matter what," Booth said. 
Six months after the accident, Booth had the courage to ride again. "That feeling of riding again was incredible. I was lucky enough to have modified saddle and people to assist me on to the horse.  It was my touch with normality again. I wasn't nervous, it was just pure excitement."
From that point on the Rio Paralympics was a realistic goal.  The impeding challenge was to purchase a horse.  Luckily, Glen Carter, a close family friend had decided to raise the funds by cycling around Australia.  But finding the right horse proved to be the greatest challenge. 
"Finding the right horse in general is hard, so a Para dressage horse is twice as hard. A horse for Para needs to be a great listener. With my limited movement in the legs mean it has to depend more on my voice rather than my body."
Booth travelled to Europe to find the right horse but came back empty handed.  By then the trials for Paralympics were only a month away. 
"It was such an emotional ride."
Just when all hopes looked to dwindling, the state dressage coach in Victoria asked Booth to try a local horse named Zidane.
"Two minutes into the ride I was like this is the one. We just clicked. He understood everything I asked straight away." 
The pair had such a bond that within three weeks they had managed to qualify for the Rio Paralympics.  "It was a dream come true. The best part of Rio was the village. I met so many wonderful people that I could share my story with and listened to theirs."  
Booth missed a place on the podium by a whisker at Rio, but with Zidane by her side and an extra 12 months to prepare for the Tokyo 2020 Paralympics next year, she has her eyes firmly fixed on a medal.