Rise of USA's Roxanne Trunnell changes equestrian scene at Tokyo 2020
US rider broke through at 2018 Worlds and is top athlete in grade I
09 Jun 2021
Imagen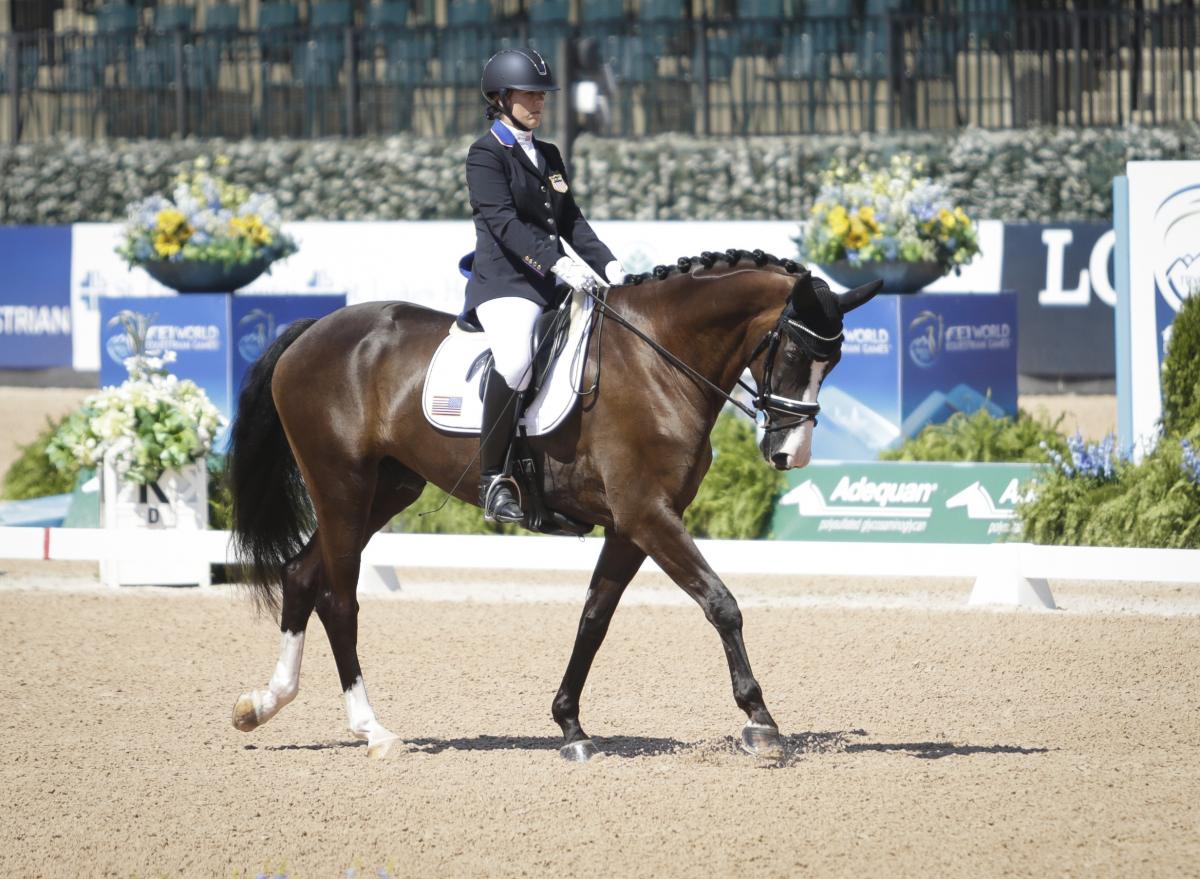 ⒸTaylor Pence / US Equestrian
By Rob Howell | For the IPC
Earlier this year, the USA's Roxanne Trunnell scored 83.334% in her grade I individual test at the Adequan Global Dressage Festival in Wellington, Florida. It was a new world record for a Para equestrian competition and cemented her meteoric rise to the top of her sport since her bronze medal breakthrough at the 2018 World Equestrian Games.
Already the world No. 1 across all five Para equestrian grades, that score and subsequent performances make her a real favourite for a Paralympic title.
Now based in Florida, minutes from the Wellington Equestrian Centre, Trunnell's story starts on the opposite end of the country, in Washington state.
"I grew up the other side of the mountains from Seattle," she said. "Think windy, tumbleweeds, and desert. It's more of a cowboy place than a dressage one. I was outnumbered."
Describing herself as a horse crazy girl, she recalled the time a family friend invited her for a ride on one of his horses. "I absolutely fell in love with everything about horses and riding," she recalled. "That's how all this began: one little trail ride."
She had a promising dressage career coming out of college.
But in 2009, everything changed. 
What started as cold symptoms left her unable to stand 24 hours later. She was put in an induced coma as a suspected mosquito bite infected with the H1N1 virus had caused an inflammation in the brain - encephalitis. While in that coma, a blood clot formed in her legs which travelled to her brain, causing a stroke. 
©US Equestrian
Though Trunnell no longer had the same mobility functions as before, she was determined to get back into the saddle. But not as a Para equestrian competitor. 
"I was very against Para dressage," she admitted. "As far as I was concerned, I was going to ride my horse in able–bodied dressage and I wouldn't even hear about Para."
But then her trainer at the time, Diane Royce, had judged a Para dressage competition and convinced her to try it. 
"Of course, I know now that our Para dressage tests are just as difficult as any able-bodied one.
"Becoming a Para dressage rider in a way opened my eyes to the fact that even if things become a little different than the usual 'normal' you can still find a way to do them and be successful."
If she is selected for her second Paralympics at Tokyo 2020, her partner will be 9-year-old Dolton, whom she won her first global medal with. Dolton was originally a ride for Worlds bronze medallist and compatriot Kate Shoemaker. But Dolton did not seem ready for the moves of Shoemaker's grade IV, and was paired with Trunnell for in grade 1.
"I say it lovingly," she laughed, "but Dolton is a little weirdo. He likes to have his 'me' time in a paddock every day. He doesn't look like a handful when I'm riding him, but when you see us out there in the ring I'm not just sitting there going for a ride, I'm telling him to walk forward, bend his body, and so on."
Team USA head coach Michel Assouline is full of praise for Trunnell: "She has been truly amazing. Dolton is young, and all eyes are on her because every time she comes out she does incredible steps and the horse has such a work ethic. She produces the goods time after time."
With the pressure mounting as Tokyo 2020 approaches, Trunnell is remaining calm.
"I'm fairly allergic to drama," she said. "So I tend to just keep to the little bubble of people I've made. I know what my teammates are doing but I don't let it affect the way I'm preparing Dolton or me."
"A medal at Tokyo would mean so much to me," Trunnell continued. "We lived in Texas for four years before moving to Florida and it was not easy to say goodbye to our friends there, so a medal will mean that it was the right decision."
A medal would also mean she gets to take part in what she says is the funniest part of her sport: "The award ceremonies get me every time. It's like a race to see who can get their scooter stuck in the arena dirt the fastest. It's probably not correct to chuckle about that, and I've been stuck more than once, but I find myself biting my tongue to keep from laughing out loud every time."