Denmark's Jorgensen claims dressage gold from five-time champion Natasha Baker
USA's Roxanne Trunnell cements her meteoric rise with gold in the individual test Grade I
27 Aug 2021
Imagen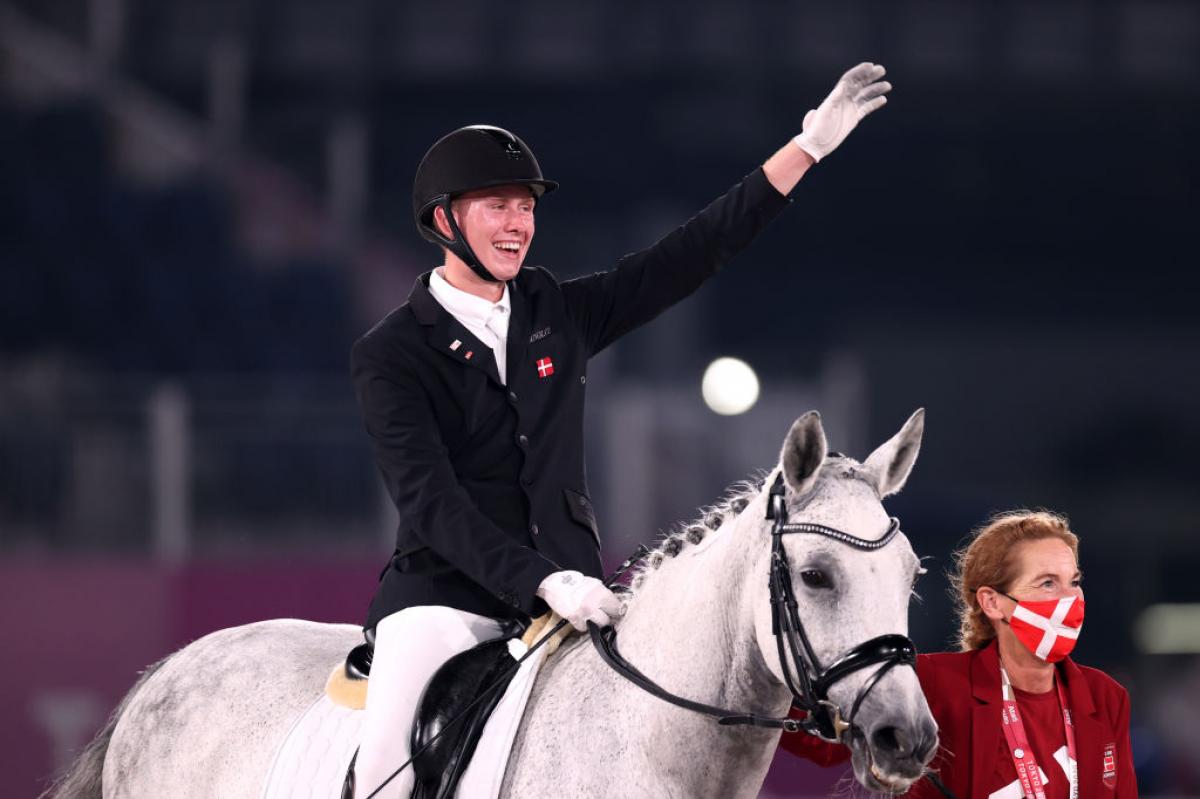 ⒸAlex Pantling/Getty Images
By Ruth Faulkner I For the IPC
The big news of Para equestrian day two came at the very end with Tobias Thorning Jorgensen of Denmark beating five-time Paralympic Games gold medallist Natasha Baker of Great Britain in the Grade III individual test.
Jorgensen reached a score of 78.971 with his horse Jolene Hill at the Equestrian Park, ahead of Baker's 76.265.. Rixt van der Horst of Netherlands took the bronze.
"It feels great," Jorgensen said. "But I also know they're such good riders and such great people that it's fantastic to be able to have the medals with them. 
"I don't really think about beating them. Of course, the medals means a lot to me, but just to be in the same place as them is big for me." 
Baker said: "I'm so happy with Lottie (the nickname for her horse Keystone Dawn Chorus). She was amazing out there and she did me proud. She had a little spook at the commentator speaker when I went in. So I was like, 'Oh, she doesn't normally do that.'
"But I just tried to give her as much confidence in the arena. It's the first time she's been out of the UK. It's by far the biggest arena she's ever been in. And I'm just proud of how she's dealt with it. She's just been amazing."
In  the dressage individual test Grade I, USA's Roxanne Trunnell on Dolton topped the podium with a score of 81.464. It did not beat her own world record of 83.334 but was perfect for the gold medal, and cemented her meteoric rise since her bronze medal breakthrough at the 2018 World Equestrian Games.
"Better training and finding Dolton really made it all happen," Trunnell said. "I think he's more in tune with me now. He takes care of me up there, and we're bonded really well." 
King of the Dance
Trunnell finished ahead of Latvia's Rihards Snikus on King of the Dance, and Sara Morganti of Italy who took the bronze medal. It was Snikus' first Paralympic medal after falling short at London 2012 and Rio 2016.
"I'm in my best shape right now. I feel this Paralympic Games are the most important after the previous two, where my dream started. The key for me was to learn my mistakes from the past, and this five-year cycle of preparing for Tokyo has been the right one," he said.
Snikus is known for being a DJ as well, with the stage name DJ Richy Rich, which will come in helpful with the upcoming team test to music, where music selection is key. "We choose the music as a team. There's a lot to consider, depending on, for example, whether the music suits the horse, the rider himself, the pace of steps. Then once we've discussed that, the producer puts a track together, so that everything can be perfect," he said.