Tokyo 2020: The path to Para equestrian
How can riders qualify for next year's Paralympics?
01 Mar 2019
Imagen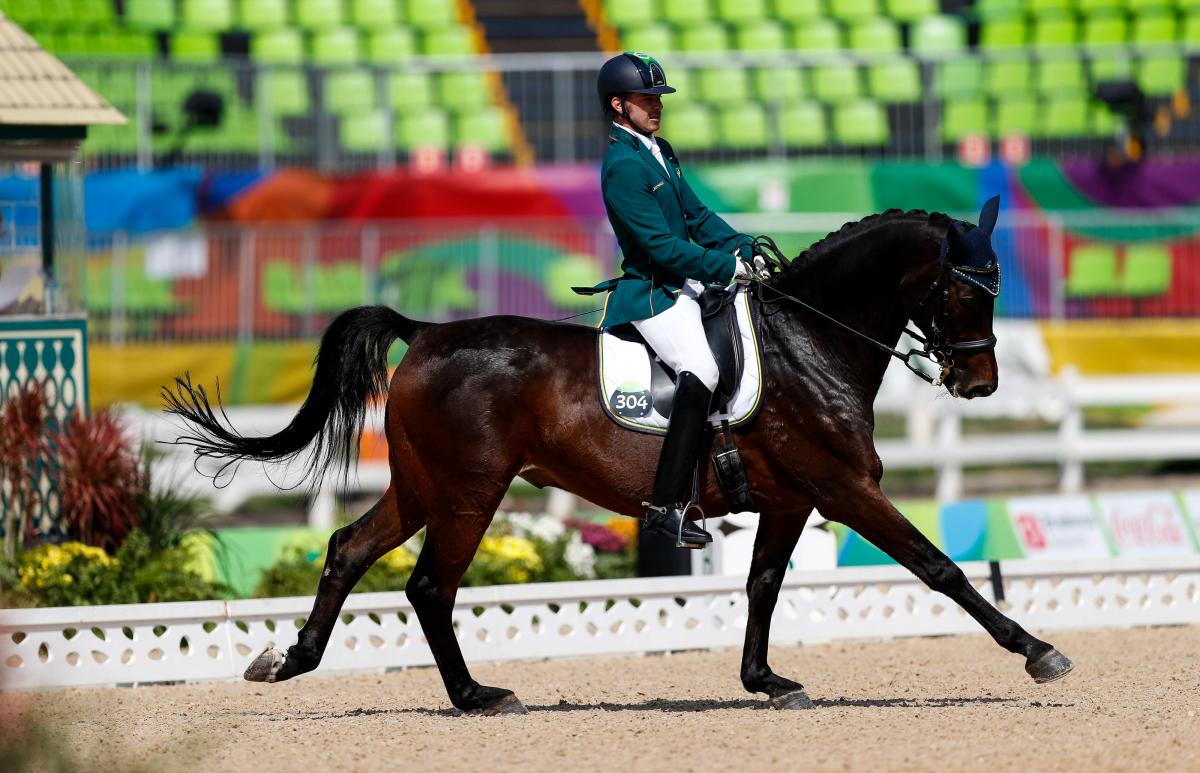 ⒸWashington Alves/MPIX/CPB
By Rob Howell | For the IPC
With less than two years to go until the start of the Tokyo 2020 Paralympic Games, the race for a place in the Para equestrian competition is now on.
The first qualification criteria for any athlete wanting to compete in dressage is to score at least 62 per cent in a three-star competition or above between 1 January 2018 and 19 June 2020. But it is not just scores that get you to Tokyo, ranking plays a part too. Here is the full break down on how to get to the Games.
National team
The easiest way to guarantee a spot is to be picked for your national team, and then work towards a team qualification. Currently three teams – Netherlands, Great Britain, and Germany - have already qualified for Tokyo by way of their top three placing at last year's World Equestrian Games.
After that, the top seven teams – excluding those three – in the Paralympic Team Ranking Lists by 31 January 2020 will also qualify. That gives us 10 teams so far. Then you can add the top team from the FEI rankings for each of the major geographies outside of Europe – Africa, Americas, Asia and Oceania. As host nation Japan qualifies a team as well.
If a region does not have an eligible team, its unused slots will be allocated, regardless of region, via the Reallocation of Unused Qualification Slots method. More on that in a moment.
All of that means that up to 15 nations will qualify for the team competition, and each can take up to four athletes to Tokyo. Of those athletes, at least one must compete in grades I, II or III.
Individual rankings
Those countries which have not yet earned any team qualification slots can still get a place for their riders in Tokyo based on individual rankings between now and 31 January 2020. The three highest-ranked athletes from each region can each earn their country a spot at the Games, with a maximum of two per country.
And like the team competition, should a country not use all its allocated individual slots, they are then reallocated to the next highest-ranked country on the individual ranking list. Up to three athletes can also be invited to compete by the Bipartite Commission of the FEI and International Paralympic Committee.
Reallocated slots
Once all the team and individual places are decided we then get on to the reallocation of any remaining places. If a qualified team country does not use all its allocated slots, it can still enter a maximum of two athletes in the individual competitions. Its unused slots will then go to the next highest ranked country on the Individual ranking list who has not yet qualified.
Who are the favourites?
Along with the three teams already qualified, things are looking good ranking-wise for Belgium, Canada, Denmark, France, Italy, Portugal and USA. Region-wise Hong Kong is in the mix for Asia, as is Brazil for the Americas. But it is early days and that could change.
One thing is for sure though, it is going to be an exciting journey.