Rodolpho Riskalla revels in history
Para dressage star first Brazilian rider to become world No. 1
02 Nov 2018
Imagen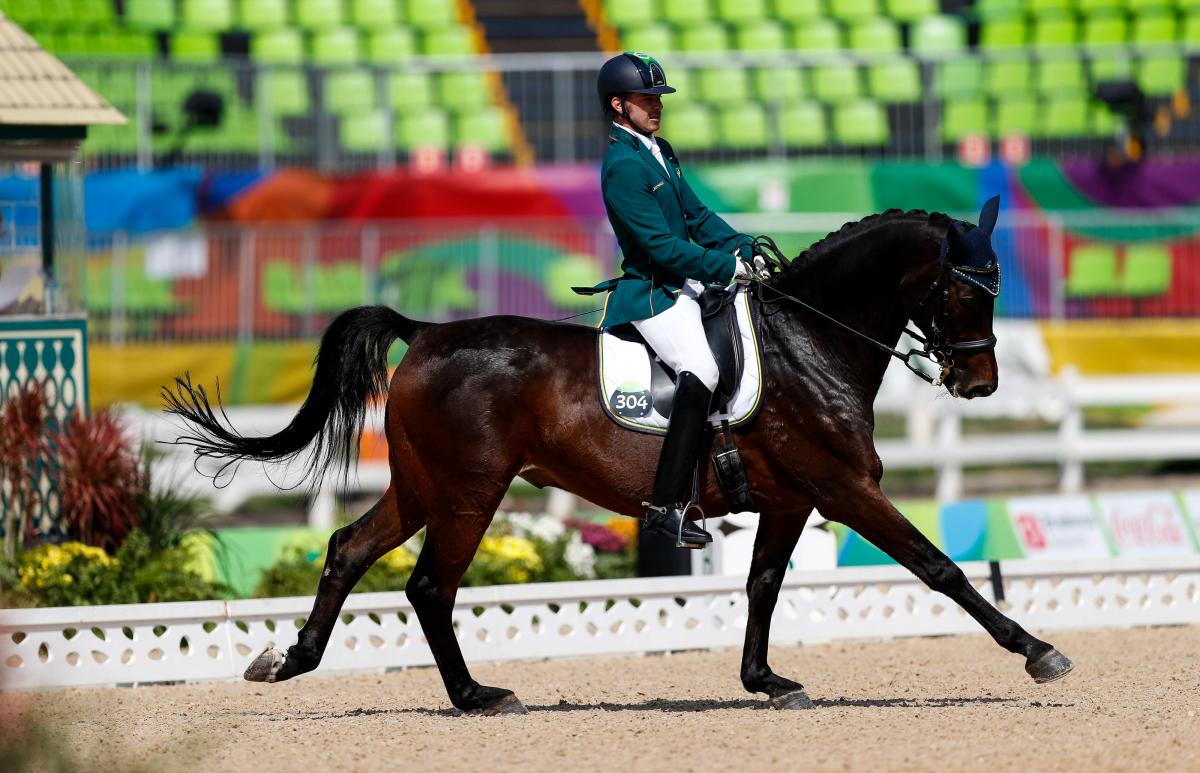 ⒸWashington Alves/MPIX/CPB
By Rob Howell | For the IPC
This year's World Equestrian Games held in Tryon, USA, produced a wide selection of ground-breaking Para dressage performances. But one that will be remembered for years to come was that of Brazil's Rodolpho Riskalla. The current grade IV world number one picked up two silver medals at his first WEG, cementing his position as one of the sport's break out stars, and one to watch in the run up to the Tokyo 2020 Paralympic Games.
Riskalla burst onto the Para equestrian scene just two years ago when he clinched a place on the Brazilian team ahead of the Rio 2016 Paralympics. Just 18 months earlier he had been a shoe-in for a spot on his home nation's team for the Olympics, as a talented and internationally competitive dressage rider. However, a bout of meningitis in 2015 led to him having both legs amputated below the knee, the removal of the fingers on his right hand and permanent damage to his left hand.
Wonderful WEG
Having got back on a horse in December 2015, Riskalla's spot at the Games was achievement enough, and now he's a double world medallist. "WEG was really amazing," he says. "Just to be there was really great and you learn so much. You learn that you need to work and train and when you do that the results come - everything comes together. And it's not just luck, you need to work a lot too."
And while he says he was happy with his two silvers, as any sportsperson would attest, it was gold he was after. "Of course, you always want gold," he adds, "and it was possible. In the individual test one judge scored me low so it didn't happen. The freestyle was really good and, at the time, I was disappointed not to win."
Brazil hadn't won a WEG medal of any colour since 1998, so Riskalla's two silvers were jetlag-inducing news back home. "I flew to Paris on the Sunday after the competition ended on Saturday," he says, "and then flew from Paris to Sao Paulo the next day, for four days of TV and press interviews. And then I flew back to Paris so I could go back to work."
Work is with the Dior fashion house in Paris, in an office just off the Champs Elysees, where Riskalla works in the company's PR department helping to organise events. He receives massive support from his employer as a sponsor and with time off to pursue his riding. "They are all really cool", he says. "Sometimes I still get asked to take my medals it to the office to show people."
From Para to Pan American?
As a non-European rider, Riskalla has no major international Para equestrian competition to focus on in 2019. However, the 2019 Pan American Games, being held in Lima, Peru, do give him the chance to compete for Brazil in a classic dressage competition. "I do hope to qualify for that," he says, "but I have to see how my national federation handles that.
"In the meantime, I will make sure I enter plenty of classic and Para dressage competitions because I have to keep my ranking up. Brazil hasn't qualified to take a team to Tokyo yet and, if it doesn't, I'll have to qualify as an individual rider, and for that I must maintain my ranking. So hopefully I'll be invited to the annual Para dressage competition in Doha, and I'll also look to compete at competitions like Mannheim and Hartpury too."
And what of Don Henrico, Riskalla's beloved partner in his WEG success? "He's having some time off at the moment," Riskalla adds, "with not too much work. There are no more competitions this year, so we'll slowly get back to work in the next few weeks.
"The main thing is I want him to be happy."