No Vision Too Big
Canadian visually impaired rower Victoria Nolan wants to help her LTA Mixed Coxed Four team win gold at the London 2012 Paralympics.
27 Apr 2012
Imagen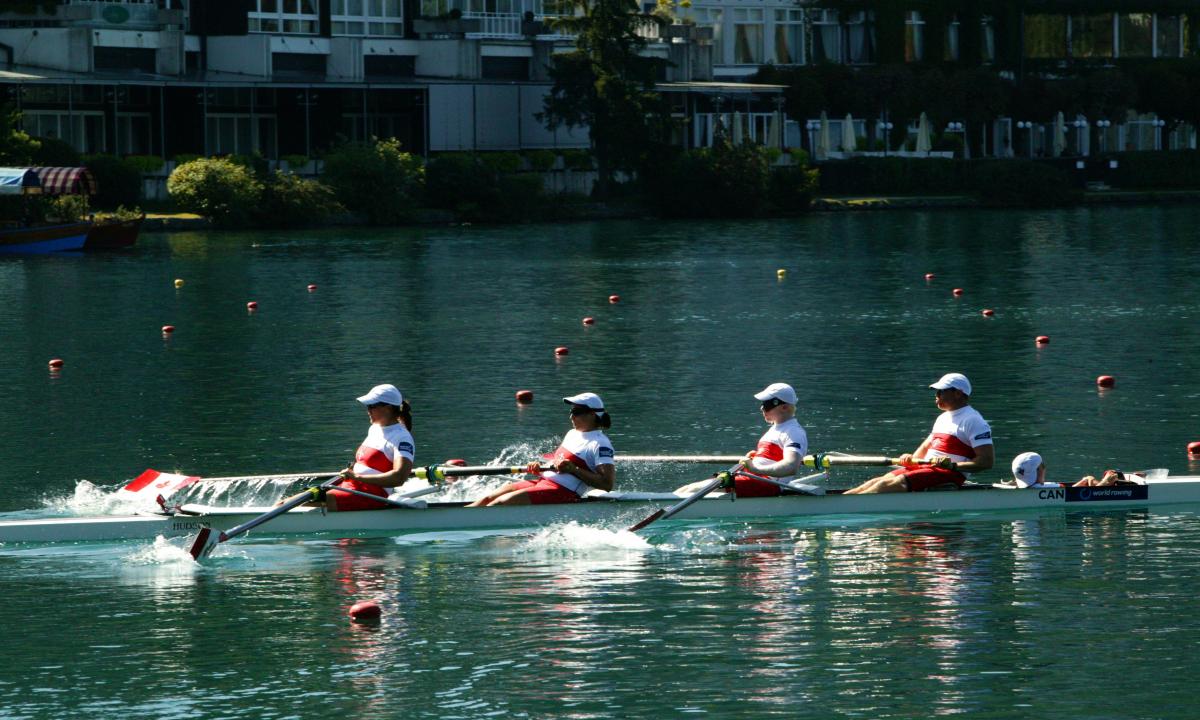 ⒸCanadian LTA Mixed Coxed Four
By IPC
"When I initially started, the biggest thing for me was not panicking when putting on that mask because you can imagine to be in just total blackness you need to stay calm and focused."
Victoria Nolan's guide dog, Vegas, is scared of the water.
When the visually impaired Canadian rower trains or competes with her crew, Vegas stays behind.
"He doesn't come with me when I'm rowing," Nolan said.
"He has a hard time seeing me leave and getting on the water. Unfortunately, I have to leave him at home, but he comes with me teaching and everywhere else. He's an awesome companion."
Nolan, meanwhile, has never been afraid of the water, even with only three per cent of her vision intact.
The 37-year-old Toronto native is preparing for her second Paralympic Games with Canada's Legs, Trunks and Arms (LTA) Mixed Coxed Four team.
In London, she will be joined on the water by Anthony Theriault, David Blair, Meghan Montgomery and Laura Comeau.
Theriault, who has a spinal-cord injury, and Montgomery, who is missing fingers on her right hand, were both on the squad with Nolan at the Beijing 2008 Games, where the team finished sixth.
Coxswain Comeau and 20-year-old Blair both joined the crew in the last year, and Nolan hopes they can help the Canadians medal at the London 2012 Rowing competition at Eton Dorney.
"It was actually a real surprise to me in Beijing," Nolan said.
"I thought that going to Beijing would be a great experience and that – of course I wanted to do well – it didn't really matter how the results came out. When we came in sixth, it was a huge, crushing disappointment to me. So my goal since then has been to come back and hopefully make the podium."
Out of sight
In Paralympic Rowing, LTA Mixed Coxed Four teams are made up of two male and two female athletes with a physical disability or visual impairment who have the use of their legs, trunk and arms, and who can utilize the sliding seat. Due to their physical strength, only two rowers per team may be visually impaired, and all athletes with a visual impairment are blindfolded during the competition to ensure a fair race.
Nolan's crew is spread out across Canada, but she said they find time to train together during the winter in Florida and the summer in St. Catharine's.
She added that she trains on her own for two or three workouts a day, six days a week, while at the same time balancing a teaching career and two children.
"Training sessions can be really hard, especially when you're out for an hour and a half to two hours, and you have no sense of where you are," Nolan said. "Especially, when you've been turning the boat a lot, and you just lose your sense of direction. It can be really tough.
"When I initially started, the biggest thing for me was not panicking when putting on that mask because you can imagine to be in just total blackness you need to stay calm and focused."
Nolan, who sometimes trains individually with Canada's senior men's and women's national teams, said the hardest thing about Rowing without vision is keeping your balance in the boat.
"It's all by feel because you don't have something to look at to kind of centre you," she explained. "When it's completely blocked out, it's amazing how much it affects your sense of balance. Especially as you're getting more exhausted throughout the workout. You don't have something to focus on that can kind of ground you where you are."
Just how tough is it to row blind?
Well, one day Nolan's coach was curious to try out the blackout goggles with just 500m left until their boat reached the dock.
"After 10 strokes, he was like, 'Are we there yet? Where are we?'" Nolan said, laughing.
To make it easier during races, the coxswain yells out the strokes and where the crew is at on the water so Nolan is aware of her surroundings.
Her biggest challenge, she revealed, is to always stay calm and not panic and to trust the coxswain.
Though after a 1,000m charge in the water, she feels as if she has just experienced a roller-coaster ride.
"When you're done, it's just a blur," Nolan said. "It's just so chaotic and crazy."
A contending crew
After placing sixth in Beijing, Nolan's crew finished fourth at the 2009 World Championships and then won the 2010 edition of the event.
Most recently, Canada took second at the 2011 World Championships in Lake Bled, Slovenia, finishing less than seven seconds behind Great Britain.
In London, the crew hopes to topple the host nation.
"Our goal, of course, like anyone, is to win gold," Nolan said. "I think that as long as we execute the race to the best of our ability, I'll be happy if I've done everything I possibly could. I just don't want to end the race thinking I could have given more or I missed a stroke or something."
But Nolan believes six or seven different crews have a legitimate chance of winning gold in London, when the finals take place at Eton Dorney on 2 September.
"That's the thing about a Paralympic year, is you never know," Nolan said. "I was shocked in Beijing. Anyone we thought was a contender, there was them plus four or five more because everyone puts everything in."
Nolan has never competed in London before and will have just one final tuneup with her crew at June's World Cup event in Munich prior to the Paralympic Games.
She now just hopes the last four years of training translate into a quick three and a half minutes for Canada at Eton Dorney.
"I am very competitive," Nolan said. "It all comes down to that race. That's what keeps me motivated is I want a different feeling than I had in Beijing."