One year on: Ryley Batt tries to get Australia back to No. 1
The world's best wheelchair rugby team helped Australia to a Paralympic title, but since then they have given up the world's No. 1 ranking.
06 Sep 2013
Imagen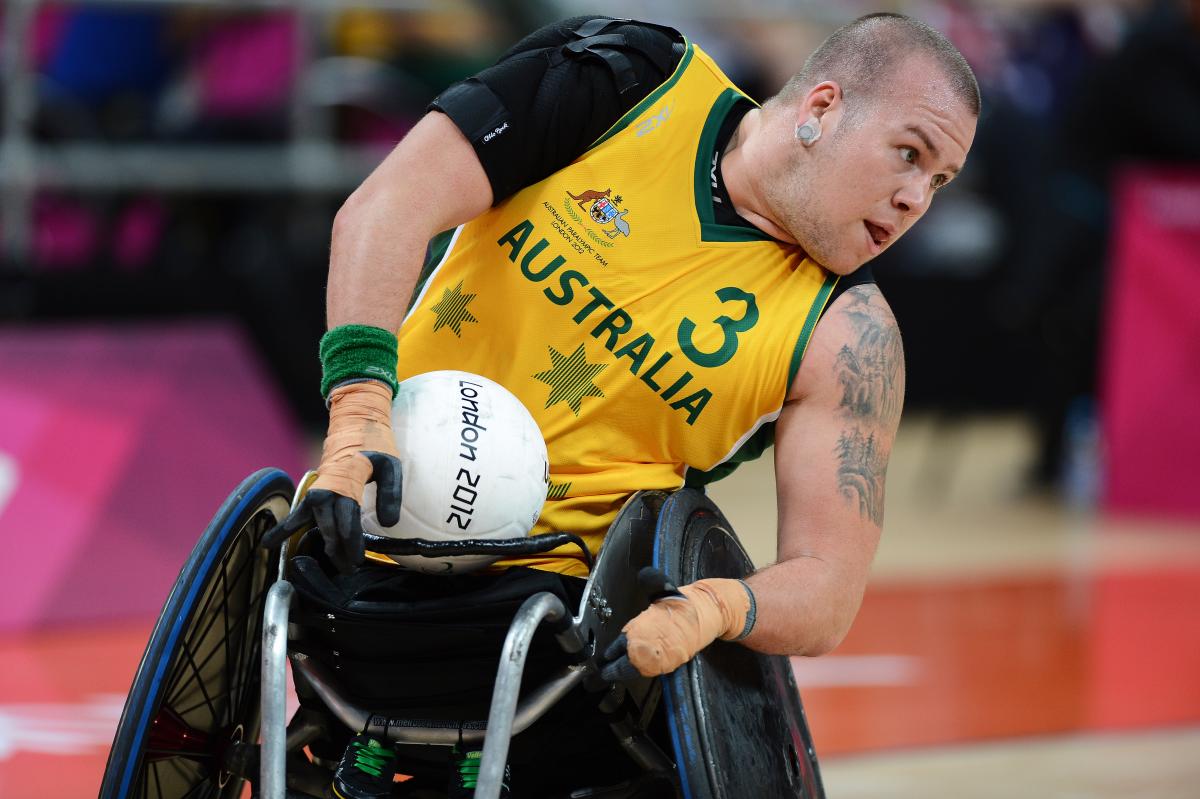 ⒸRyley Batt
By Beau Greenway
"Just because we can't get the No. 1 ranking back doesn't mean we are going to let off or try other new things."
"He is the best player in the world" is the response you will get from most wheelchair rugby fans when they are asked about Ryley Batt.
The 24-year-old Australian star is one of the fiercest competitors in the wheelchair rugby world but is also one of the nicest and most genuine young athletes off it.
The London 2012 Paralympic Games just one year ago were the high point of Batt's career to date.
Not only did Australia go through the entire tournament undefeated and secure their first gold medal, but he scored a massive 160 goals in the five matches, putting him on the shortlist for Best Male Athlete at the 2013 Paralympic Sport Awards.
"I don't think you can top it, definitely in the sporting the world the Paralympics is the pinnacle of any wheelchair or disability sport," Batt said.
"It's what we all train for and we strive for is getting that gold medal so definitely winning that was the highlight of my sporting career and it's something I will remember forever."
Brad Dubberley, Batt's former teammate and current head coach, couldn't be more proud of him.
"Ryley was definitely a stand out, he played some of the best rugby I have seen him play ever," Dubberley said.
"Obviously being a teammate and now a coach of his it was definitely an awesome experience, even from a coaches point of view, to see an athlete playing that well. "
The road back to No.1
It is fair to say that 2013 has been a year to forget for the Australian team, as they've been knocked off the top ranking at Denmark's Wheelchair Rugby Challenge in June by the formidable USA lineup.
"We were fighting for over 15 years to try and get that No. 1 ranking, and we finally got it and only had it for eight months," Batt said.
"That hurt us a lot, and we are hungrier to get that No. 1 ranking back but we have still got to wait another year for that."
Along with the whole team, Batt did not play to his potential in Denmark but he believes the whole team will be better off in the long run for having that defeat.
Dubberley is excited for what's to come for his side and knows Batt will be a big part of that.
"Having players like Chris Bond on our team and a couple of other younger players that are starting to come through now that are a similar function to Ryley so he's got more people pushing him now," said Dubberley.
"With Ryley being the competitor that he is, it is definitely going to take him to a whole new level again. Come Rio, he won't be a whole new player but will be an even better player again."
What's in store?
While Rio and the 2014 IWRF World Championships are in the back of the minds of the Australian team, the current focus is on this month's Tri-Nations series where New Zealand and USA will travel to Sydney with the hosts looking to get their confidence back.
Batt will co-captain the side with Jason Lees to try and find the best fit for the Australian team.
"At the moment for me as coach, I want to trial a few different scenarios for the captain's gig so both Ryley and Jason are the first experiment to see how they handle it and what the pros and cons are as a result of that," Dubberley said.
The Tri-Nations event, take place from 16-18 September, will go down in history as the first competitive wheelchair rugby tournament to be played outdoors.
"There could be conditions we have never had, one being the wind and the other being the sun," Batt said. "We are not used to catching the ball above our head with the sun in our eyes and we're not used to the wind factor so we have to adapt to that."
While there may be some mixed opinions from around the world on this format, Batt believes it is going to be great for the sport and can't wait for it to begin.
"Just because we can't get the No. 1 ranking back doesn't mean we are going to let off or try other new things," Batt said.
"We definitely are going to try and get everyone on court and that's the whole point of the tournament, but we want to win it as well."