Paralympic Alpine Skiing medallist Ronny Persson ready for second Games as curler
Twenty years after his last Winter Games as a Para Alpine skier, the Swede will make his second Wheelchair Curling Paralympic appearance
26 Feb 2022
Imagen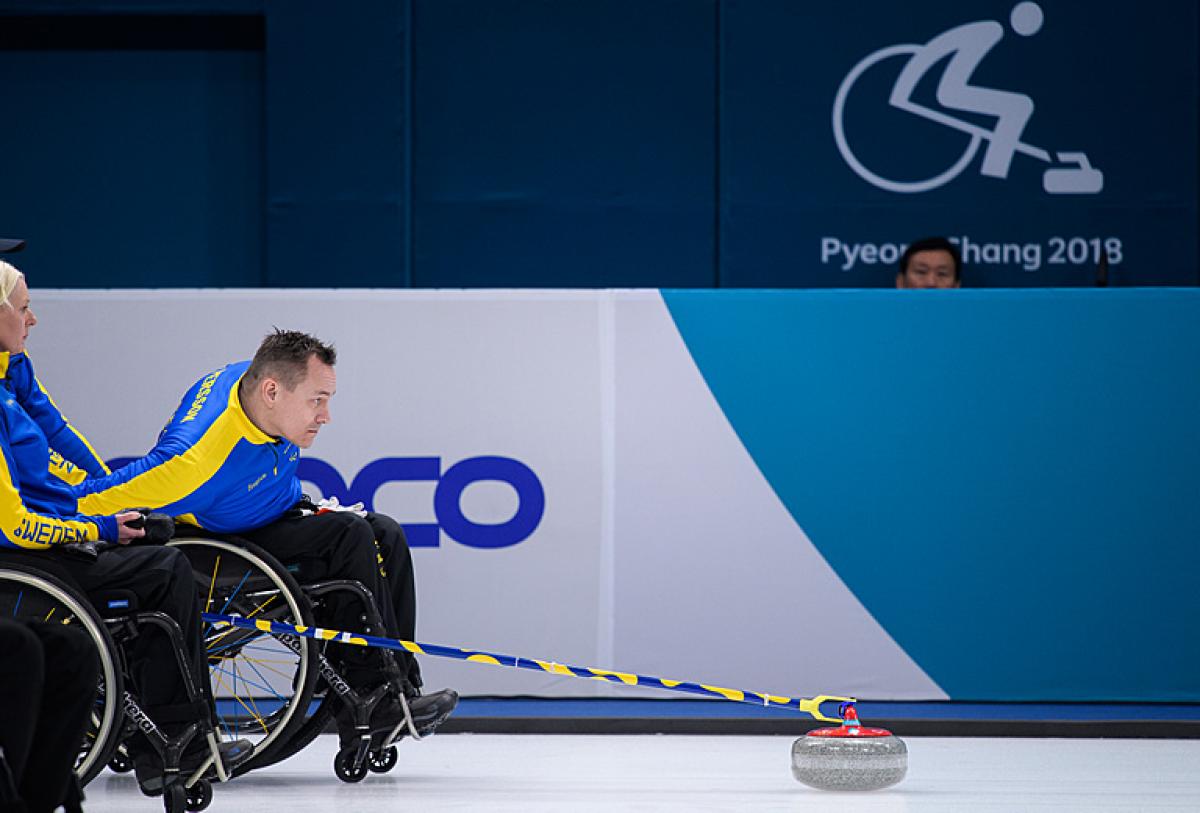 ⒸJoel Marklund for OIS/IOC
By Ryan Wilson | For the IPC
Curling is slow. It's an old-man's game. And it's not skiing.
Ronny Persson did not exactly have the brightest take on Wheelchair Curling in the beginning. He really did not even want to try the sport, but he reluctantly did so his coworkers would stop nagging him about it.
His coworkers, though, might have been onto something. It turns out, Persson, a two-time Paralympian in Para Alpine Skiing, liked what he felt on the curling sheet.
"It was so much harder than what I thought, and it was so tricky" he said. After two curling camps and some training, Persson was hooked.
Nearly 20 years later, the Swede will be making his second Winter Paralympic appearance in the sport of Wheelchair Curling. The Swedish team ranks amongst the best in the world, and Persson wants to live up to the high bar they set at the World Championships in Beijing in October 2021, where they lost to hosts China 5-3 in the final. 
"I'm trying to be a little bit modest in a sense that there are some really, really good teams out there," Persson said. "Picking up a gold isn't a walk in a park."
He added: "Who am I kidding, of course we are going for the gold this time."
The former skier will be joined by Viljoo Petersson-Dahl, Mats-Ola Engborg, Kristina "Kicki" Ulander and Sabina Johansson. Most of these curlers competed in Pyeongchang 2018, with Ulander having also participated in the Sochi 2014 Games.
Persson loves the teamwork involved in curling. While skiing was his passion, Wheelchair Curling has been his saviour.
He started skiing in 1994 after watching the Lillehammer 1994 Games. He competed on the World Cup circuit for around 10 years, and nabbed silver in all but one event at the Salt Lake City 2002 Games. 
After a series of injuries throughout his career, he knew the Turin 2006 Games would be his last. However, shortly before the Games, he developed a pressure sore on his buttocks, and he was forced to miss out on one last chance to sit atop the Paralympic podium.
So, onward, he faded, to his job as a traveling salesman for a wheelchair company. 
"I was lost," Persson said. "I didn't know what to do. I didn't have anything to do."
This mental dialogue continued for four or five years. 
His boss at work was the skip for the Swedish curling team, and two of his other coworkers also competed on the team. They bugged Persson to try curling. 
"They were saying, 'come out, and try it,'" Persson recalled. "I said, 'thank you, but no thank you.' … I'm a downhiller. I can't go curling."
Finally, the athlete at heart obliged.
"I thought, 'Well, maybe this is what's missing in my life: sport," Persson said. "I would say curling came and saved me a little bit. I could focus on something fun again."
Persson aggressively learned the sport, and accelerated onto the international scene. Unlike in skiing, he said his age and injuries are actually advantageous in curling.
"I'm turning 56 years old this year, damn it," he said. "Maybe an older age isn't a bad thing in curling, where you need to have skills and mental capacity to not get nervous. In skiing, you don't have the same pressure."
He added: "I think, if you have been around the block, it may be a good thing for you, because it's not as physical as Wheelchair Rugby or Wheelchair Basketball. Curling is semi-physical, a lot of strategy, a lot of mental awareness."
Persson did develop another pressure after the World Champs. He quickly underwent surgery, transitioned to part-time role at his job with less travel, and he is finding a better, more enjoyable sport-life balance.
Persson is glad he picked up curling. It brings back the same butterfly feeling he got in skiing.
"This is what I miss," he said. "This is exactly what I've been missing: the anxiety, the expectation, the adrenaline tickling your nerve. I recognised the feeling, and I loved it."