China beat Sweden to claim gold
'We encouraged each other, so we cooperated better and better and finally won the game. I'm extremely happy'
31 Oct 2021
Imagen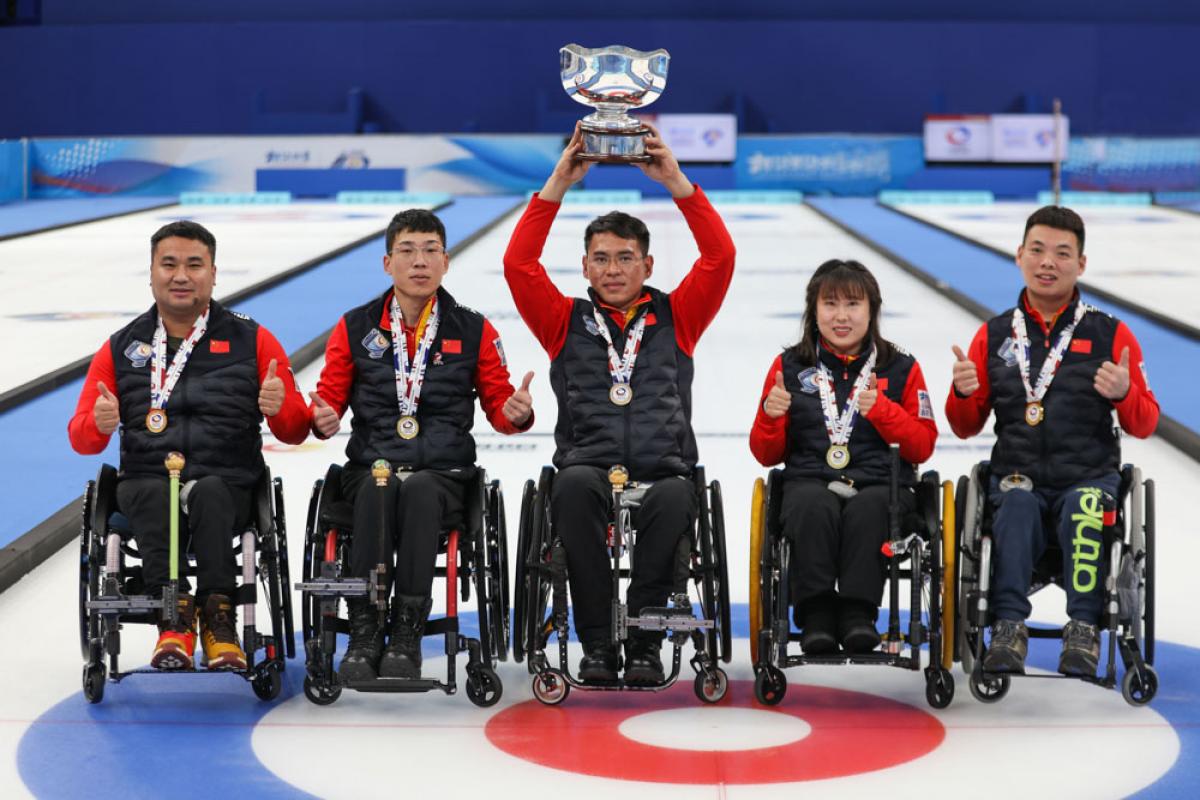 ⒸWorld Curling
By World Curling
China defeated Sweden 5-3 to clinch gold in the Kuntai World Wheelchair Curling Championship 2021 at the Ice Cube in Beijing.
The Russian Curling Federation claimed bronze with a 7-4 win over the United States. The tournament also offered the last qualification points for the wheelchair curling tournament at the 2022 Winter Paralympics in Beijing.
Coming to the gold medal match, after nine ends of play, China — skipped by Wang Haitao, with third Chen Jianxin, second Sun Yulong, lead Yan Zhuo and supported by alternate Zhang Mingliang and coach Yue Qingshuang — claimed the world title and gold medals on home ice in a closely contested battle.
China opened the scoring with a single point in the first end. Sweden blanked the second end.
In the third end, Sweden skip Viljo Petersson-Dahl rolled too far with his shooter with his last take-out stone to give up a steal of one point. As Sweden blanked the fourth end, the teams went into the half-time break with China leading, 2-0.
Sweden — skipped by Petersson-Dahl, with third Ronny Persson, second Mats-Ola Engborg, lead Kristina Ulander and with support from alternate Sabina Johansson and coach Alison Kreviazuk — put their first point on the board in the fifth end, then stole single points in both the sixth and seventh ends to take a 3-2 lead.
In the eighth end, China skip Haitao was forced to play a difficult raise double take-out to attempt to clear the Swedish counter in the four-foot ring. Wang was able to move the Swedish stone enough to sit shot stone, score one point and take the game to an extra end.
In that extra end, a wall of stones was erected in front of the house, defending the lone Swedish counter. Then with his final shot, Wang promoted one of the Chinese guards, into the four-foot ring and removed the Swedish stone.
With the final shot of the game, Petersson-Dahl attempted to promote a stone of his own back into scoring position, but was slightly off target, instead, moving a second Chinese stone into the house, giving China a steal of two points, the 5-3 win and the World Championship title.
An elated China lead Zhuo said: "I was nervous at the start of the game, but I gradually got used to the final, the atmosphere. I gradually adjusted myself and I was playing better and better during the game. When we started the tournament, we weren't used to the ice, the venue, but gradually, game after game, we got used to it. We encouraged each other, so we cooperated better and better and finally won the game. I'm extremely happy."
Petersson-Dahl speaking about his team's showing said: "Right now it feels like we lost the gold. Last time we met China in the bronze game and it felt like we won a medal. This time we lost one. So, it equals out I think. I'm super proud of my team and we played as good as we can I think. A little bit unlucky with my last guard and that's why we didn't win."