Female role model Kate Caithness forges path for wheelchair curling
World Curling Federation President is a pioneer for female leaders in the world of sports
11 Mar 2021
Imagen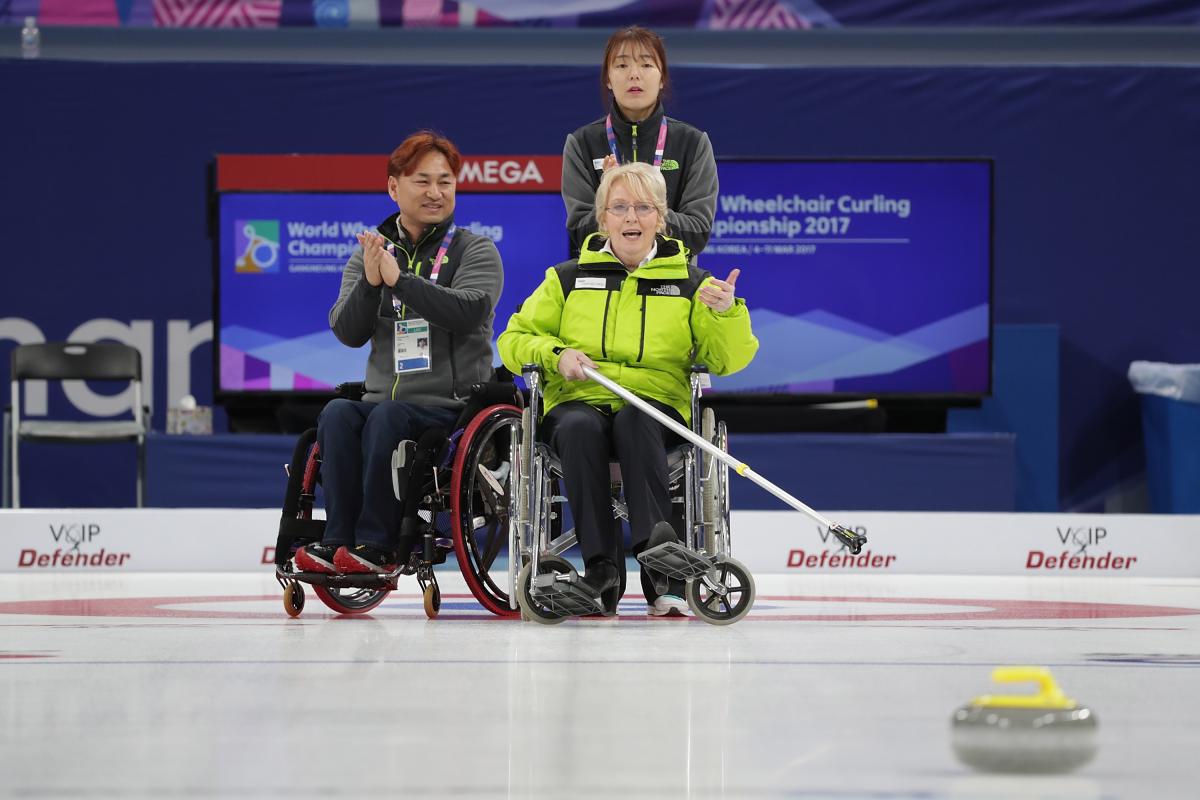 ⒸGetty Images
By IPC
When Kate Caithness introduced wheelchair curling, she said it had to be mixed gender. Some countries said they did not have women to join the national teams.
"Then I said, 'Sorry then you can't play,'" Caithness recalled. "So, they found women and were eligible to play" 
For Caithness, who has served as World Curling Federation's (WCF) President since 2010, she wanted the sport to be no different than its able-bodied counterpart, which she said has "total gender equality across the board."
"And if you look at some of the wheelchair curling teams now, they have women skipping the teams," she added.
Wheelchair curling has been a Paralympic sport since Torino 2006. But Caithness was already laying the groundwork well before then, and her efforts earned her the IPC's 2021 International Women's Day Recognition winner in the Builder category. 
She first learned about wheelchair curling in late 1999, when she was a representative for Scotland on the WCF committee. Switzerland and Sweden were trying the sport and were going to compete in a three-team tournament the following year. Together with Gavin Mcleod, from Scottish Disability Sport, they attended the event to see what it was about.
"I saw what they were trying to do and said this will not work" Caithness remembered. "So, I spent the weekend with them trying to see how the sport could work and we came up with rules and believe it or not, those are still the basic rules for what we have today." 
When she returned home in Scotland, she was determined to make the sport happen. She supported come-and-try sessions in Scotland and was later invited by WCF to be a volunteer project leader to introduce wheelchair curling around the world. Her hard work led to the first World Championships in 2002 and it took no time before it made its Paralympic debut in 2006. 
"Wheelchair curling has opened the door to so many people," Caithness said. "A number of our athletes are accident victims. This was the window to bring them back to the world of sport and they've really embraced it. I truly love being part of it."
In 2013, she received the Order of the British Empire (OBE) for her services to curling and international disability sport. Then in 2019, she was awarded Commander of the Order of the British Empire (CBE) for her services to sport. Caithness is also one of three female presidents in Olympic sports.
Supporting Caithness' statement that "in curling we have total gender equality right across the board", is the story of how mixed double's wheelchair curling – a team of one woman and one man - became part of the Paralympic medal programme.
She recalled: "Our wheelchair athletes thought that there could be another discipline to play. When we introduced mixed doubles for curling at the PyeongChang Olympics, they said they wanted to have mixed doubles in wheelchair curling. We proposed to the players that they develop it, which they did, and thereafter came to us with a presentation on how it would work, which made complete sense. We've embraced it and I'm delighted it's been accepted for Milan Cortina 2026. One man, one woman on a team is total gender equality."
And in terms of what one of piece of advice she would give that would help ensure more women secure leadership positions like hers?
"Just be yourself. Say what you mean. Mean what you say. That's always been my premise," Caithness concluded. "I encourage any women to take opportunities with both hands because it's worth every minute. I've loved it."