Celebrating female role models has powerful impact, says Malinowska-Kowalczyk 
Winner of IPC 2020 International Women's Day Recognition – Builder Category hopes she can inspire more nominations for 2021 edition 
05 Jan 2021
Imagen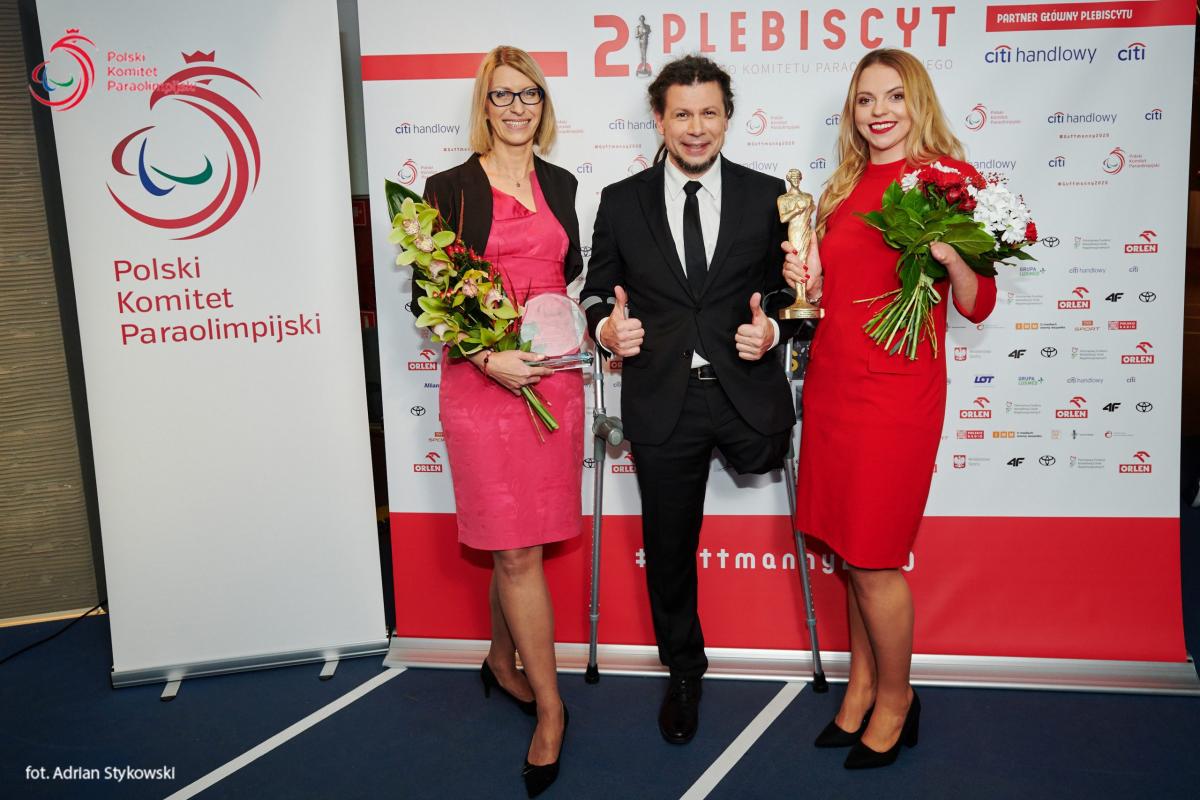 ⒸAdrian Stykowski/NPC Poland
By Ros Dumlao | For the IPC
Paulina Malinowska-Kowalczyk was busy ensuring the Polish National Paralympic Committee's (NPC) year-end award ceremony, Guttmanny 2020, ran smoothly. Broadcast production should be of high quality, agenda followed and all winners should receive their awards.
That December night though, she saw a glass trophy unlike any other.
It was for her. 
Her colleagues secretly added the twist to the evening, handing her the IPC 2020 International Women's Day Recognition award, which she was supposed to receive during the Tokyo 2020 Paralympic Games last summer. The Games' postponement meant the award had to be mailed, and her NPC found a way to give Malinowska-Kowalczyk – their newly appointed Secretary General - a special occasion. 
"It was a real surprise because we had to organise (the Guttmany ceremony) in a different way with only live transmission and without guests or audience,"  recalled Malinowska-Kowalczyk, who won the Builder category that recognises sustained and consistent leadership over a period of time. "And it was just a few seconds before the start when this award appeared on the table. I was aware of everything that was going to happen apart from this, so it was very nice, and of course it made my day and the year." 
International Paralympic Committee (IPC) members have until 8 January to nominate candidates via an online form for three categories – including Next Generation Leader, and National Paralympic Committee and International Federation – for the IPC 2021 International Women's Day Recognition. Winners will be announced on 8 March, which marks International Women's Day.
Malinowska-Kowalczyk remembered anxiously waiting for winners to be announced last March. And to finally hold the award in December was a feeling she wants other women in the Movement to share. Jordan's Maha Bargouthi and the female leadership of Paralympics Australia received the 2020 Next Generation Leader and NPC/IF categories, respectively. 
"I felt proud of myself but with this consciousness that this was done with the help of many people who have been with me the last 16 years," she said. "The first time I joined the Paralympic Movement was as a journalist at Athens 2004. So it was a long story and with many people involved. 
"And this award turns into motivation to continue to work hard. When you get an award, you feel like you can do more."
Malinowska-Kowalczyk lost her arm due to bone cancer at age 11. It was through her personal experience, living with a disability and working in the journalist field, that she came to believe strongly in the power of the Paralympic Games to change people's perceptions.  She was a journalist for many years and worked for Polish Television. Malinowska-Kowalczyk covered five Paralympic Games (2004, 2010, 2014, 2016, 2018) as a reporter and also as a commentator at two Games (2008, 2012), before being appointed spokesperson for the Polish NPC in 2017. 
In addition to serving as an adviser to the President of Poland – the first ever person with disability on this position, she was appointed the NPC's Secretary General in October – a position she called a dream job. 
"I think it's very important to represent women as role models because I think  women are sometimes in the shadows too much, and I think we can be stronger and do more," she explained. "I think we often don't believe we can do so much, so when you get such an award like this one, it makes you feel stronger." 
"You can also learn from knowing what someone else is doing," she added. "It can become an inspiration."