Adaptive Board Chicks bring girl power to Para snowboard
Dutch duo Lisa Bunschoten and Renske van Beek launch training camps to inspire new female riders
06 Apr 2020
Imagen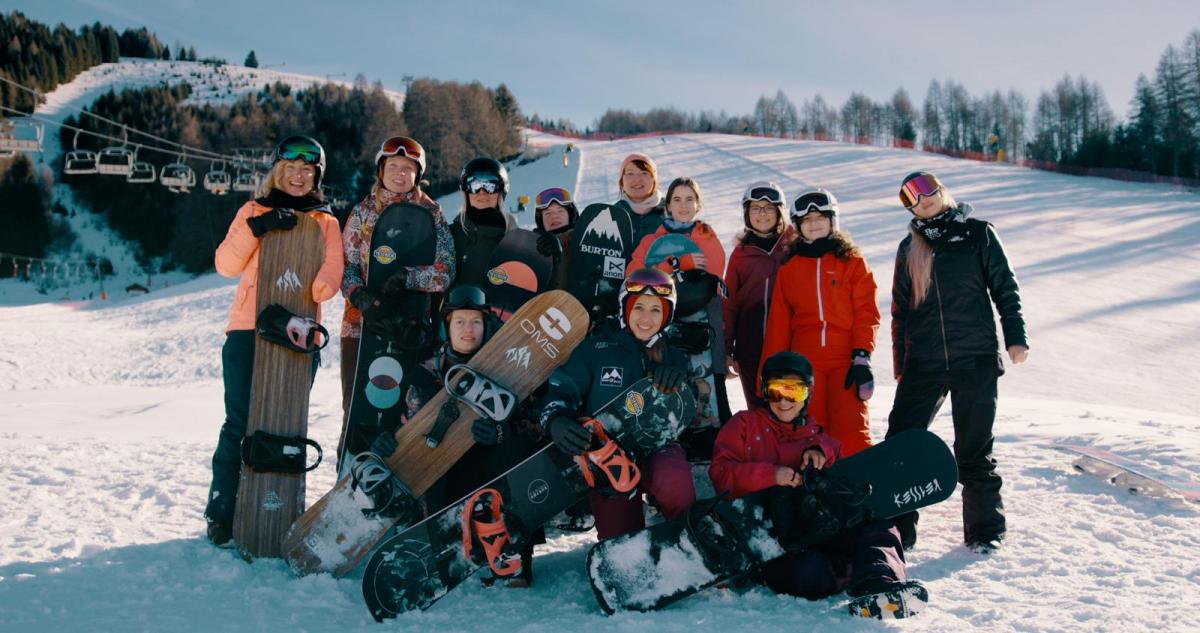 ⒸJerome Kim
By Lena Smirnova | For World Para Snow Sports
It began with an Instagram post.
A year and 16 #girlpower hashtags later, a call for action from two Dutch athletes is inspiring more women from around the world to experience the thrill of Para snowboard.
"It worries us that if there won't be any more competitors in Para snowboard, then the girl categories will stop eventually. We talked about what we could do as athletes to inspire more girls," said Dutch rider Renske van Beek, who launched Adaptive Board Chicks together with her teammate Lisa Bunschoten in April 2019.
The group held two week-long camps for female riders over the 2019-20 season with the support of the Agitos Foundation and these efforts are already having an impact on the world stage.
"Renske and I had the idea that we have to do something ourselves," Bunschoten said. "We really want to inspire other girls to ride, not only in competitions but just ride and have fun, so that's how it started. At first we were thinking only about a camp, but then we wanted to make a whole platform for inspiring."
All the happy people
Adaptive Board Chicks founders can speak endlessly about the joys of being on a snowboard. Both Bunschoten and van Beek have been on the World Cup circuit for more than five years, but as the years went on, they started to notice a drop in female participation. 
Their own, SB-LL2 class remains the most robust, but participation in the the women's SB-UL and UL-LL1 classes is dwindling.
"I don't think Para snowboard is really out there yet. It's not like everybody knows us and it's still such a small sport," van Beek explained. "We can really grow and be a bigger sport."
Bunschoten and van Beek agree that females might also be hesitant to try snowboarding because it looks risky. And they are eager to show them otherwise.
"Maybe some girls think that board sports are a little bit more extreme and a little bit more for guys, but I don't think that's true because it's super fun, so why not try it?" Bunschoten said.
"Maybe some people also don't know that there are competitions and it is possible for people with a disability to ride on a snowboard, and what we really want to do is to show everybody that snowboarding is for everybody," added the two-time Paralympic medallist.
With this goal in mind, the two Paralympians created an Instagram page called Adaptive Board Chicks as a contact point for women who want to try out the sport or develop their skills.
Riders from Canada, Hungary, Italy, Poland, Romania, Spain and Switzerland answered the call and joined the Dutch riders at the group's inaugural training camp in Landgraaf, the Netherlands in October. Thanks to the support of the Agitos Foundation, the trainees only needed to cover their travel costs.
The camp's 14 students ranged in level from beginners to those who received coaching in the past. In addition to snowboard training, participants did some cross-over sports, including a skateboarding clinic, and heard speeches from Bunschoten and van Beek about the lifestyle of a competitive athlete. 
Adaptive Board Chicks held another camp in Folgaria, Italy in January with more than half of the original participants returning for another week-long snowboard blitz. 
"It was really nice to see eight girls coming back to the camp in January," van Beek said. "[It] was really cool to see how much they've been growing and their joy in snowboarding. We had fun."
Bunschoten agreed that the response has been overwhelmingly positive.
"All happy faces," this season's overall Crystal Globe winner said. "They're all working pretty hard to improve and they're smiling all day long."
Bunschoten and van Beek are still working on the Adaptive Board Chicks schedule for the 2020-21 season. Although it will be a busy season with the 2021 World Para Snow Sports Championships in Norway and qualification to the 2022 Paralympic Winter Games on the agenda, they hope to hold more camps when they can. 
Stronger together 
Bunschoten's vision for the future of women's Para snowboard is simple:
"As many girls as possible. It would be great if there are more girls and if the level is getting higher so that we get more competition. That would be perfect."
And it seems that Bunschoten's wish is already coming true as her proteges from the Adaptive Board Chicks camps are beginning to step up to the starting gates. 
Half of the riders who took part in the group's training camp in Landgraaf went on to compete at the Europa Cup at the same venue a month later. Canada's Sarah Anne Cormier aimed even higher, competing at the World Cup stops in Landgraaf and Hafjell.
With time, the Adaptive Board Chicks camps could create even more top-level competition for the Dutch riders, like SB-LL2's Cormier. But rather than being daunted by the looming challenge, Bunschoten and van Beek are embracing it.
"Snowboard is just my favourite sport in the whole world. I really love to ride sideways and I want to be better at it at every point," van Beek said. "Snowboard is helping me to grow as a person and to be the best version of myself, to do something really cool and be part of something cool. Now I'm at that point that I can share the snowboarding and that feels so, so good."
You can follow more stories about the Adaptive Board Chicks snowboarders on World Para Snow Sports Instagram Page.