Papara bringing Romanians with disabilities out of the dark
LL1 rider wins Romania's first ever medal at the World Para Snowboard World Cup
15 Mar 2020
Imagen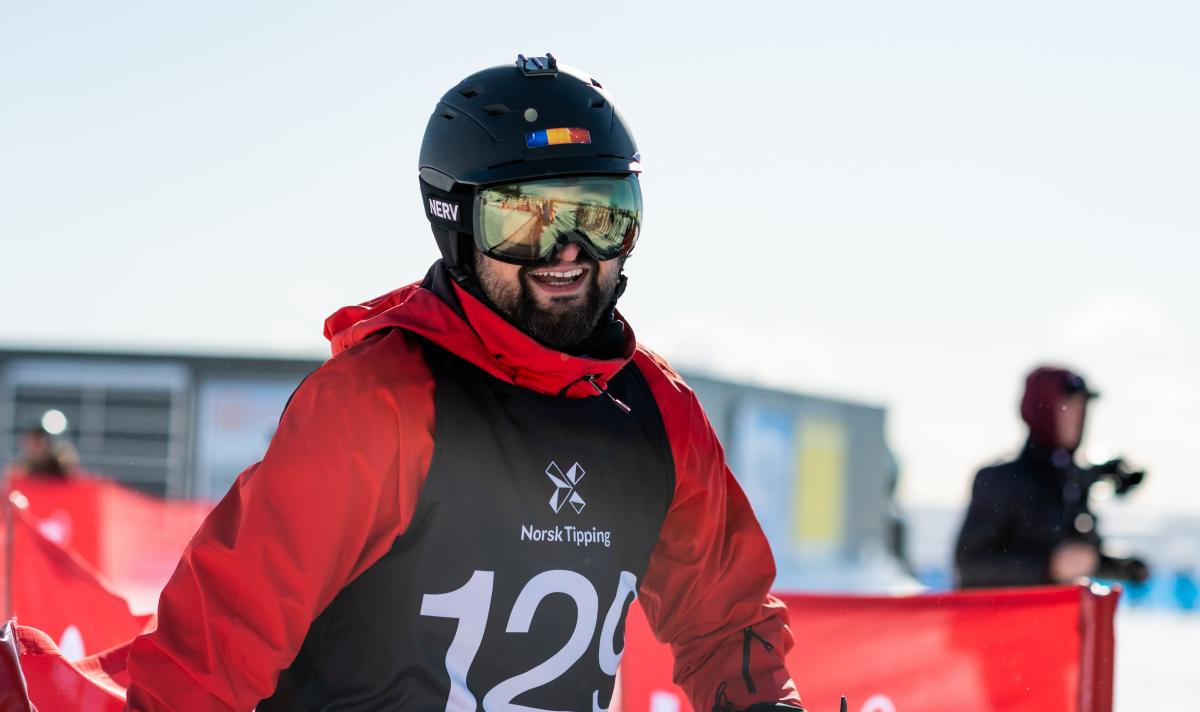 ⒸGisle Johnsen
By Lena Smirnova for World Para Snowboard
Mihaita Papara has kept an obscure, black-and-white picture on his phone for more than five years.
It is a French magazine cover from the 1950s showing an above-the-knee amputee practising skiing - a picture that the Romanian snowboarder first saw during his recovery from a similar amputation and which has inspired him to become a Para athlete.
After five years on the World Cup circuit, Papara has enjoyed a breakthrough 2019-20 season. He got third places in the overall and banked slalom rankings in the men's SB-LL1 class and his first medal at the World Cup - a silver from March's dual banked slalom in La Molina, Spain.
The latter made him the first Romanian Para snowboarder to win a medal at the World Cup.
Papara hopes this will bring more attention to Para sport back home so that nobody with a disability needs to spend hours looking for role models as he had done, only to settle on a foreign image dating back to more than half a century.
"The fact that these results are visible, it helps to change mentality back home. It helps to show that people with disabilities can practise sports at a high level," Papara said.
"Back home it's an issue with educating practically everybody about inclusion, about the way we interact with disabled people."
INTO THE SHADOWS
Papara is impossible to miss on the course. With his left pant leg hiked up, his prosthetic is clearly visible as he confidently rides towards the finish line.
The choice to display his prosthetic so openly is intentional.
"The fact that I use my prosthetic in a visible manner has two aspects. One is the functionality of it because I need to access quickly the mechanism if I need to change some settings, and the second one is that the visibility of the disability is important. If I cover it, people won't realise the gravity of the disability," the athlete said. "It's a matter of visual impact."
Papara was not always this open about his prosthetic. Growing up in Romania, the references he got to people with disabilities were mostly negative, which made his above-the-knee amputation appear all the more devastating at first. 
"I was 25 when I had my car accident that left me amputated and I have to admit that I was not educated about disability. I had a huge shock. It was very difficult for me to accept my new situation, psychologically, socially. It's a subject that was not discussed publicly in my home country," he said.
"The fact that up until 25 years of age, I didn't see that many disabled people in real life except some negative examples of beggars, for instance, missing a limb, it scared me because when I had my amputation, I thought that this was something that would happen to me as well."
Papara spent "hours and hours" on the Internet when he was in recovery, looking for role models with little success. After a long search, he finally stumbled on the French magazine cover, which turned his life around and which is saved on his phone to this day.
"That picture had such a positive impact on me," Papara said. "I realised that if people back then were capable of practising their sport with an amputation similar to mine, in the 20th century, with the level of technology and medicine that we have now, it would be much easier for me to do something similar."
INTO THE SPOTLIGHT
Papara participated in many sports before his accident, but none at a high level. Despite never being a competitive athlete, he was drawn to the idea of using sport to overcome his impairment. 
"I thought that athletes with disabilities that get to practise sport at a high level means that they overcame their disability in a manner that would help them live their life at the fullest because my hope was to recover at the highest level possible, not to recover at the level of a couch potato," said the father of two. 
Snowboarding was "a practical choice" for Papara. He favoured skiing before his accident, but with a prosthetic leg snowboarding was the more comfortable option. 
While his enthusiasm was outstanding, Papara was far from a natural in the sport and even had to fight with race officials to stay on the start lists. This dedication and effort eventually came full circle as Papara won his first World Cup medal at the same resort where he was nearly scratched off the list five years ago.
"In Spain, it was my second big competition…and I was horrible. I struggled a lot. I fell a lot. I was looking at the other teams. I was looking at the Americans, I was looking at the French, I was looking at the Italians. They were flying and I was crawling," Papara recalled. 
"I even had to fight with the race director because they wanted to send me home and I said, 'No no, I'm here to represent my country. I was sent here by the national Paralympic committee. I need to do this. I need to finish the race'. And I did finish the race. I had points, I wasn't disqualified, even though I struggled a lot. I was not close to the others. I was really really far from the others, but seeing the videos from that time and five years later stepping on the podium with a silver medal was a huge accomplishment."
Papara's milestone medal made waves back in Romania. After its mention on the national news, strangers started congratulating the athlete's family in his hometown. Papara hopes this is a sign that perceptions of people with impairments are changing in his country.
"There are a lot of people that stay behind the TV or behind the Internet maybe wishing to do something, but lacking the point of reference so I think it's important to see someone progress, to see that they were not that great at the beginning, to see the struggle," Papara said. "I hope that my example is a positive one for a lot of people who understand that with hard work and dedication, they can achieve a good result."