Crystal Globe winners to be decided in Norway
Australia's Ben Tudhope and Great Britain's Owen Pick in search for first overall World Cup title
10 Mar 2020
Imagen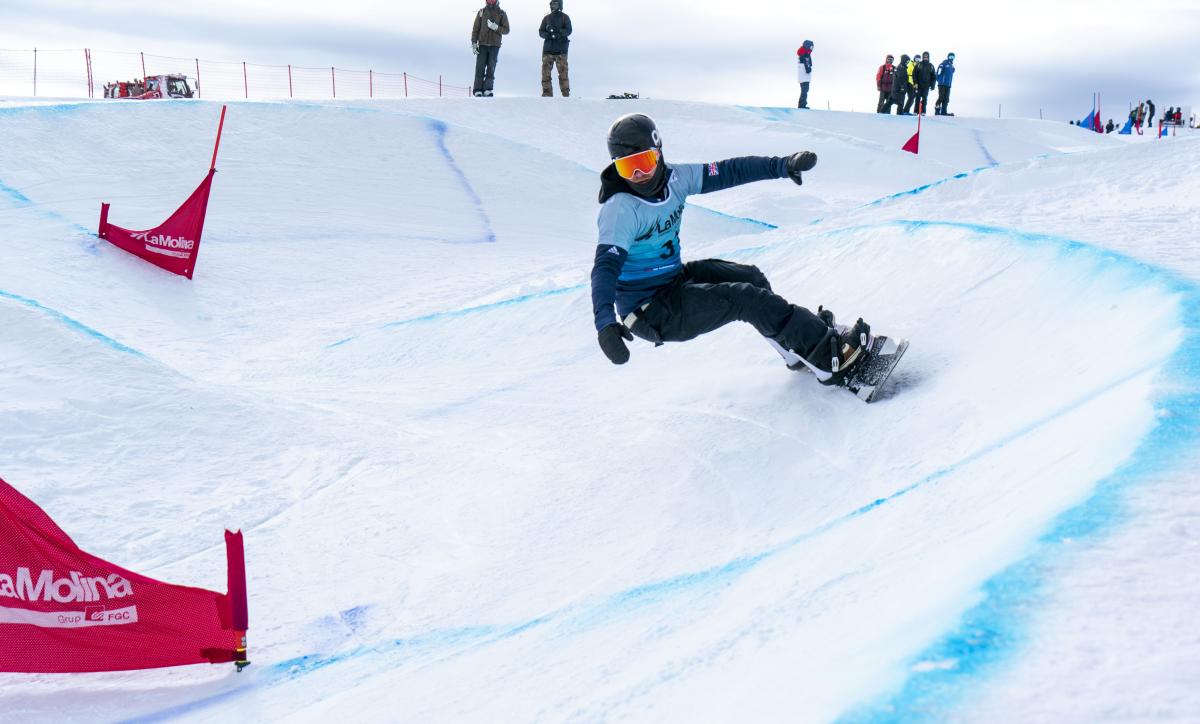 ⒸLa Molina 2020 LOC
By Lena Smirnova | For World Para Snow Sports
The Crystal Globe winners of the World Para Snowboard World Cup will be revealed in Hafjell, Norway this week as the 2019-20 season comes to a close with three final races.
The Norwegian resort will host two snowboard-cross and one double banked slalom race from 10-15 March to wrap up the World Cup season, which started in November. Two of the races, the dual banked slalom and one of the snowboard-cross, will be worth twice the points. 
Champion's tribute
Australia's Ben Tudhope could leave Norway with his career's first overall Crystal Globe. He was second overall last season and currently leads the men's SB-LL2 class by 1,240 points. 
This season has been a rollercoaster for the 20-year-old Australian. He cruised into the World Cup on the momentum of winning the Crystal Globe in banked slalom last year. But when his coach, Mikko Wendelin, passed away suddenly a few days before the World Cup in Pyha, Finland, the season became about much more than just points.
"All we can do now is stick as a team and ride in his name and honour his legacy," Tudhope said of how his training group, called Team Unicorn, is paying tribute to their late coach. 
Tudhope dedicated his double gold in the snowboard-cross races in Pyha to Wendelin and continues to call up his advice at every race opportunity.
"Everything I do out here is for him and he's in my head every step of the way telling me what to do and how to ride. I just want to make him proud," Tudhope said.
"He was a very stubborn person so no one was perfect," he added. "Some competitions I ran last year, he was like, 'you could have done better' and I'm like, 'I got the gold medal mate, what more can I do?' But he always pushed me and that has always come through me. If I think it's a perfect run, there's always a bit more I can do."
Tudhope's closest rival for the overall Crystal Globe is Owen Pick who soared in the rankings after picking up two gold medals in double banked slalom in La Molina, Spain in the first week of March. The British rider is also in the lead for the discipline's Crystal Globe. 
From unlucky 13 to the big time
Pick's teammate James Barnes-Miller is also within reach of his first overall Crystal Globe. The SB-UL rider from Great Britain broke his collarbone in January 2019 and only managed to race in two World Cup stages before missing the rest of the season.
He finished the 2018-19 season as 13th overall, but is currently in the lead for the snowboard-cross Crystal Globe and is second in the overall rankings.
"It's massive," Barnes-Miller said of potentially winning the overall Crystal Globe. "At the end of the summer, we sat down with our governing body and I said, 'I would like to try and get a Globe this season', and for me, I was more looking at the border cross. I thought it might be possible [to get overall], but I didn't think I'd be sitting in this last race where I am."
The British rider won his career's first medal in banked slalom, a silver, a week ago in La Molina, which boosted his confidence ahead of the double-points race in Hafjell.
"We knew it was my weaker discipline but we knew if that improves, then my border cross will improve as well so we spent a lot of time working in banked," Barnes-Miller said. "We really focused on the techniques and lines into banked and it's paid off this year so far."
The ranking leader in the men's SB-UL class, Jacopo Luchini of Italy, was forced to withdraw from the races in Hafjell due to Norway's recent government regulation.
The regulation prohibits athletes from several countries, including Italy and Austria, from taking part in competitions in an effort to fight the global transmission of the COVID-19 virus. 
Double Dutch?
Dutch rider Chris Vos appears on track to defend his overall title in the men's SB-LL1 class, especially since the runner-up, Norway's Kristian Moen, will not compete in Hafjell after getting injured during training in La Molina.
It will be harder for Lisa Bunschoten to defend her overall title than it is for her teammate Vos. 
Bunschoten won the Crystal Globe in the women's LL2 division last season with an impressive 2,570 lead over Spain's Astrid Fina Paredes, but this year she will have to fight to keep that title.
Coming off two victories in La Molina, Fina Paredes is 400 points ahead of her Dutch rival and will be looking to add more points in Norway. The Spanish rider, who gave birth to her first child in late 2019, also leads Bunschoten in the banked slalom rankings. 
While Russia's Viktoriia Iakimchuk has the lead in the overall and banked slalom rankings in the women's SB-UL class, Poland's Monika Kotzian is ahead by 500 points in the snowboard cross and is not likely to leave Norway empty handed. 
Live results from Hafjell will be available on World Para Nordic Skiing website.
You can follow more about the World Cup finals on the World Para Snow Sports social media pages.