Bosnjak gives and seeks respect on world stage
Croatian rider makes golden comeback to World Cup after a drawn-out injury
06 Mar 2020
Imagen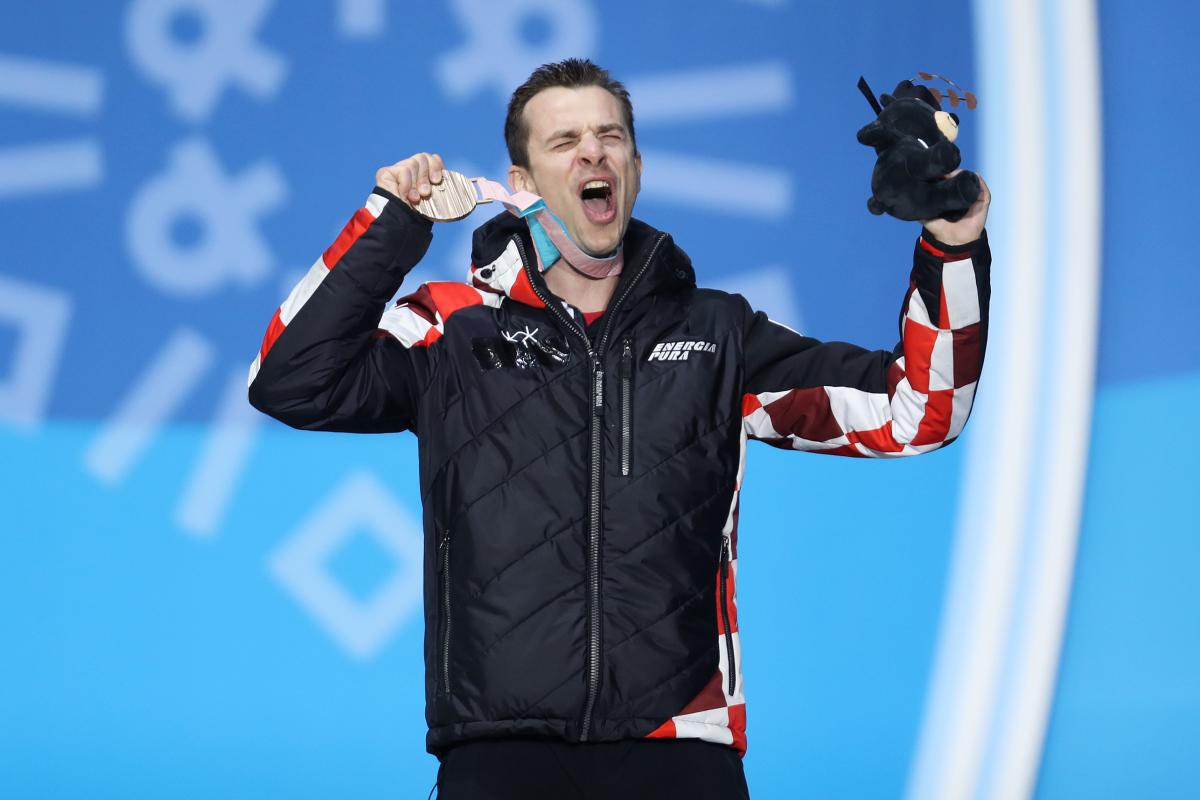 ⒸLinnea Rheborg/Getty Images
By Lena Smirnova | For World Para Snow Sports
When former Olympic snowboarding hopeful Bruno Bosnjak first stepped into Para snowboarding, he brushed the other athletes off. But after racing against them at the 2017 World Championships, he realised that winning medals in the sport would be anything but easy.
Not only did the Croatian athlete fail to wrestle medals from riders he deemed weak, but he saw that his own riding still had far to go before he would get respect in turn.
"In the beginning when I saw it, I thought, 'It looks easy and they all look quite weak', but that was the beginning and when I came to the Worlds, I was surprised," Bosnjak said.
"They all got better and I thought, 'OK, it will not be as easy'. It challenged me and it forced me to work harder and train more."
Now with a hefty collection of medals of his own - most recently, a gold from the dual banked slalom event at the World Cup in La Molina, Spain - Bosnjak is heading to the World Cup finals in Hafjell, Norway and is determined not to underestimate his opponents again.
Dashed dreams
A specialist in slalom and snowboard-cross, Bosnjak was preparing for the 2006 Olympic Winter Games when a wrong move took his life on a different trajectory.
A broken neck in a FIS border-cross race resulted in Bosnjak getting spastic in his legs and losing control of some muscles, including the left triceps which are crucial for strong push offs at the start.
 
Realising the severity of the impairment, Bosnjak avoided snowboarding for five years after his accident in order not to be disappointed about how much his skills had deteriorated.
"I did not want just to stand on the snowboard and slip down," he said. "I was waiting until I was so fit again that I could imagine real snowboard riding. That's why I waited so long."
When he finally did get on a snowboard, Bosnjak quickly regained his competitive edge. "It worked really well, almost from the beginning. The second or the third time I could already carve again and I felt like, 'Whoah, it's working'," the 36-year-old athlete said.
"It was a surprise. I was over with snowboarding and then I heard about Para snowboarding and it was, 'OK, let's see what I can do'."
The 2017 World Championships were only the second competition in Para snowboarding for the Croatian athlete. Bosnjak competed in one World Cup banked slalom race earlier but was then wrongly classified into the Upper Limb category instead of the Lower Limb 1.
Contrary to his expectations, the other riders at the 2017 Worlds proved to be tough competition. In the end, Bosnjak finished fifth in border-cross and sixth in banked slalom.
"I thought it would be much easier to get to the podium when I came to the World Champs because I didn't race before," Bosnjak recalled. "And then I saw that the guys were preparing a lot for the World Champs and that it was far not as easy as I thought."
Hard-won respect
In addition to his impairment, Bosnjak has a unique disadvantage on the circuit - the hardboots he is forced to use. The boots help to lessen the spastic in his legs, but also make it more difficult to navigate the technical elements on the course.
Bosnjak persevered despite this challenge and eventually started to win medals at the World Cups as well as a bronze in banked slalom at the 2018 Paralympic Winter Games. Soon other riders started to take notice of his efforts.
"When I came to this Para snowboard world they were looking at me like, 'Eh, who are you, a hardbooter?' I did not feel well and I felt this bad energy, but with time it turned into respect," Bosnjak said. "They see that it's harder for me with my hardboots and more and more people come to me and say, 'Wow, we saw you racing. We respect what you're doing'."
Bosnjak's flair for overcoming challenges was on display again this week when he won gold at the World Cup in La Molina in his first major race after a lengthy injury.
Bosnjak tore the ligaments in his right ankle in late 2019, but the hospital staff did not recognise the severity of the injury. As a result, instead of the four weeks it would normally take to recover from torn ligaments, Bosnjak's recovery took four months.
He missed the first races of this season's World Cup. When he finally did return, in La Molina, the Croatian rider soared straight back to the top of the podium.
"I was hoping to be back with a good result and now I'm really happy that I could make first place again," Bosnjak said. "For the boards I had, for the training I had, the result is really good and I'm really happy about it. I did not expect it."
Bosnjak's next aim is to win a medal at the World Cup finals in Norway, but even more than the upcoming competition, he is relishing the opportunity to continue practising his favourite sport.
"Just being on a snowboard is a great thing for me," Bosnjak said. "It's this 'in the moment' thing. When I'm on a snowboard, I don't think about problems or issues. I'm just in the moment."