Dual banked slalom making debut at World Cup in La Molina
Top Para snowboarders to ride 'masterpiece of snow architecture' after three-month break
02 Mar 2020
Imagen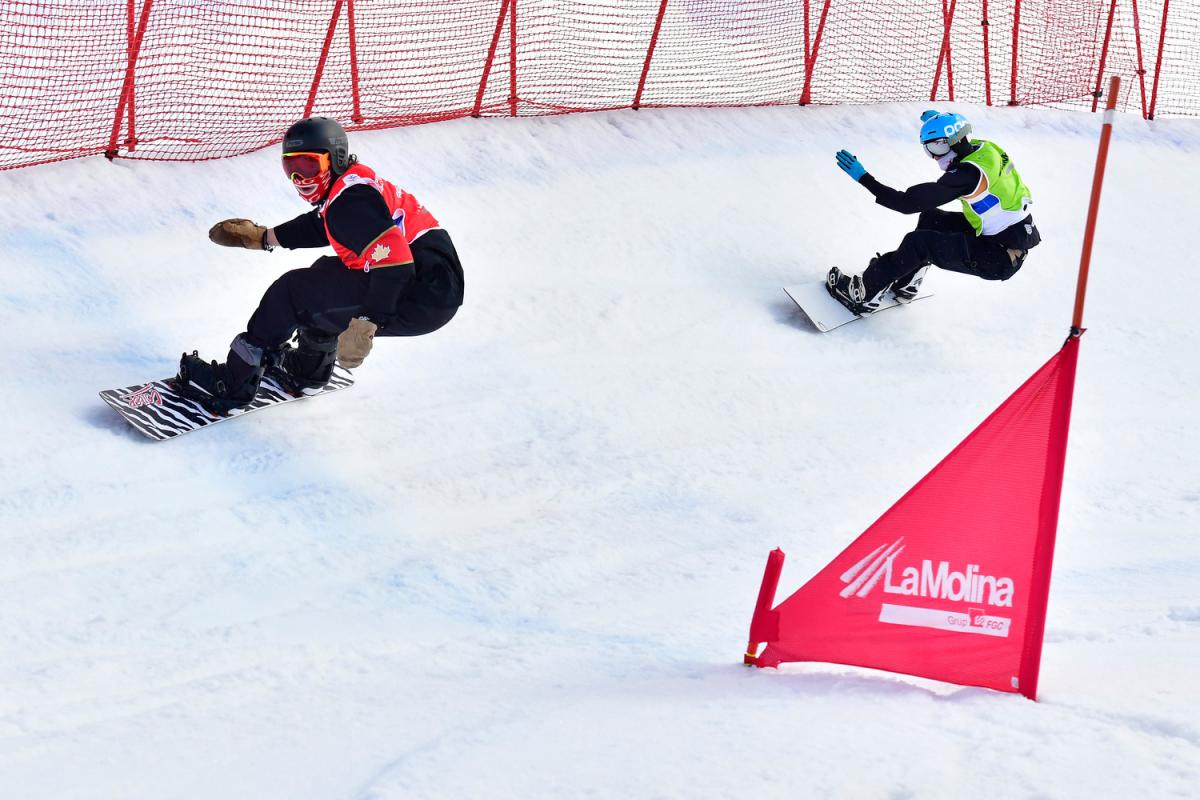 ⒸLuc Percival for World Para Snow Sports
By Lena Smirnova | For World Para Snow Sports
History will be made at the World Para Snowboard World Cup this week when La Molina, Spain hosts the dual banked slalom event.
The two dual banked slalom races, set to take place 2-3 March, will be the international debut for the eye-catching discipline. 
"La Molina have prepared, for the first time ever, a course for dual banked slalom. We are ready for a great show here in La Molina at the first ever World Cup in dual banked slalom with 35 athletes from 14 countries," said Dimitrije Lazarovski, head of World Para Snow Sports. "Thanks to La Molina's commitment, we are putting forward this new format of competition in the current season."
Athletes are also welcoming the new discipline, which builds on last season's introduction of the four-way snowboard cross in select competitions, including the 2019 World Championships. 
"It's a cool decision to run dual banked slalom because snowboard is a spectacular sport, and this discipline will bring even more head-to-head battles and intrigue," said Russia's SB-UL competitor Mikhail Slinkin. 
The athletes had a chance to test out the competition course at the official training on Sunday, and were left in awe of the intricate design.
"It looks fantastic. It is pure pleasure to ride on such a masterpiece of snow architecture." Slinkin said. 
"In Russia we only train SBX [snowboard cross] and have some challenges in this discipline because it has its own specifics, but training on such courses we feel that our mastery is growing and after a few competitions, I think we can show top results."
The course offers two identical runs in banked slalom, marked with blue or red flags, with the athletes to drop in simultaneously during the medal rounds.
"The track is pretty cool and technical, a little bit slow but fun at the top," said Italy's Riccardo Cardani, who is also competing in the SB-UL class. 
Head-to-head
It has been three months since the Para snowboarders last raced at a World Cup. La Molina will be this season's third and second-to-last World Cup competition with the finals to follow in Hafjell, Norway later in March. 
The competition in Spain promises to deliver lots of excitement with some of the sport's biggest rivalries to play out in the unique head-to-head format. 
Italy's Jacopo Luchini and France's Maxime Montaggioni are expected to battle for gold in the men's SB-UL class. 
Currently only 100 points apart in the ranking points for banked slalom, they are competitors who continue to push each other to their best all season long.
In the men's SB-LL1 class, the spotlight will be on Norway's Kristian Moen and Austria's Rene Eckhart as the Dutch ranking leader Chris Vos sits out the races.  
The World Cup in La Molina will also see the return of Croatia's Bruno Bosnjak in the men's SB-LL1 class. 
The Paralympic bronze medallist in banked slalom missed the two earlier World Cups and is making his comeback on the same slopes that brought him his first ever snowboard cross medal - a gold - last season.
In the men's SB-LL2 class, it will be a battle between Matti Suur-Hamari of Finland and Australia's Ben Tudhope. 
Tudhope was named Allianz Athlete of the Month for December after his golden tribute to his and Suur-Hamari's shared coach who passed away a few days before the last World Cup in Pyha, Finland. 
In the women's classes, home advantage will be with SB-LL2 competitor Astrid Fina Paredes, who hails from nearby Barcelona and France's Cecile Hernandez in the SB-LL1 class. Hernandez lives near the border with La Molina and regards it as a home ski resort. 
Live results from the races in La Molina will be available on the World Para Snowboard website.