Suur-Hamari holds nerve to steal victory
Finnish rider gets top place in first competition since heartbreaking arm injury
14 Nov 2019
Imagen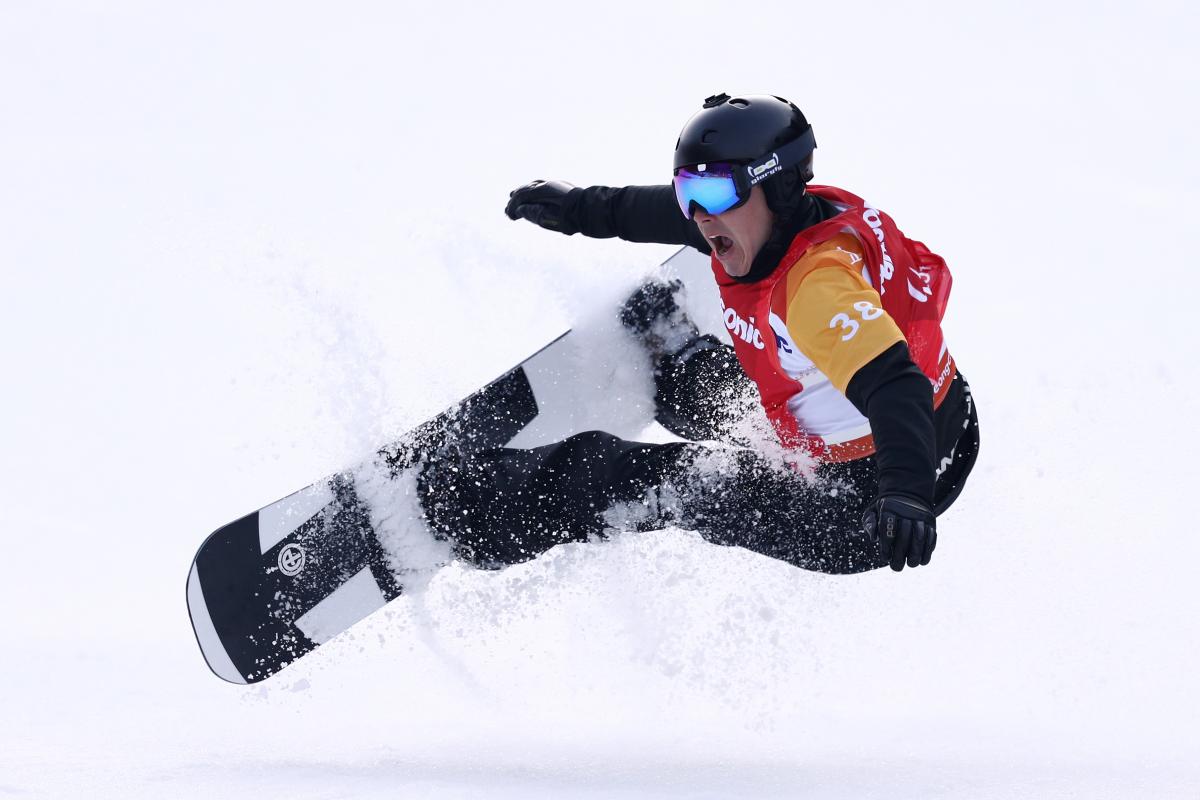 ⒸGetty Images
By Lena Smirnova | World Para Snowboard
LANDGRAAF: Ben Tudhope stood at the finish line, having just jumped from 18th to first place with a 12.25-second improvement on his first banked slalom run, waiting for the last rider to come down.
A day ago, Tudhope's time of 44.47 seconds would have ensured him the gold, but the man dropping in was Paralympic champion Matti Suur-Hamari, so the race leader was far from relaxed.
And rightly so. When put under pressure Suur-Hamari delivered a spectacular result, blazing across the finish line 0.07 quicker than his Australian rival on the second day of the season's World Para Snowboard World Cup opener in Landgraaf, the Netherlands.
"It feels pretty good. It's been a while since the last race," said Suur-Hamari who went out with an arm injury two weeks before the home World Para Snowboard World Championships in Pyha, Finland last season.
"When I heard that Ben got the first spot, I was thinking, 'OK, the course is getting quicker so it's possible to do fast times."
The Finnish rider needed to get surgery on his arm after an injury in March 2019 and spent the home competition watching his rivals race instead of challenging for the medals.
"That was the toughest couple of days I've had when I was watching from the sidelines my home world champs, guys going fast on the course, where I wanted to be," revealed Suur-Hamari.
"I would love to have competed at my home world champs, but I couldn't, so that was a tough moment."
Suur-Hamari was also left off the podium on the first day of competition at Landgraaf, finishing fourth, so the second day's win was all the more valuable.
"The hope for this season is just getting the rhythm back, getting the good feeling back. That's my goal," added Suur-Hamari.
The first day's winner, USA's Zach Miller, finished with a bronze, but managed to shave off 0.62 seconds from his earlier winning time.
Speeding bullets
Lisa Bunschoten became the first woman to go under the 50-second mark during the two-day competition in Landgraaf. The Dutch rider came close on the first day with a time of 50.56seconds in the women's LL2, and again in her first run on the second day with a time of 50.18seconds. She improved further in the second run to finish with 49.61seconds.
Bunschoten's winning time put her 4.65 seconds ahead of Canada's Sandrine Hamel and more than five seconds ahead of team-mate Renske van Beek who repeated their podium places from the first day.
"I'm trying to figure it out," Hamel said about what she needs to do to beat Bunschoten who has been sweeping gold in the women's LL1 since the start of the 2018-19 season.
"I think it's just to keep working hard and, at some point, we're all going to get closer and closer. Same thing for her. She's going to get better obviously, but I hope that in Beijing 2022 (Paralympic Winter Games), it's going to be tight racing."
Hamel managed to improve on her own time from the first day by almost a second to claim her second silver at the season's first World Cup.
"It was just hard work," the Canadian rider said. "I've been around now for three years and I'm starting to see the result so it's just the fact that I was patient and I'm trying to work as hard as I can. I think that's why I made it today."
Like Bunschoten, USA's Mike Minor claimed back-to-back golds in Landgraaf. After accomplishing his goal of going under the 44-second mark in the first run of the men's UL race, the banked slalom Paralympic champion tried to go even faster on his second attempt with the event's reigning world champion on his tails.
Minor and France's Maxime Montaggioni went one and two in the first run and, savouring the rivalry, sped up even more in the second. The effort proved too much in the end, however, as both failed to finish their second runs and were left with the status quo.
Meanwhile, Italy's Jacopo Luchini did improve his time and moved up from fifth to third after his second attempt.
Dutch rider Chris Vos also repeated his golden performance from the first day, leading both runs despite having issues with his new leg suspension. Norway's Kristian Moen and China's Liu Kaiyang settled for silver and bronze, respectively, as on the first day of competition.
"It's completely new so it's good that it's damaging now and we can build something new and improve it again," Vos said of his suspension. "Always room for improvement."
Gold at last
After getting surpassed by her teammates in the first race of the women's UL, Lu Jiangli left nothing to chance on her last effort in Landgraaf. The Chinese rider led both runs and demoted the first day's winner Pang Qiaorong to silver. Lu Mingyi grabbed her second bronze of the competition.
In the women's LL1, France's Cecile Hernandez was golden yet again, with a comfortable 23.99 lead over Liu Yunhai of China.
World Para Snowboard World Cup competitions returns in the first week of December with two cross races set to take place at the 2019 World Championships venue in Pyha, Finland.