French and Dutch riders among biggest Crystal Globe winners
Australia, Great Britain and Russia also part of the 2019-2020 season's best
13 Mar 2020
Imagen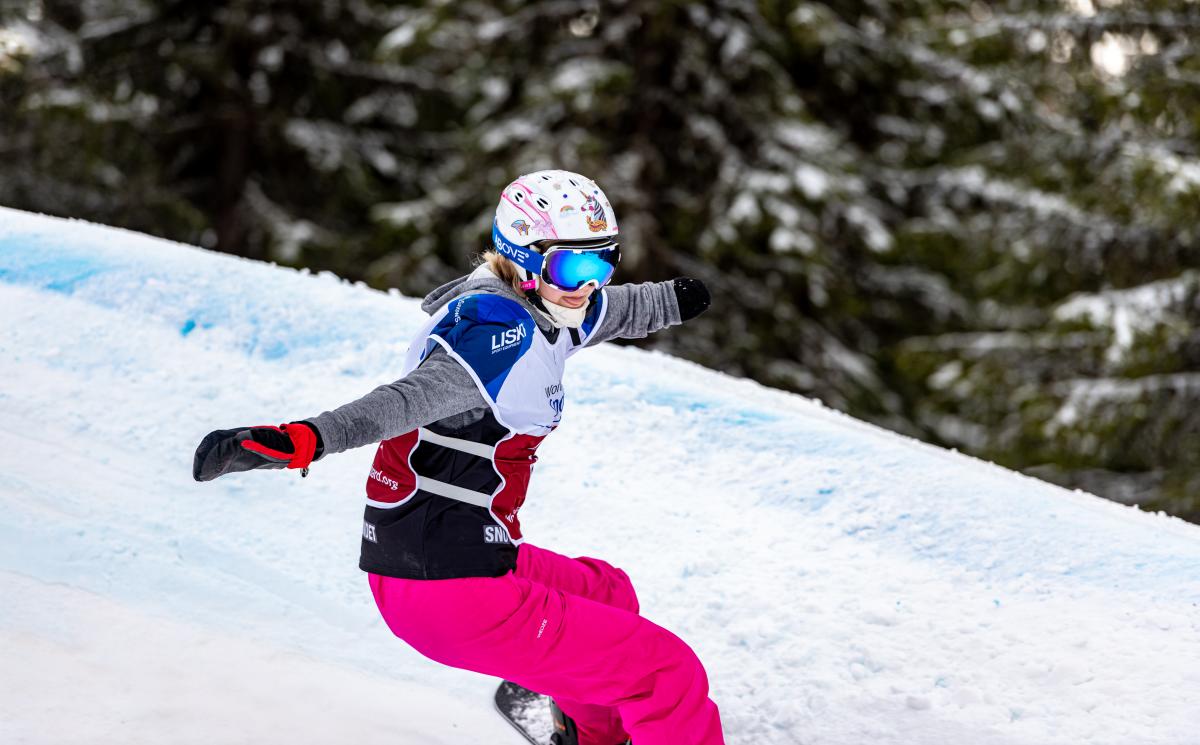 Ⓒ Gisle Johnsen / Hafjell 2020
By Lena Smirnova | For World Para Snow Sports
The overall World Cup Crystal Globes were handed out in Hafjell, Norway on Thursday.
The season was cut two races short after Norwegian authorities made the decision to cancel the remainder of the World Para Snowboard World Cup finals on Wednesday due to the COVID-19 coronavirus outbreak. 
While the dual banked slalom race was held as planned, the two snowboard-cross events were called off. 
France was the biggest winner of the 2019-20 season, receiving the team Crystal Globe as well as the overall and banked slalom Globes in the men's SB-UL and women's SB-LL1 classes. 
Maxime Montaggioni won the overall by 560 points, with Great Britain's James Barnes-Miller and Jacopo Luchini finishing second and third, respectively. 
The victory was a big boost to the French rider. He had come late into the 2019-20 season due to a long injury and finished fifth overall in the rankings.
"This season is very special because it's not very representative of our category, but I'm happy to win. It was the objective for my team and me," Montaggioni said.
Montaggioni's teammate Cecile Hernandez took the Crystal Globe for the second year in a row in the women's SB-LL1 division.
Dutch duet
The Dutch team were second overall with Chris Vos and Lisa Bunschoten defending their overall titles in the men's SB-LL1 and women's SB-LL2 classes, respectively.
"It was super fun. I'm super happy that we do this now," Bunschoten said. 
"The last race was pretty close so that makes it even better," she added about facing Canada's Sandrine Hamel in the big final. 
Hafjell was the first dual banked slalom competition for Bunschoten and Vos since the Dutch team did not compete in La Molina where the event made its World Cup debut. 
Despite the newness of the discipline, the Dutch riders were not intimidated or nervous.
"I wasn't nervous because it's new, only really excited because it looks really cool and it's really fun to race," Vos said. "It's your race and now somebody is next to you and you have to win. It's a bit like border cross too so it was really cool."
Bunschoten shared these sentiments: "I was like, 'go for it and have fun, let's see what this is and have fun'. It was a long day of snowboarding. We normally do less runs in a race, but that's good. A lot of snowboarding, a lot of fun, a lot of racing."
Pick's first
Meanwhile, it was the first overall Crystal Globe for Australia's Ben Tudhope in the men's SB-LL2 class and Russia's Viktoriia Iakimchuk in the women's SB-UL. 
Tudhope skimmed past Owen Pick by 240 points to pick up the overall. The British rider retaliated by claiming the banked slalom Globe, which went to his Australian rival last season.
"It's been mental," said Pick. "I'm used to getting maybe one podium a season and then when I went to the Dew Tour, I won that, and then La Molina last week, I won both of them and I was like, 'Jesus, I've never been in this position before'. I've never had a Crystal Globe or anything. Then coming into this event, I was like, 'OK, let's see what happens', and I managed to pull it off."
A relative newcomer to the scene, Iakimchuk was able to take the Crystal Globe ahead of Poland's Monika Kotzian and China's Lu Jiangli thanks to her double victory in the dual banked slalom in La Molina, Spain earlier in March and a solid performance in Hafjell.
The Crystal Globes were awarded only in banked slalom and the overall this season. No Globes were given for snowboard cross because official rules require a minimum of four races to be held in the discipline to calculate the rankings and only two SBX races were completed.