Brittani Coury puts on nursing gear to fight COVID-19
Abrupt end to World Cup season puts USA's Paralympic medallist snowboarder on new mission to save lives
26 Mar 2020
Imagen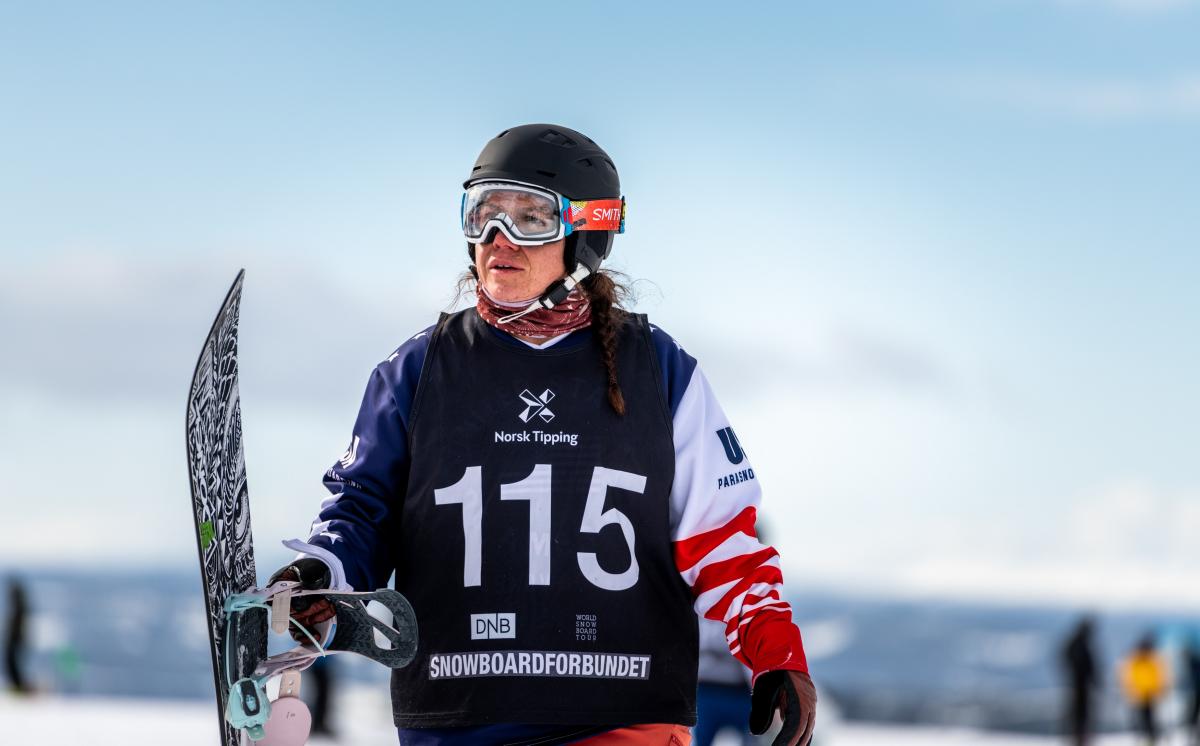 ⒸGisle Johnsen
By Lena Smirnova | For World Para Snow Sports
In a normal season, Brittani Coury would be putting on her helmet and strapping into her snowboard right now. Instead, the USA rider is putting on scrubs and heading to the front line of the global battle against the COVID-19 coronavirus pandemic.
Coury is a registered nurse. When the World Para Snowboard World Cup season was cut short in March, she answered the call to care for the rapidly growing number of coronavirus patients in USA.
"I love being a nurse. It's my other passion aside from snowboarding and in times like these if you have a degree, especially in health care, and you don't put it to use and you don't go out there and help, I feel like that's such a huge disservice," the SB-LL2 rider said. "I don't think I could live with myself if I just stayed home because I was worried about catching the virus."
Midnight escape
Coury was so tired on the night of her first World Cup race in Hafjell, Norway that she did not wake up when team staff knocked on her hotel door about a late evening meeting. 
When she got up the next morning, the news came in waves. The next World Cup races in Norway were cancelled due to COVID-19, and her home country was closing its borders to flights from Europe in less than 48 hours. 
By 1 am, most of the USA athletes, including Coury - her luggage one bronze medal heavier - were on a bus headed for the airport. 
"I didn't freak out. I wasn't scared. In times like this, you have to roll with the punches," Coury said. "It was a time for me to reflect and be thankful that I was in a place where I could come back home."
March not only brought an end to the World Cup for Coury, but the season overall as ski resorts across the world shut down amidst the global health crisis. If not for the pandemic, Coury expected to continue training with her group, Team Utah, until the summer. 
"My season wouldn't have been over until the mountains closed," she said. "With Snowbird [ski resort], we had so much snow that we would be training into June, easily."
With the ski resorts closed, Coury turned her attention to another pursuit she feels as passionate about as snowboarding. On Monday, March 30 she will start her shifts as a nurse at the University of Utah Hospital in an effort to outrace the fast-spreading virus.
Two passions
The nursing profession was not a natural match for Coury. As a teenager, she dreamed of becoming a professional snowboarder and never considered going to nursing school. 
That changed when she injured her right ankle and underwent eight surgeries in the span of two and a half years.
"During all of my surgeries I had incredible nurses and I've had nurses throughout my adult life that have impacted me in such a way that it inspired me to want to become a nurse," Coury said. "I saw that I could do that for somebody else."
Coury chose to amputate her leg below the knee in 2011, after which she stopped snowboarding and took up nursing studies instead. It was not until watching the Para snowboard competition at the Sochi 2014 Paralympic Winter Games that she decided to get back on the board. 
"I remember being like, 'oh, I know I can do that. I know I could snowboard at that level. I know I could,' but at the time I didn't have a car. I didn't have access to the mountains and I didn't have money to go snowboarding," she recalled. 
"When I graduated in 2016, that thought was in the back of my mind that I had to get back on snow. I told myself I would do one race and if I failed epically, that was fine, but if I didn't do that one race, I knew I was going to live the rest of my life with regret."
True to her promise, Coury took part in her first Para snowboard race the same year as her graduation. She made her debut at the Dew Tour in December 2016 after just 12 days of learning how to ride with a prosthetic. 
A year and two months later, she raced at the PyeongChang 2018 Paralympic Winter Games and took silver in banked slalom.
"Now I'm able to do my passion all year long. I work as a nurse during the summer and then I get to snowboard all winter long," Coury said. "Snowboarding is what inspired me to want to become a nurse and nursing is what's allowing me to snowboard."
Coury knows it will not be business as usual when she goes back to the hospital next week, but she is all about having a positive mindset when things get hard. 
"I'm not scared to go to work. I'm not afraid of it. I don't live my life in fear and I believe that anything that happens is for a reason," Coury added. 
"Wearing a pedometer while doing a 12-hour shift as a nurse, I probably get more steps in a day than most people get in an entire week. If I was in my house for quarantine versus going to work, I'd have to run around my house all day long just to get my steps in."