Pillow Power Could be Key to Galli's World Championship Success
16 Nov 2010
Imagen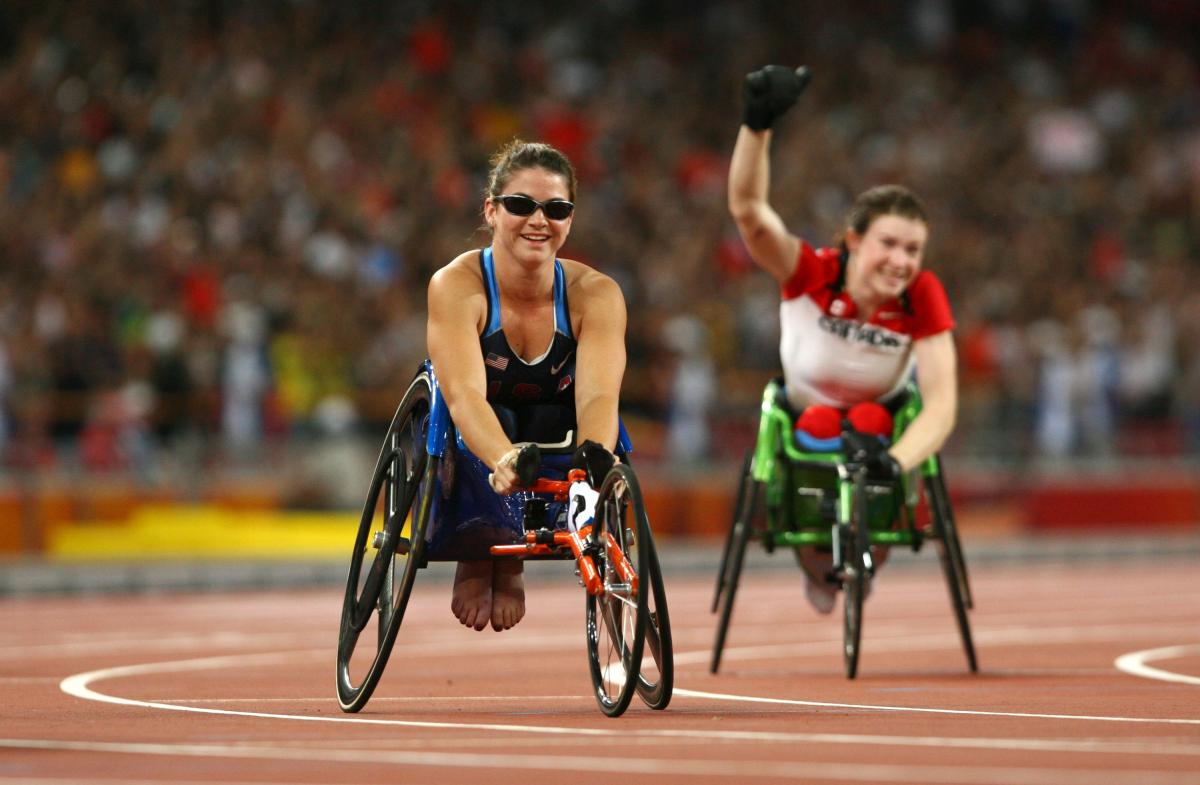 ⒸGetty Images
By IPC
"I'm one of those people who doesn't always have the confidence going into the Championships, but I do when I get there."
Six-time Paralympic medal winner, American Jessica Galli, is not just targeting winning medals at January's IPC Athletics World Championships in Christchurch, New Zealand, but lots of sleep as well!
The 26 year old who will be defending her 400m T53 world title in Christchurch is planning on competing in all track events from the 100m through to 1,500m and is keen to stay in the best possible condition throughout the Championships.
However, rather than relying on the latest sports science to keep her in prime condition, Galli is instead hoping old-fashioned sleep could be the key to her success.
"At the end of a hard day at a competition it's important to get into shape for the next day," Galli told www.paralympic.org, the International Paralympic Committee's website.
"Luckily I haven't been stricken with many injuries so I don't do much in the ice bath kind of areas, I just rest a lot.
"I'm a sleeper and can probably sleep for eight to ten hours a night. And when I'm at major competitions I make sure I get that kind of rest in because I've learned a lot about myself and that is I need to be well rested and feel calm when I wake up in the morning," she added.
After winning five medals at the Beijing Paralympic Games, including gold in the 400m T53, three silvers in 100m, 200m and 800m and a bronze in the 4x100m relay, Galli is hoping for more success in Christchurch and believes the USA relay team could pose a real threat.
Jessica Galli said: "I don't know if it's realistic to say I'll come home with four medals, plus the relay again, but who knows?
"I would love to come home with at least one gold though.
"If I can make any predictions it's that I think our relay is going to do really well. We're running the 4x400m relay and I think that we have a really strong team, as opposed to the one out in Beijing that was a little bit weaker.
"I feel confident about the relay and in the individual events we will have to see.
"I'm one of those people who doesn't always have the confidence going into the Championships, but I do when I get there," she added.
In preparation for the IPC Athletics World Championships Galli is not just relying on sleep to win her medals. She's currently training six days a week with some of her teammates at the University of Illinois where she recently graduated with a Masters in Health Policy and Administration.
"Wheelchair athletes are unique in that we can do so many events," said Galli who lists legendary American wheelchair racer Jean Driscol as her hero.
"My training focuses on the 400m and 800m so with that theory I can go up one or two distances or go down one or two. I sort of take advantage of that and do 100m through to 1,500m.
"I have to have realistic expectations so my goals and everything is centred around the 400m and then I hope for the best in the other events.
"We're in the weights room two days a week and then we'll push for four to five days depending on our schedule.
"We workout for about two to three hours in the morning everyday. Whenever I say it, it doesn't sound much time, but it's quality time," she added.
Injured in a car crash when she was just seven years old, Galli burst on to the athletics scene when she won an 800m silver medal at the Sydney 2000 Paralympic Games aged just 16.
Two years later she claimed gold in the 400m and 800m as well as 100m silver at the IPC Athletics World Championships in Lille, France.
Disappointment was to follow at the Athens 2004 Paralympic Games when she could only manage two fourth placed finishes. However, she was soon back to form and in 2006 claimed 400m gold and 800m bronze at the IPC Athletics World Championships in Assen, the Netherlands.
Then, two years ago in Beijing she won a total of five Paralympic Games medals and broke the world record on her way to winning 400m gold.
Jessica Galli will be one of more than 1,000 athletes from over 70 countries competing in January's IPC Athletics World Championships in Christchurch New Zealand, the biggest ever to take place.
Other big names lining up alongside Galli at the Championships include South Africa's 'Blade Runner' Oscar Pistorius, Irish sprinter and 'Fastest Paralympian on the Planet' Jason Smyth and the Brazilian sprinting duo of Terezinha Guilhermina and Lucas Prado.