Prince's Paralympic addiction
USA's David Prince, a former drug dealer and dropout, inspired the world by winning bronze in the 400m T44 at London 2012.
19 Jan 2013
Imagen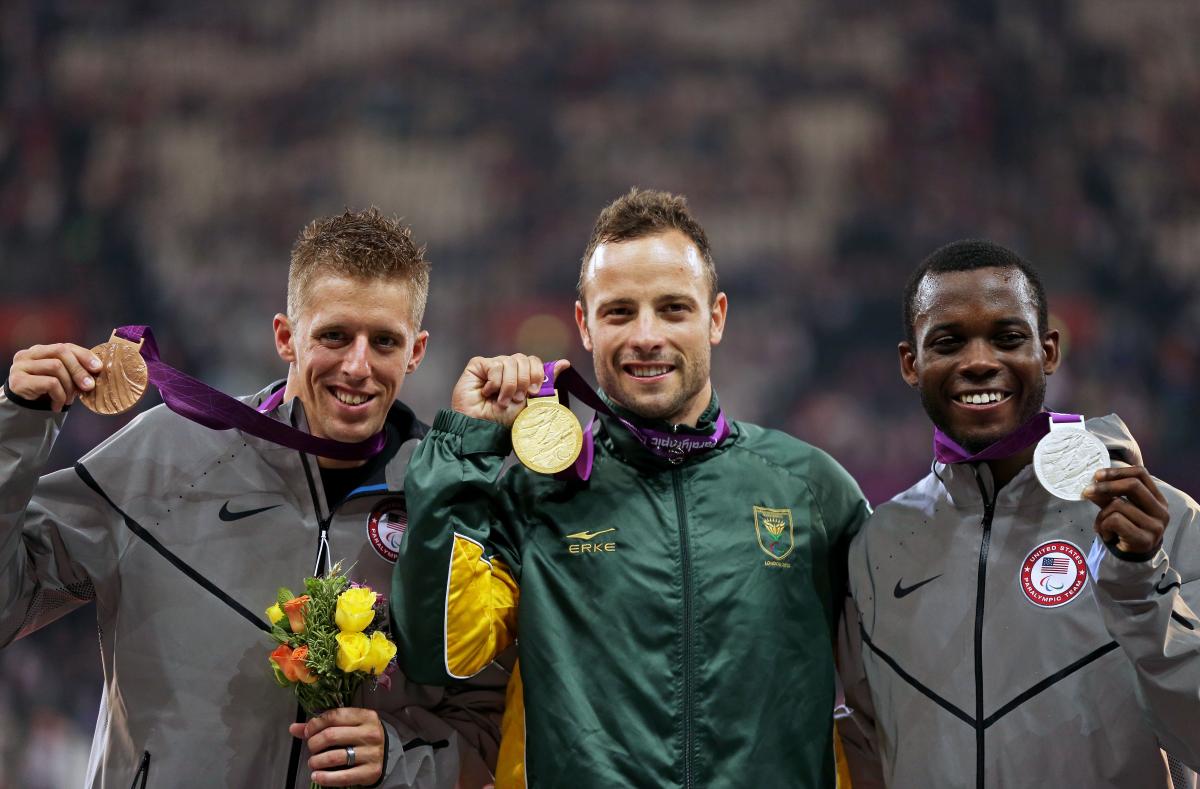 "It was just a matter of accepting the fact that I had failed, and that I needed help."
Editor's Note: This story is courtesy Red Line Editorial, Inc. and Bob Socci, who is a freelance contributor for USParalympics.org.
All David Prince was trying to do at the time was feed an addiction.
His adolescence had been squandered on doping and dealing. He was a high school dropout who had been kicked out of home more than once. He said he sometimes thought of taking the same life that a motorcycle accident could not, even though it claimed his lower right leg. And he'd viewed the world from inside and out of a jail cell.
Prince was barely a 20-something early in 2005, when he asked for two things that would make him more dependent on the one thing that was suddenly all-consuming. He needed a "boot" and a bike.
The original addiction
The son of religious missionaries, Prince wasn't encouraged to compete in sports. Like nearly everyone else, he tried baseball and soccer as a kid. As a freshman in high school, Prince made the diving team. But neither stint, athletic nor academic, lasted long.
Within two years, Prince left school, his parents divorced and he joined his mother, Connie, in Douglasville, Georgia. He was a frequent drug user and a full-time seller. It is why, almost on a whim, he bought a motorcycle in 2002.
"I wanted to have a faster way to deliver my product," Prince said.
Prince was taking short cuts through life, recklessly and immaturely. The ride ended within a week of his purchase. While racing another vehicle, easily in excess of 100 miles per hour, Prince crashed into a guardrail. His right leg was severed, just below the knee.
After emerging from a medically-induced coma, Prince continued an aimless existence of unmet ultimatums from his family. He was later arrested for violating probation and sentenced to two months. During his stay behind bars, he became introspective.
Still, Prince wasn't struck by any epiphanic flash.
"I don't like to call it an epiphany, because it was there the whole time," said Prince, who eventually enrolled elsewhere to earn a high school diploma. "I thought about it. I just ignored it. I ignored that calm voice in my heart to change into something different, because I wanted to do what I wanted to."
Shifting from self absorption to self exploration, Prince discovered his own spirituality. Years after his parents spread the gospel to others, he was converted.
"It was just a matter of accepting the fact that I had failed, and that I needed help," Prince said. "It kind of occurred to me that, 'I need a change. That's pretty obvious. God, the only way I'm going to do that is if you help me, and open some doors for me.'"
The first door to open was Connie's. She had evicted David three times, but she took him in again, with one proviso: he had to join a gym. As long as her son was unemployed, which Prince was, Connie wanted him doing something productive. What better, she thought, than exercise?
An obsession was born.
"That addictive personality that I suffer from became lifting weights," said Prince, who on a healthy leg and a half was squatting upwards of 400 pounds in powerlifting competitions.
He soon dived into the pool again, only to keep swimming; lap after lap. Prince then amped up his new hyperactive lifestyle by taking up running and cycling. He wanted to be a triathlete.
But Prince's bike was rickety; his prosthetic unsupportive. So he reached out to a company founded by the first amputee of the Civil War. Prince contacted Hanger Inc., an innovator in prosthetics and orthotics, seeking sponsorship.
Including a video of himself in action, Prince made a persuasive case. Hanger fitted him with a custom-designed prosthetic leg. Meanwhile, he was given a special bike.
What was once habit forming became life changing.
Sizing up his potential
Eight years later, Prince can only speculate as to why Hanger granted his wish, from among the hundreds that surely are submitted to the company. His youth? The potential he showed on tape? Whatever, with his new "running foot," as he calls it, Prince was on his way.
Thanks in part to Hanger, he was invited to the University of Central Oklahoma Endeavor Games in Edmond, Oklahoma, just outside of Oklahoma City. Prince entered everything possible on the track, in the pool. High jump, long jump, shot put. Sprints and distances. Nine swimming events.
"I wanted to go and see what it was about," he said. "I just went and had fun, man. I just went out and worked hard, and sweated a lot. I didn't know what I was doing. I had no idea."
In 2006, Prince entered the US Paralympics Track & Field National Championships in Atlanta mostly — as he likes to say — "for kicks and giggles." However, Prince impressed coach Joaquim Cruz in the 400 meters, especially as someone who didn't specialise in that distance. They would later reconnect.
Nonetheless, for the next three years, Prince's training was more wayward than regimented. A strong performance in the high jump at the 2007 Rio Parapan American Games convinced him to concentrate on that event. But after failing to qualify for the Beijing 2008 Paralympic Games, and while ending a serious relationship with his girlfriend, Prince reconsidered his future.
"I'm thinking, 'All I'm going to do is focus on work,' " said Prince, who rarely ran anymore by early 2009. "'God, if you want me to keep on doing this track and field business, you'll let me know.' "
The answer arrived in April, when Prince was asked to run the 100m at the Mt. SAC Relays in California. He won. He was then invited to compete in the high jump at the BT Paralympic World Cup in Manchester, England. Once there, he learned of an open slot in the 400m. Prince not only filled it; he finished third in it, qualifying for residency at the US Olympic Training Center in Chula Vista, Calif.
Like his athletic career, Prince's personal life was coming into proper focus. Between training stints in California, he earned money as a swimming instructor back in Georgia. Prince fell in love with a client, Jessie Page, the couple eloped to Tennessee and, in 2010, moved to Brandon, Florida.
He trained regularly at the University of South Florida and occasionally with renowned speed coach Loren Seagrave at the IMG Academy in Bradenton. At the same time, he was also getting coaching from Cruz.
Prince went to Guadalajara, Mexico, for the 2011 Parapan American Games. Among his multiple medals was a gold in the 400m. Everything was in order, a year before London and the next Paralympic Games.
About a week into his next training cycle, David and Jessie took their son, Aidan, to what Prince describes as a "trampoline and bounce house." Forty-five minutes later, Prince launched into a cartwheel, failing to elevate enough and landing awkwardly. His prosthetic bore the bulk of his weight. There was an audible pop. He heard the leg snap.
"I'm thinking, 'I'm done, my athletic career is over," Prince said.
The knee's stabilising ligaments were torn, his hamstring ripped from the bone. Dr. Daniel Lamar, who performed the reconstructive surgery, told Prince his competitive running days were over.
"He said that in the 15 years he had been practicing, he had never seen anything that bad," Prince said. "Coming from a guy who only works on knees, I would say that's pretty significant.
"My wife was still saying, 'David, you don't know if this is the end. God could still be working through this. This just might be another piece of the story.' "
It was. Nearing Christmas, Prince practically secluded himself in a hyperbaric chamber for two weeks. He was in a pool before January was out, walking a month before doctors predicted and running on a non-weight-bearing treadmill before April. He returned to the track less than a month before Team USA trials. Running from the outside, in Lane 7, Prince finished second to qualify.
"It was like the weight of the world came off my shoulders," Prince said. "I thought, 'Now I can really focus on doing something in London.'"
Actually, he did something no one else in his class had ever done. Earning a bronze behind winner Oscar Pistorius of South Africa, Prince set a world record for single-leg amputees with a time of 50.61.
And to think it's just beginning
Neither a horrific accident, nor a youth full of poor choices, nor the momentary shattering of a Paralympic dream marked the end of Prince's story. Nor did the finish line in London.
Eight years after receiving the gifts needed to sustain his healthy obsession, Prince plans to work the next three years toward Rio. This week, US Paralympics named Prince among 33 athletes to the 2013 U.S. Paralympics Track and Field National Team.
He's recovered from follow-up surgery, trains full time at IMG, and coaches others — including able-bodied athletes.
"They're easier to coach," Prince said, jokingly. "They don't have an excuse. It's like, 'Hey, go do what I tell you to do.' "
He laughs. But seriously, his clients need only note what Prince continues to do.
Related Videos