Rennhack becomes heart of German team
Team captain Frank Rennhack proved to be a critical part of Germany's gold-medal performance at the 2013 IPC Ice Sledge Hockey World Championships B-Pool.
19 Mar 2013
Imagen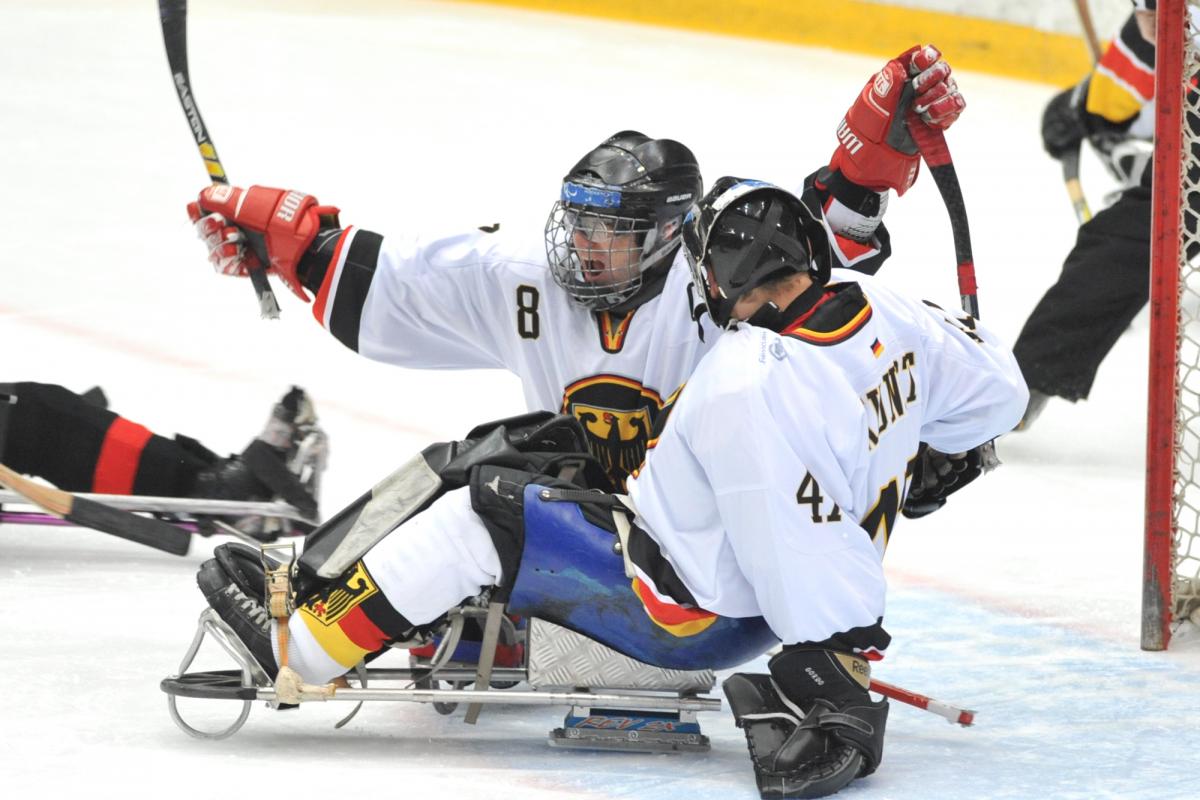 ⒸMoto Yoshimura
By IPC
"Right now, it's our goal to qualify for Sochi."
Frank Rennhack returned to Germany on Sunday evening (18 March) with a gold medal around his neck – confirmation that he was able to successfully mimic the type of player he wants to be at the rink at the 2013 IPC Ice Sledge Hockey World Championships B-Pool.
Germany defeated Japan 3-2 in the gold-medal game of the Championships in Nagano, Japan, as Rennhack was a critical part of the squad, leading the Germans with a team-high six goals, including two in the final against the Japanese.
Rennhack anchored a talented top line in Nagano that also included veterans Bas Disveld and Bernhard Hering.
"I'm trying to be the heart of our team, and I think in Japan it went like I wanted it to," Rennhack said.
Role model
In terms of leadership, Rennhack said he is finally starting to mirror the player he has always admired – USA's ice sledge hockey captain, Taylor Chace.
"He started as a forward and now is a defenseman," Rennhack said of Chace.
"In the past, I thought I would do the same, but right now we have a new coach and he sees me as a forward.
"But Taylor Chace, for me, is the heart of the US team because he plays great defensively and he's also able to lead the offensive line. He can do everything.
"He's a great player and I hope that we can play against each other in Sochi."
Rennhack said the Germans were able to work more as a team in Nagano than they did during their third-place finish at last year's World Championships B-Pool in Novi Sad, Serbia.
He, along with Udo Segreff, who recorded three goals and five assists, led Germany's offense on the ice, which outscored their opponents 21-4 in four games and finished the tournament undefeated.
Even Germany's young players, such as 16-year-old Felix Schrader proved vital assets in beating the host nation for the tournament title.
"I think Japan was actually the favourite to win because they had the backing of the fans and it was on their home ice," Rennhack said. "It was so amazing to play against the host country in the final, and then to win the game was like a dream."
Qualifying for Sochi 2014
Next, Germany will head to the Paralympic Qualification Tournament later this year at a location to be determined. The top two or three finishers from the tournament – depending on where Russia finishes as the Sochi 2014 host nation – will qualify for the Sochi 2014 Paralympic Winter Games.
Germany, along with Japan and Great Britain, will fight for Sochi 2014 spots, as well as the bottom three finishers from next month's World Championships A-Pool.
"Right now, it's our goal to qualify for Sochi," Rennhack said. "For me, it doesn't matter who comes down, but I think that the Swedish team will come down and maybe Italy or the Czech Republic."
Related Images