Seven year itch for world's fastest Paralympian
Jason Smyth is making his World Champs comeback after missing the last in 2011, and hopes to reclaim his world titles in Lyon.
10 Jul 2013
Imagen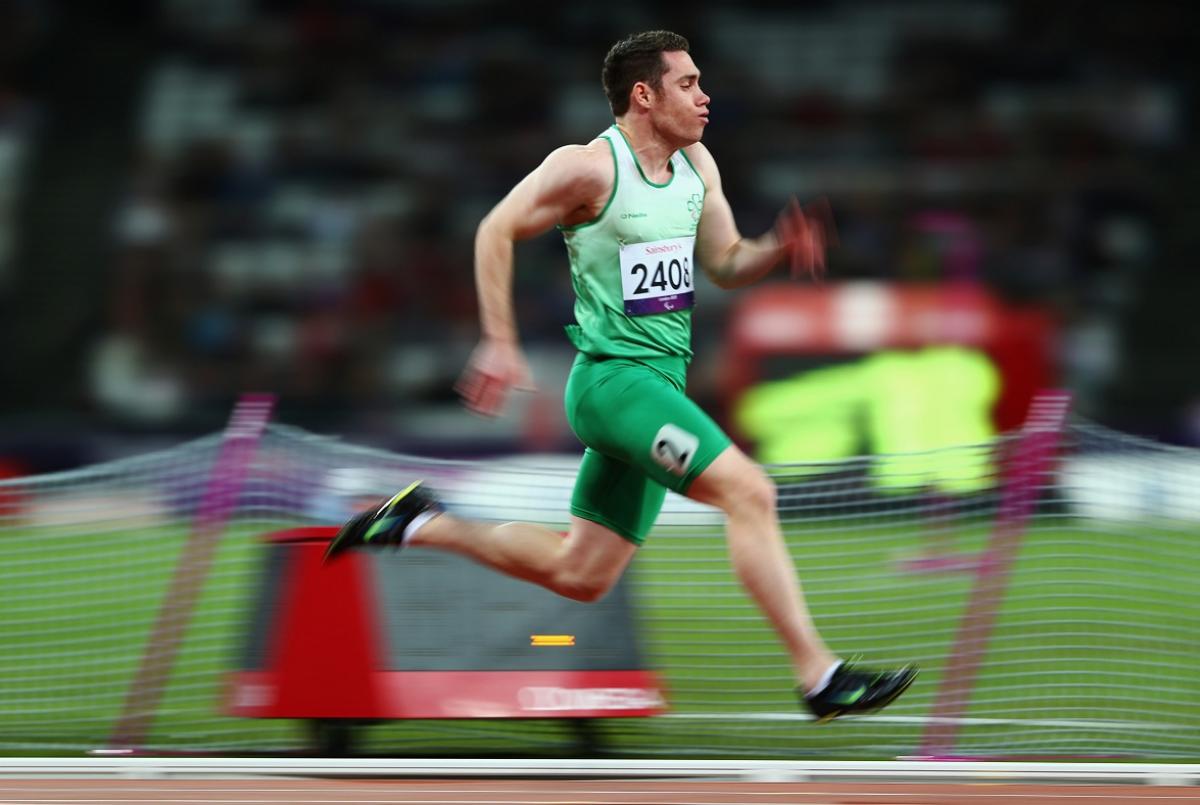 ⒸGetty Images
By Ros Dumlao | For the IPC
"For each individual athlete — not only athletes, but people, it's about trying to achieve what you're capable of."
Known as the world's fastest Paralympian, Jason Smyth sometimes feels he's not that fast.
The 25-year-old Irish double Paralympic sprint champion and world-record holder has been training in Florida, USA for the last four years, alongside some of the quickest male and female athletes in the world. For them, clocking times like 10.22 seconds – Smyth's 100m personal best – is an achievable mark.
"You're in this environment where these guys talk about running under 10 seconds," Smyth said. "Their whole mindset is so much higher than even what I think of achieving. Obviously they are more talented than I am, but it makes you want to do the same."
Smyth, who is visually impaired and runs in the T13 classification, trains alongside the likes of Tyson Gay, the former 100m world champion who recently took the 100m title at the US National Track & Field Championships.
But being able to share the track alongside other world greats has only served to focus Smyth's mind on travelling to Lyon and reclaiming his world titles, which he won seven years ago.
"If you're with these guys day in and day out, you cannot afford to have a bad day," Smyth said. "You're constantly kept on your toes because you're constantly having to push yourself."
Smyth could not defend his 2006 100m and 200m world titles at the 2011 IPC Athletics World Championships in New Zealand because of a back injury.
But that didn't stop him from returning to the track at the 2011 IAAF World Championships in South Korea, where he competed in the 100m and missed making the semi-finals.
Smyth has competed in able-bodied competitions, and his time of 10.22 was just 0.04 seconds shy of the 'A' standard required for the Olympic team in London.
But it's not a matter of competing in Olympic or Paralympic events.
"It's about trying to improve and to be as good as I can be," Smyth said. "You contend, you want to push on more and more. Like I did for London, I saw an opportunity to make the Olympics. And for me, there's no reason why I wouldn't set my goal to try and achieve that. That's what it's about. For each individual athlete — not only athletes, but people, it's about trying to achieve what you're capable of."
His performance at the Paralympic Games in London set the bar for what to expect come the IPC Athletics World Championships later this month.
Smyth set three world records, en route to defending his 100m and 200m Paralympic titles.
He clocked times of 10.46 and 21.05, in the 100m and 200m, respectively.
For him, the biggest challenge to winning the world titles is staying healthy.
"In the end of the day, I can't influence what (my competitors) do; I can only influence what I'm going to do and up to that point," Smyth said. "For me, it's making sure I've done all I could to prepare and make sure I'm injury free. And at the race, make sure I execute my race because the more you get distracted on what the guy next to you is going to do, then the more you're going to get distracted from yourself."
Despite all the records he has lowered, the medals he has won, the feats he hopes to achieve, Smyth knows such joys are only temporary.
A few months following London, Smyth married his partner, Elise, and is happy to share the rest of his athletics experiences with her.
"As fantastic as the things that I've achieved, at the end of the day, it's not the most important thing in life," Smyth said. "For me, it's my family and my wife because they're the people that have been there from the start, before the start, and they're the people that will be there when it all goes away."
At least if Smyth's talent and determination is anything to go by, that time is a long time coming.
The 2013 IPC Athletics World Championships will begin in just over one week in Lyon, France from 19-28 July. Featuring 1,100 athletes from around 100 countries, it will be the biggest gathering of international competitors since London 2012.