Skier hopes to defend para-triathlon world title
France's Yannick Bourseaux, a two-time winter Paralympian on track for Sochi 2014, will race for another para-triathlon world title in New Zealand next week.
17 Oct 2012
Imagen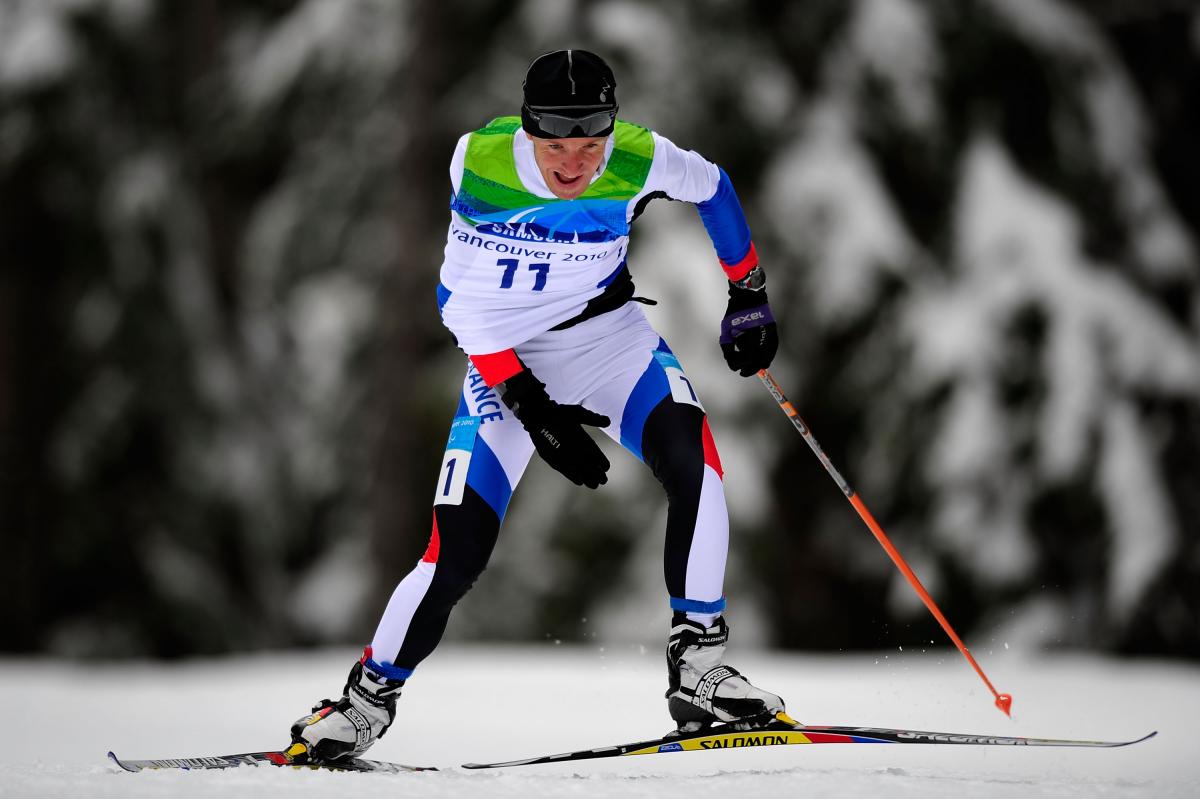 ⒸGetty Images
"I think training for triathlon is like a way of life. When you love what you do, it's not a problem."
In August 2004, Yannick Bourseaux and David Hauss, former teammates on France's able-bodied triathlon national team, were rounding a curve on the Col d'Izoard descent in the French Alps.
Hauss, a fourth-place finisher in the London 2012 Olympic triathlon, meandered his way around the curve.
Bourseaux lost his control and rode off a ledge, falling to the road below and landing on a moving car.
After being resuscitated and undergoing neurosurgery and months of rehabilitation, Bourseaux was left with a paralysed right arm, but his athletic abilities were hardly hindered.
In fact, Bourseaux, who will compete at the 2012 Para-Triathlon World Championships in Auckland, New Zealand on Monday (22 October), is now a dual-sport athlete in para-triathlon and nordic skiing, and it would be awfully tough to say any other Paralympic athlete has as packed of a schedule as Bourseaux's the next four years.
Defending his para-triathlon world title
Bourseaux has two long-term goals in his mind at the moment – qualify for the Sochi 2014 Paralympic Winter Games in cross-country skiing and biathlon and qualify for para-triathlon in the sport's Paralympic debut at the Rio 2016 Games.
That means for the next four years he will have to swim, bike, run, ski and shoot, which explains why he averages 80 hours of training per month.
His road to Rio has already begun, and with para-triathlon making its Paralympic debut there, Bourseaux has noticed the size of the start lists expanding at the World Championships each year.
In total, 109 competitors from 21 different countries will compete across six different men's and women's classifications at the World Championships in Auckland next week.
Sixteen other athletes will try to stop Bourseaux from defending his TRI-4 class world title, with Hungary's Peter Boronkay and Germany's Martin Schulz expected to be some of his top competitors.
Boronkay is a two-time world champion in the event and Schulz just finished competing in swimming at the London 2012 Paralympic Games, so he is in top shape and will challenge Bourseaux in his weakest of the three disciplines in the event.
"I hope the gap won't be too big between me and the leader at the end of the swim," Bourseaux said. "On the bike I will push harder on the beginning to catch the leader, and after I am confident with my running. I hope that at the end of the biking I will be with the leaders, and I think that I will have the fastest time on the run."
Bourseaux hopes he will have the advantage over Schulz, who just recently transitioned to para-triathlon.
"It takes time to learn how to ride after swimming and how to run after cycling," Bourseaux said. "It's not because you are strong in swimming, strong in cycling or strong in running. It's difficult to be a good triathlete because a good triathlete has to be good in three sports and fit for all."
Bourseaux trains with French able-bodied athletes and has been internationally competitive in the sport since he took part in the 1994 Junior World Championships in Wellington, New Zealand.
Definitely not a stranger to the sport, Bourseaux believes he has done everything in his power thus far to hopefully better his time of 1:04.58 from last year's major para-triathlon event.
Cross-training for Sochi 2014
Although this month Bourseaux's heart and mind are in Auckland, his main focus following the World Championships will be on Sochi 2014.
The 37-year-old's schedule this winter is full and will be highlighted by the 2013 IPC Nordic Skiing World Championships from 25 February – 5 March in Solleftea, Sweden.
Bourseaux competed in biathlon and cross-country skiing events at both the Torino 2006 and Vancouver 2010 Paralympic Winter Games, but he failed to medal at either of them and wants a different outcome in Sochi.
Other than spending time with his 3-year-old daughter, Ines, and enjoying leisurely walks with his wife, Fabienne,
Bourseaux finds himself training in two sport disciplines per day simply out of habit because he has been doing it for so many years now.
"It's good to train for triathlon in summer to prepare for the winter season," Bourseaux said.
"When it's summer, I like riding my bike in the mountains. In winter, I like cross-country skiing in the mountains, too."
Now, that accident eight years ago is just a distant memory.
Sport is still at the forefront of Bourseaux's life story, as if nothing ever happened on that Col d'Izoard curve.
"I think training for triathlon is like a way of life," Bourseaux said.
"When you love what you do, it's not a problem."
Related Images