South Korea's Hyeong Hui Kim keen to make up for bitter Paralympic debut
'My family made me reach this point, so that's why I can dream big.'
26 Jul 2021
Imagen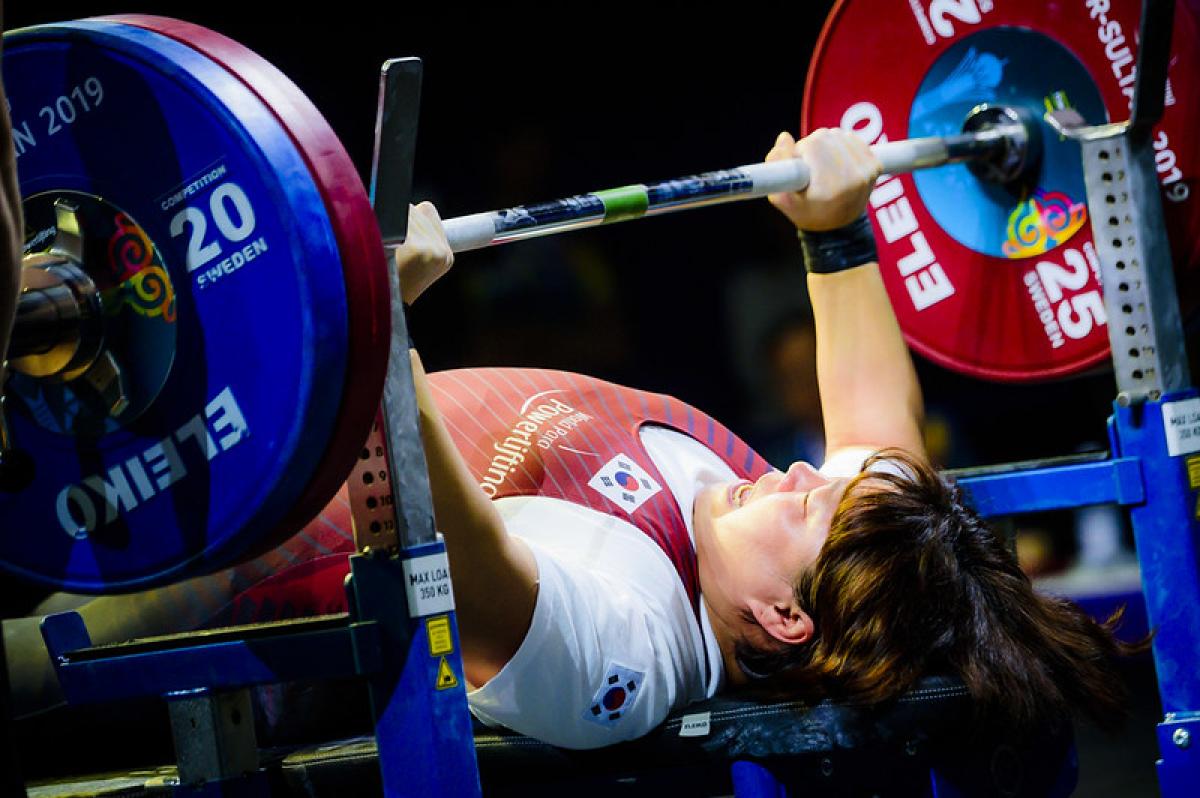 ⒸHiroki Nishioka for World Para Powerlifting
By EJ Monica Kim | For the IPC
South Korea's Hyeong Hui Kim almost left the Para powerlifting scene after being haunted by her disappointing results on her debut at the Rio 2016 Paralympic Games.
"For me, it is still the most unforgettable event in a bad way. I failed three attempts [in the up to 67kg] in Rio de Janeiro. That failure hurt me so much," said Kim who began competing internationally in 2009.   
"After returning home, I didn't really have the courage to look at a barbell and bench as they reminded me of humiliation that I had at the 2016 Paralympics."
Although she was quite determined to switch to other sporting event, her husband Kwang Hyuk Park, former Para powerlifter who represented the country at Athens 2004, persuaded her to continue challenging herself at the highest level.
"My husband told me, 'if you have passion to take up other sports from point zero, it also means that you will be able to be committed to powerlifting once again'."
Afterwards, she won bronze in up to 67kg at the 2018 Asian Para Games in Jakarta, Indonesia.
"I couldn't stop crying on the podium. It made me think how Para powerlifting has been driving my life. But, above all, I purely love lifting weights."
Kim has been busy getting back to her best form ahead of the 2020 Paralympic Games in Tokyo.  
 "Actually, I wasn't well throughout 2020. Therefore, the postponement of the 2020 Paralympics gave me another chance to make up for my mistakes back in 2016.
"At that time, I would say that I lost to myself due to my weak mentality. This time, I'm do my best to be mentally more prepared."
A PARA ATHLETE BEFORE A MOTHER
"If I knew about Para sports as soon as I sustained a motorbike accident [in 1995], I would have entered this world immediately," wistfully said Kim, whose left leg was amputated. 
The 47-year-old spent a decade working in the manufacturing industry, getting married and giving birth to a daughter.
In 2005, she began working at Gwangju Community Rehabilitation Centre in South Korea, and it opened her eyes. "I hadn't realised that there were so many people with impairment in our society before, and I learned that my impairment wasn't anything severe."
Two years later, she was encouraged to participate at the National Para Games by her colleagues and director of the centre.
"To be honest, at first it sounded like a nonsense, as I had never been related to sports," she recalled.
"But one of my colleagues took me to a gym and asked me to follow her after showing bench press. I lifted 20kg right away, and she told me that there would be no way for me not to get involved in the sport."
Despite being one of the most decorated South Korean women Para powerlifters, Kim feels she has struggled with being a good mother.
"I'm definitely a disqualified mother," confessed Kim, whose daughter is in her twenties now. "Although we don't really talk to each other, I can feel that she is keeping being by my side. She has been doing so well by herself, even in the time when she really needed a mother.
"My family made me reach this point, so that's why I can dream big. I'm desperately longing to take home a medal at the Tokyo 2020 Paralympics to pay back to them."