Tokyo 2020: Maximiliano Espinillo seeks to fly high with 'Bats'
'Winning gold is a dream that I see every day. To win it, will be the greatest thing ever'
17 Mar 2020
Imagen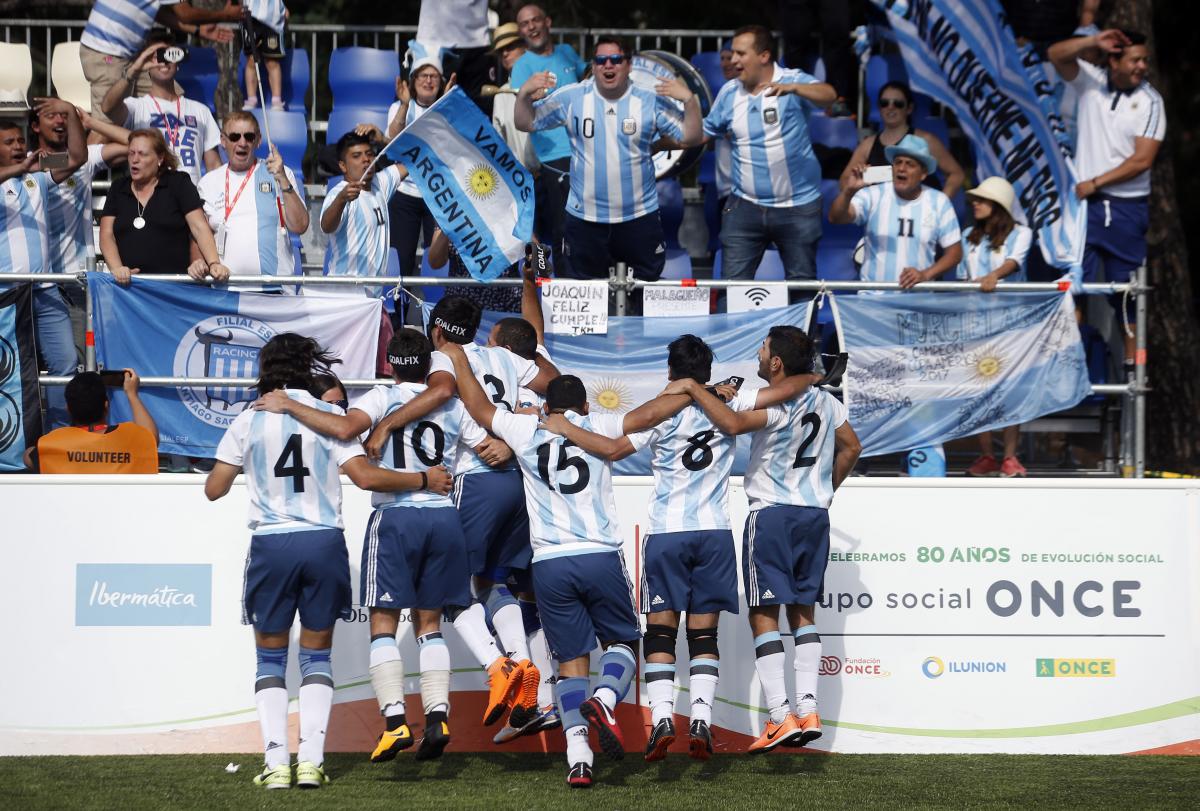 ⒸMadrid 2018
By Santiago Menichelli for the IPC
Argentinian 5-a-side football star Maximiliano Espinillo is indebted to his brother Walter for life. Had it not been for the elder brother's passion for the sport and his persistent efforts, Maximiliano would not have achieved what he is today.
The duo lost their vision at a tender age and once Walter got hooked to the sport, it did not take long for Maximiliano to follow suit.
The stage was tailormade as Cordoba was the second most populous city in Argentina, where the sport thrived with plenty of competitions.
As soon as Maximiliano took to the sport in 2005, his immense talent was there for everyone to see. Three years later, his major breakthrough came with the call-up to the Argentine junior national team.
By 2013, he graduated to the senior national team - Los Murciélagos ('Bats'). The following year, he went to his first World Championships in Japan, where Argentina finished as runner-up.
"It's something I've always longed for and my family has always accompanied me. My brother, who initiated me, could not make it but I always felt his support," recalled Maximilian, who went on to add that his brother Walter has always kept a very low profile.
"I have never said this publicly but he knows how much I respect and thank him," he said.
A LONG WAY TO GO
Though Argentina has always been a force in football, Maximiliano feels that 5-a-side football still needs to be popularised.
"I think we are a registered trademark and many people know us, but there is a good part of the common people who do not know we exist, due to lack of promotion," the 26-year-old said.
"It's been better recently, but we still need a little more coverage from the media. Today, we need a major achievement like winning an international tournament or a world title to get a small space on the page of a sports newspaper or a news broadcast."
Maximiliano and his teammates are well aware of the role that they have to play to boost the sport. Hence, they give their best every time they step on to the field, asserted Maximiliano.
"I know every goal we score and the team wins, it will make a difference. It always serves and helps to bring blind boys, girls and people closer to the sport. We all have to work together to get all the support we need."
PROUD OF BEING 'BATS'
Maximiliano feels that, being a part of 'Bats' has helped him explore the world and his overall growth.
 "I cannot explain it in words how much it has helped me. Not only did I improve as an athlete but as a person because of all the values I learned along with my teammates and coaching staff. And it also improved my quality of life a lot.
"As players of the Argentinian National Team, we have scholarships and I'm able to find means to feed myself well.  Now I can have the right shoes, right training and economic stability to raise my family," said Maximiliano, who lives with his wife in Santa Fe - a province in the eastern region.
THE DREAM DOES NOT END
Maximiliano's achievements include two second-place finish with Argentina at World Championships in Japan (2014) and Spain (2018). His side also took silver at the Toronto 2015 and Lima 2019 Parapan American Games. In 2017, they won the Copa América in Chile and - probably above all - claimed Paralympic bronze at Rio 2016.
Months before the Tokyo 2020 Paralympic Games, Argentina has a clear goal. "To be in the final. After that, getting the gold medal would be an extra prize. We're getting ready for the last game against any opponent," said Maximiliano, who trains for five days a week and travels to Buenos Aires, once a month, to work with the national team.
At Tokyo, Maximiliano and his team's main challenger will, once again, be arch-rivals Brazil, who have won the last three World Championships titles and were crowned in all four editions of Paralympic football 5.
"Brazil is a very good team, it's the No 1. They have key players like Ricardinho, Jefinho and Raimundo Nonato. Technically, they are very good and sometimes they pull a rabbit out of their hat. But we can put up a fight," affirmed Maximiliano, who will be making his second Paralympic appearance.
"Winning gold is a dream that I see every day. To win it, will be the greatest thing ever."