Lima 2019: Canada crowned wheelchair basketball champions
Fantastic performance by Kathleen Dandeneau helps beat USA in thrilling Parapans final
31 Aug 2019
Imagen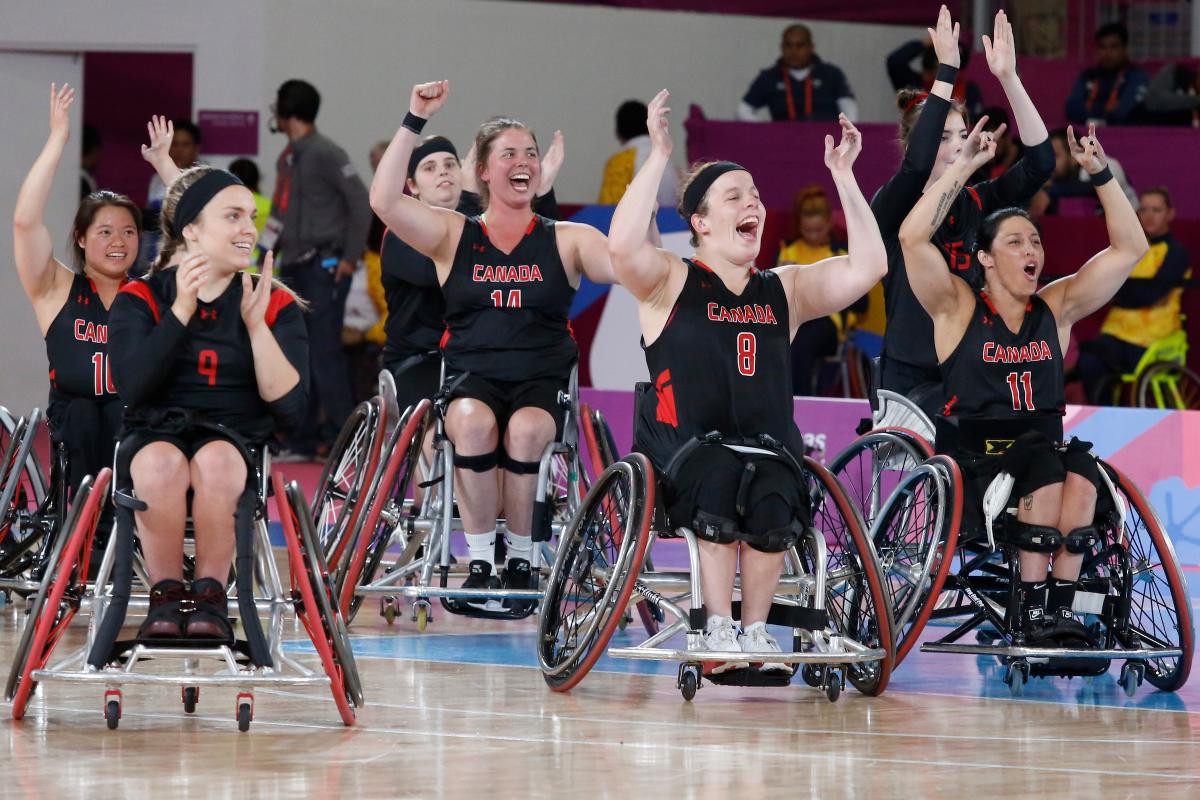 ⒸLima 2019
By NSLima2019 and APC
Canada snatched Lima 2019 gold from the USA in a pulsating women's wheelchair basketball final in Lima, Peru, on Friday, reversing the result of the final in Toronto four years ago. 

The Canadians came from behind in the second half to beat the defending Parapan American Games champions 67-64 in the most compelling game of the tournament, with the North American sides going neck and neck for four quarters.

With neither team able to dominate, the result was in doubt until the final seconds when Kathleen Dandeneau sunk a vital long shot to seal her side's three-point victory.

The 29-year-old only took up wheelchair basketball in 2015 but contributed a match-winning 25 points and 10 assists in what she called a "dream final.

"I've come a long way, that's for sure. Back then I could barely move a chair, so the idea of me being the one on that spot in this final was a million miles away.

"Yeah, it's pretty cool, it's pretty surreal."

Arinn Young played a critical role, too, with 20 points of her own, but she was quick to praise Dandeneau's match-winning heroics.

"Kady is such a great player," she said. "She comes out with a head full of steam and lots of energy and it really changes the pace for us.

"I'm just really lucky to be able to push beside her and give her as many assists as I can for us to win. She has so much hustle and heart and she deserves this gold medal."

Golden Friday for Peru

The hosts added two Parapan American titles to their Lima 2019 haul with victories in road cycling and taekwondo.

Israel Hilario Rimas won the men´s time trial C1-2 with a time of 40:19.951, overtaking Brazilian Lauro Moro and Colombian Diego Dueñas, who completed the podium.

"This is a spectacular achievement. It is very emotional to me and important to our sporting culture, for our youngsters who dream with this sport. It is important the support the Peruvian State has given to spread sport among youngsters and kids," Rimas said.

"Sports help a country grow. Peru need athletes who love their countries and that can compete abroad. Lima 2019 has shown society is prepared and we can do great things."

In the afternoon, Para taekwondo fighter Angelica Espinoza delivered a brilliant performance in the women´s up to 44kg. She remained unbeaten throughout the competition and easily beat Mexican Claudia Romero 28-7 in the final to give Peru their third gold at Lima 2019.

Gustavo Fernandez makes it three in a row

Argentina's world No. 1 smashed his compatriot Agustin Ledesma, with whom he had won the doubles title the day before, 6-1, 6-1 to win the singles gold for a third consecutive Parapan American Games.

"This result is huge for me. Every competition is a new and important experience. I am happy that I can pull it off each and every time and that I am able to put myself in this position," said Fernandez, who will next compete at the US Open hoping to complete a calendar Grand Slam.

"A big challenge awaits me there. Of course, I would love to win again and take that fourth title. But it will be hard. It's been a rough year. I have been playing a lot. You need to stay fit, get ready for the next match.

"Here I played on clay, next week I'll play on hard court. It's difficult at times. But I will try to keep going."

Brazilian Daniel Rodrigues took bronze.

In the quad singles final, Robert Shaw sprang a surprise by beating USA's world No. 2 David Wagner 6-1, 6-3.

The US still celebrated in the women's doubles through Emmy Kaiser and Dana Mathewson.

Unstoppable Brazil

Reigning Paralympic and world champions Brazil claimed their fourth successive Parapan American title in football 5 after beating Argentina 2-0 with goals from Jefinho and Cassio Lopes.

"Argentina and Brazil is always a difficult match," said Jefinho. "We always face in Parapan American and Worlds finals. It was a tough game, but everything went fine. We have shown Brazilian football 5 strength and take gold."

Mexico won bronze following a 1-0 victory over Colombia.

Big final ahead

USA defeated Mexico 10-1 and qualified for the women's goalball final, where they will face Brazil, who beat Canada 4-3.

The boccia competition continued, with the individual finals being held on Saturday.

The schedule and full results are available on the Lima 2019 website.