USA's Alfredo de los Santos finds expression through art and cycling
As handcyclist hopes to make Tokyo 2020 Paralympic team, he finds peace in other forms
06 May 2021
Imagen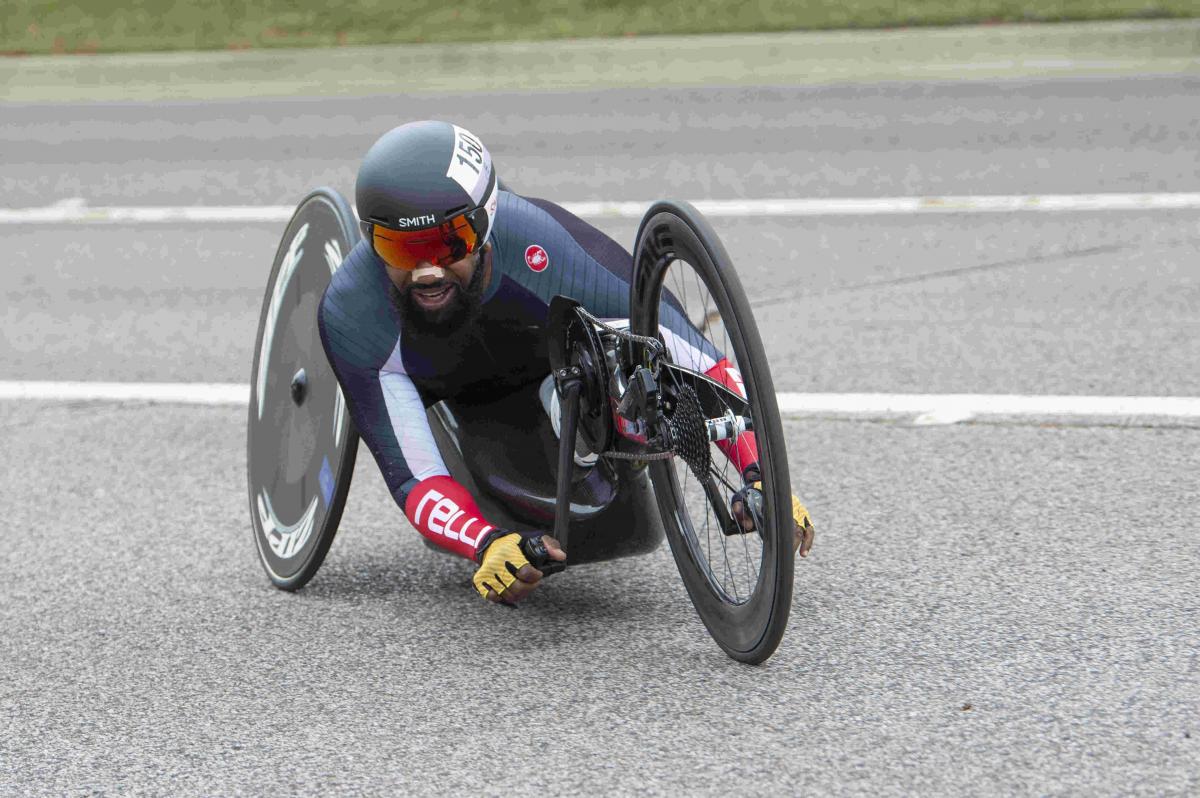 ⒸCasey Gibson/U.S. Paralympics Cycling
By US Paralympics Cycling
The USA's Alfredo de los Santos says he does not always have the ability to verbalise what he wants to say. Instead, he feels more open expressing himself with a paintbrush or camera.
His longstanding love of art and handcycling have been part of his path out of the darkness.
"I think both, being together, give me the outlets I need," said De los Santos, who is one of 38 Team USA athletes competing at the UCI Para Cycling Road World Cup from 6-9 May in Ostend, Belgium. It is the first major international race of the year since the COVID-19 pandemic struck almost a year ago.
"My painting gives me the place for expression, the perspective to let others see the things that are inside of me. It keeps me attached to the past, but I don't need to go back there. It lets me get the pain out and helps me move to a better future.
"When I am cycling, I am feeling a manhood, that I am still the same," he continued. "I am still powerful. But I'm an amputee, and sometimes, when I wake up in the morning, I look at myself and it's hard not to say I hate myself. I am always in pain. My back, arms, some kind of pain. But when I get on the bike, that pain is gone emotionally, physically."
His art, which ranges from abstract painting to black-and-white photography, are his vehicles for his deep emotions. His paintings have been exhibited around New York State, and some hang in Veteran Affairs Hospitals and private homes and offices.
SHARING HIS STORY THROUGH COLOURS
The US Army veteran, also called Freddie, was wounded by a rocket-propelled grenade attack on his vehicle in October 2009 while serving in Afghanistan. His right leg was amputated above the knee, and he has has been dealing with a traumatic brain injury, pain and the psychological aftermath of the incident.
Born in the Dominican Republic, De los Santos owns a Bachelor's degree in Graphic Design from City College of New York. He worked in that field before joining the Army after September 11.
He describes his painting style as colorful and intense. He mixes surrealism with the abstract, trying to tell a story that compels the viewer to consider his message. The bright colours are meant to catch the eye.
"I want people to stop and look at the colours, and then stay to see what I am saying," the 51-year-old said. "I am telling the story of my pain, my fear, my joy, what I am feeling in my heart. It is my experience, in the form of the painting."
Photography is a more recent addition to his creativity, as he is taking a few classes to upgrade his skills. He said he typically shoots nature, outdoors and people. He prefers black-and-white for his format, in an attempt to catch his audience's attention in a way that differs from their everyday experiences.
"Think about when you have colour photos or movies — you first get caught by the beauty of the colours," De Los Santos said. "When you take the colour away, and only have black and white, you force a viewing of things in a new way. The colour does not get in the way of the true story. I like that a lot, because I can make people look and think about things in a different way from the usual. It is an important perspective shift."
He hopes to soon exhibit his photography with his painting, to offer a powerful show of contrasts. Connecting the world, especially his family and friends, with his art has been an important form of communication.
"I think sometimes my friends look at my paintings and wonder what is going on in my head, like I am weird," he said, laughing. "My family has joked why can't I paint some flowers or something pretty. I wasn't wandering in a garden — I was in Afghanistan in a combat theatre."

A DIFFERENT EXPRESSION THROUGH SPORTS
While art provides a mode of expression, handcycle provides the adrenaline rush and excitement he remembers from being in the Army. His faith also deepened after the attack and his recovery, giving him hope. And his relationship with his family improved because he vowed to be more connected.
"To me, my disability has been a blessing," said the 2016 Paralympian. "Sometimes, when I say that, people look at me like I am crazy and say, 'What do you mean?' I am in the best shape of life. I travel. Before, when something bothered, I was mad. Now, I don't think about it. I let it fly. I am more united to my family than ever before. I enjoy the company of my friends. I soak every energy out of life.
"I took life for granted before. Not now."
An MH5 classified athlete, De los Santos just missed out on the road race podium in 2016 and took seventh in the time trial. He is training to make it on the team for Tokyo 2020. And while the COVID-19 pandemic paused his training, he spent the extra time on his art.
"I see 2020 as a blessing for me, as I live in the woods of New York State, so I never stopped training," he said. "I got a new bike, so I got to get everything together with the right gears and the right wheels. I am looking forward to this year, even doing better than in 2019."