USA's Sam Bosco rekindles love for Para cycling
Dad helps Paralympic bronze medalist get back on bike
12 Aug 2020
Imagen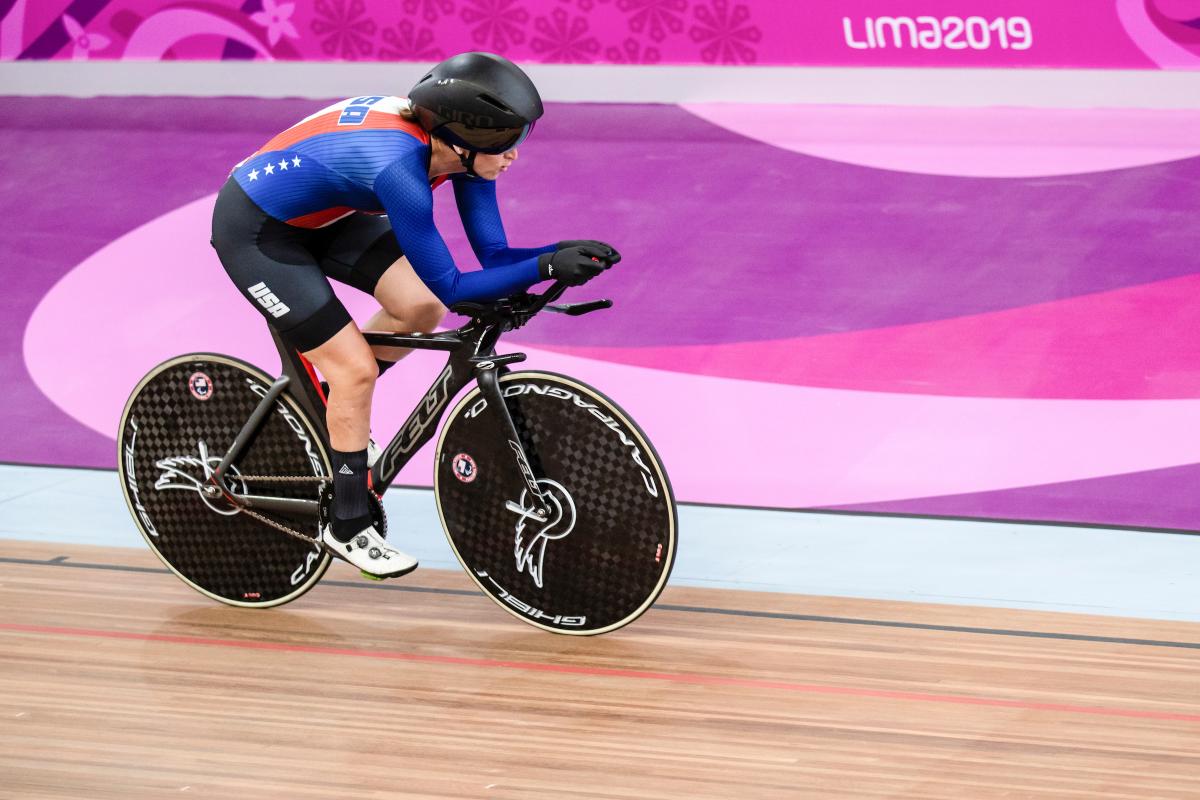 ⒸLima 2019
By USOPC
Samantha Bosco started riding bikes with her dad when she was seven years old. Her family moved to a new town a month before the end of the school year, and rather than figuring out the bus route, the two would ride to school each morning and back home at the end of each day.
It was that time when she first fell in love with cycling. 
"I love to joke that that's my first true love - riding a bike," Bosco said.
Bosco was born with a bowed tibia in her right leg and had to have part of her leg removed at a young age. Subsequent surgeries and recovery processes left her afraid that she was done with cycling. It was not until she was in her early 20s that she made her return to her bike. Fittingly, it was the man who helped her fall in love with the sport that eventually got her back into it - her dad. 
Bosco reflected on the journey back to cycling, and admitted that there were plenty of times that she did not feel motivated to ride, but her father always had solutions. The first was to bribe her with food - the promise of her favorite meal for dinner was usually enough to get her up and moving in no time. The other was a bit of a longer-running joke. 
She talked about a particular bike ride when the two were out on the trails and were passed by another biker. Her dad looked at her and said 'Let's go catch them!' After Bosco was hesitant, he offered her a quarter - and then it was game on. 
"The mission would be to collect as many quarters as possible, so sometimes I was exerting myself just to stay ahead of people," said Bosco. "It made it fun, it wasn't training. Now that I think about it, I don't know if I ever got the quarters. I guess I should charge my dad interest now."
Bosco had her first Paralympic experience at the 2016 Games in Rio. 
"I think the biggest thing for me was realising that I was achieving my 9-year-old little girl dream of being a professional mountain bike racer and travelling the world," Bosco explained.
"When I was younger and cycling was kind of taken away after all of the surgeries, I got my first real taste that maybe not all of my dreams were achievable. There was always that dream within grasp and not necessarily getting to achieve it, so for me Rio was the chance that I had to actually achieve a dream so that alone was something that I'll truly treasure for the rest of my life."
Bosco earned two bronze medals in Rio - competing in both the road time trial and track pursuit. Now, she has her sights set on Tokyo. She has looked at these past few months and the postponement of the Games as a blessing in disguise.
In a normal world, Bosco would have spent the summer training intensely for the Paralympic Games. Instead, she has had the freedom to spend more time with family and take leisurely bike rides to the beach.
"It's really helped me on a mental level - I've fallen in love even more with my bike because now it's back to the basics," she explained. "When I first started riding my bike there wasn't any race to train for or anything else to do but to ride your bike and explore and have fun."
She emphasised the importance of maintaining motivation while also taking care of mental health during these times away from competition.
"I feel like the biggest thing with all of the craziness of COVID and quarantine was it emphasized the importance of mental toughness. I feel like that has been what I've been working on the most and probably the biggest game changer as an athlete."
She has plenty of opportunities to maintain competition against her husband, who also cycles competitively, without the usual added stress of results.
However, she is anxious to get back to seeing her teammates and competitors in person.
"I genuinely love going to races and team camps because I get to see my friends both on the team and from other countries that I wouldn't get to see if not for racing. I definitely miss that," Bosco said.
For now, she started in a marketing position for Angel City Sports, an organisation started by Team USA's Ezra Frech for athletes with disabilities of all ages, while enjoying time at home and mentally preparing for what's to come in 2021.