Tokyo 2020: Cyclist Pieter Du Preez targeting new milestone
Du Preez is hoping to win a medal in the men's handcycling H1, which is added to the Games for the first time ever
24 Jul 2020
Imagen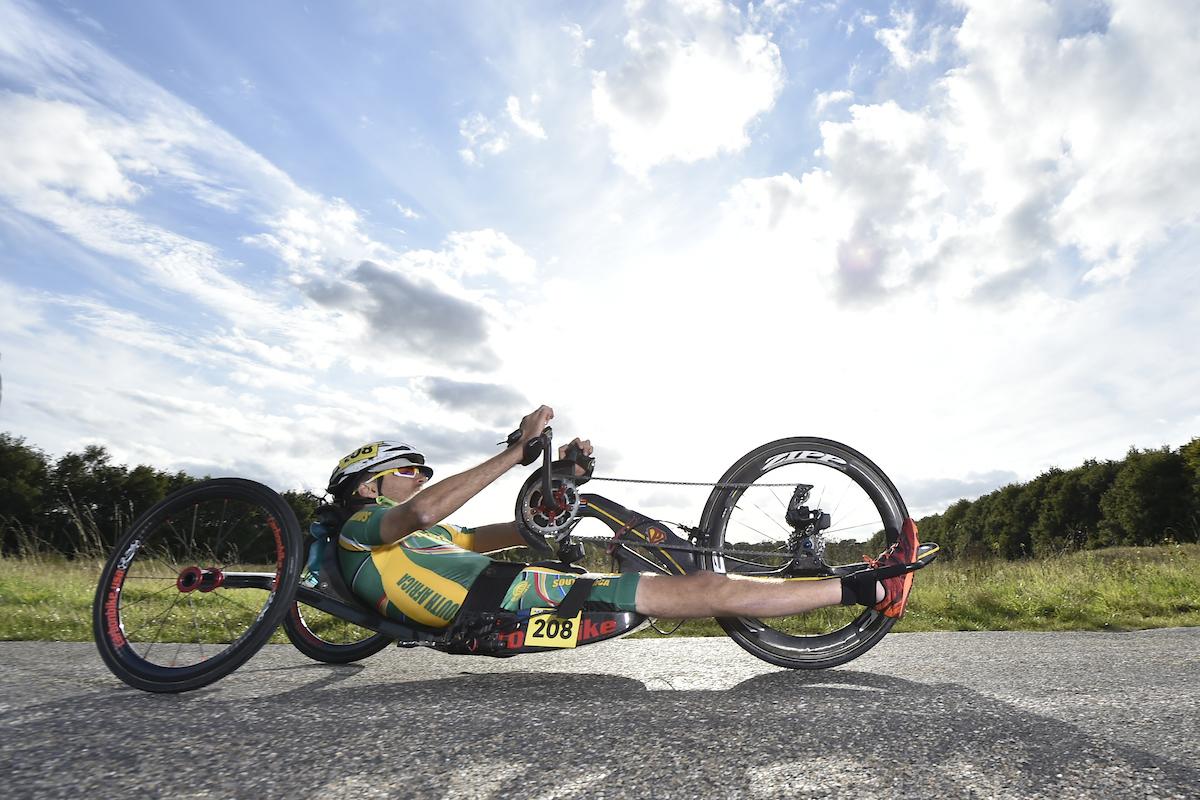 ⒸAllan McKenzie/SWpix.com
By Teddy Katz
South African athlete Pieter Du Preez has already made history a few times in his career and has made a habit of pushing through barriers some might find insurmountable. 
Du Preez is now looking to complete another historic milestone next year at the Paralympics in Tokyo.
He shares more about the mark hopes to set there and also tells his powerful story of resilience and reinvention, so topical right now considering how people's lives have been turned upside down by COVID-19 and other world events. 
In 2003, Du Preez, who was an up-and-coming triathlete competing internationally, was riding his bike when he was hit by a car. Du Preez spent 42 days in the Intensive Care Unit (ICU). He was on a ventilator for 32 days. But he survived. 
He broke his neck and was paralyzed. A C6 quadriplegic, he can move his shoulder and biceps but has limited muscle function beyond that. 
After he recovered from his injuries, Du Preez did not take long to find Para sports and showcase his extraordinary abilities. 
"I was born to be in sport.  That's the way I've been all of my life before and after my accident," he said. 
Du Preez has been world champion four times in the H1 handcycling event.  He became the first quadriplegic athlete in the world to complete a gruelling Ironman triathlon, which he did in 13 hours 24 minutes.  He trains 40 hours a week for those competitions. 
Du Preez was also the first person with a spinal-cord injury to swim the 8km crossing of the ice cold Atlantic Ocean between Cape Town and Robben Island, where Nelson Mandela spent many years in prison.  He completed that swim in a little over three hours.  
"Most of the time when I go to races, people come up to me and tell me what an inspiration I am."  Du Preez said. People do not realise that inspires him to do even more. But he would like to see people appreciate him for being a top athlete as well.   
"Because of limited muscle function, sometimes it's maybe less exciting but for what we have, I think it is mind blowing what we can achieve," Du Preez said.
At Tokyo 2020, Du Preez dreams of winning a medal in handcycling in his H1 class, which is being added to the Games for the first time ever. 
 His true mission is to show the world what he and the other quadriplegic athletes can do. "I would like to highlight how almost amazing and impossible it is that we do, what we do, with so little function." 
Du Preez was one of the nominees for the 2016 Laureus World Sportsperson of the Year with a Disability award. But ironically, he could not compete at the last Paralympics in Rio. 
There were not many competitions for quadriplegic athletes especially in endurance events which is his specialty. 
He said the public seems more interested in watching sprint events with athletes known as blade runners speeding down the track. "When they see a guy without a leg running with a blade, I don't know if it somehow gains more media and maybe brings more able-bodied people in and gets them interested in our sports." But Du Preez added sport should be about more than just fast times. 
 "It should be about providing sports opportunities for the athletes who need sport the most and for whom it will have the biggest impact."   
Republished with the special permission of Canadian journalist Teddy Katz (www.ThinkRedefined.com)
The Resiliency Project is an exclusive series of stories by Think Redefined about resilience and reinvention.