Tokyo 2020: Lauro Chaman chasing elusive gold
'I really want to get one more medal. In Rio there were two: a silver and a bronze. I'm still missing the gold medal'
01 Mar 2020
Imagen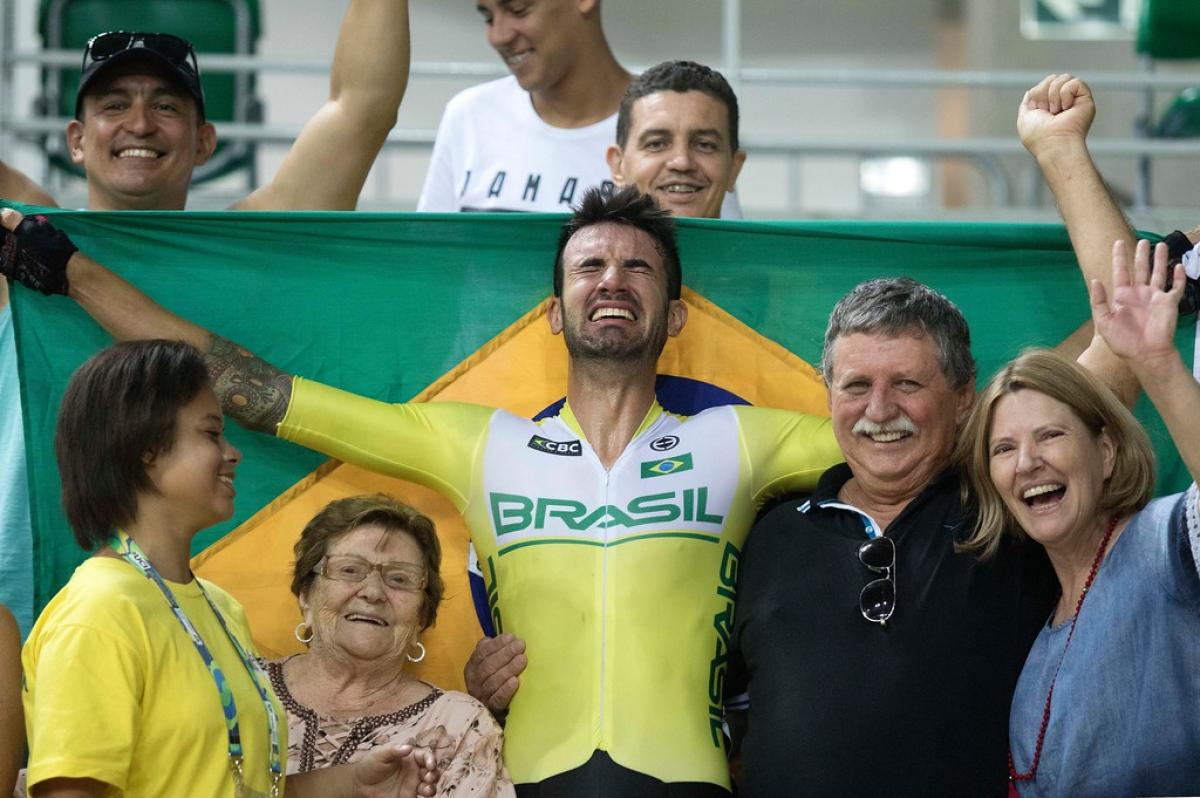 ⒸFernando Maia/MPIX/CPB
By Santiago Menichelli
Lauro César Chaman draws much of his strength from competing at home. It was in Brazil that the cyclist had won it all. 
"Now I close my eyes and I can see that moment," said Chaman reflecting on his win at the 2018 Track World Championships in Rio de Janeiro. 
"I thought I had won, although I wasn't sure. When I got the confirmation of the victory, I was able to celebrate with my son, my wife and mainly my grandmother, who got on a plane for the first time to see me compete. It was very special."
He had to give it all, and it is thanks to his  efforts that he has achieved what many athletes can only dream about.
It was also in Rio that he became a double Paralympic medallist. He won bronze in the time trial C5 and, three days later, took silver after another wonderful performance in the road race C4-5. 
"I already felt fulfilled with the two medals from Rio 2016, but Track World Championship win surpassed it," asserted Chaman, who is the first Brazilian athlete to ever win a medal in cycling at the Paralympic Games.
ACHIEVING GLORY OUTSIDE BRAZIL
Chaman proved he can also perform outside Brazil. At the Lima 2019 Parapan American Games, he once again wrote a glorious page in Brazilian Paralympic sport. 
He had already won gold and silver - in individual pursuit on the track and time trial on the road - when he also captured gold in the road race in the Peruvian capital city.
With this victory, he helped Brazil break a record by winning more medals than any other country at a single edition of the Parapan, including staggering 308 golds.
"It's very nice to see how Brazilian Paralympic cycling is growing and getting stronger," he said.
MORE THAN A MEANS OF TRANSPORT
The city of Araraquara, in the state of São Paulo, witnessed for many years how a young Chaman rode around the neighbourhoods on two wheels. 
"I started cycling, using it as a means of transport to get around my city. I always liked it. Then I started to participate in mountain bike and able-bodied cycling events, until a friend introduced me to Paralympic sport," he recalled. 
As a child, Chaman wanted to be a soccer player and wear the Brazilian yellow and green jersey. He never imagined he would represent Brazil on the international stage one day.
Everything began in Araraquara and, at 33, Chaman is still there. "I have the chance to train and compete in my city and that's great!," he exclaimed. Although he still dreams about going to Europe. "Despite my age, I have that dream, yes."
LESSONS FOR A LIFETIME
"It was in the Paralympic Movement that I fulfilled the greatest dreams of my life," he said without hesitation. But it's not just about medals or trophies. "Paralympic sport taught me and teaches me a lot to this day. I used to complain a lot and living with athletes with different disabilities makes us think about all that. 
"I see people who have difficulties much greater than mine, and in many ways they are much happier, with good humor. I want to convey to my son that we have to value  the little things in life. We have to be grateful for everything we have in life.
"All my life I had one leg different from the other. Whenever I have the chance to go to a school, I go and talk about my story to encourage kids to play a sport. I know that children with disabilities are ashamed and I tell them about my experience with it."
AIMING FOR GOLD
Not only experts but stats also point towards Chaman as one of the top candidates for gold at the Tokyo 2020 Paralympic Games. In addition to his conquests at Rio 2016, the Parapan American Games and the recent World Championships, he has won several World Cup races in 2017 and 2019.
However, the Brazilian prefers to remain grounded. "I don't see myself as a favourite, I just train a lot and always try to improve myself. The Netherlands, France, Italy and Australia are very strong," said Chaman, adding that, he would be delighted to see gold hanging from his chest though.
"I really want to get one more medal. In Rio there were two: a silver and a bronze. I'm still missing the gold medal," he confessed.