Tokyo 2020: Li Zhangyu dreams despite injuries and doubts
Chinese cyclist ready to defend Rio 2016 records and medals on Japanese soil
21 Feb 2020
Imagen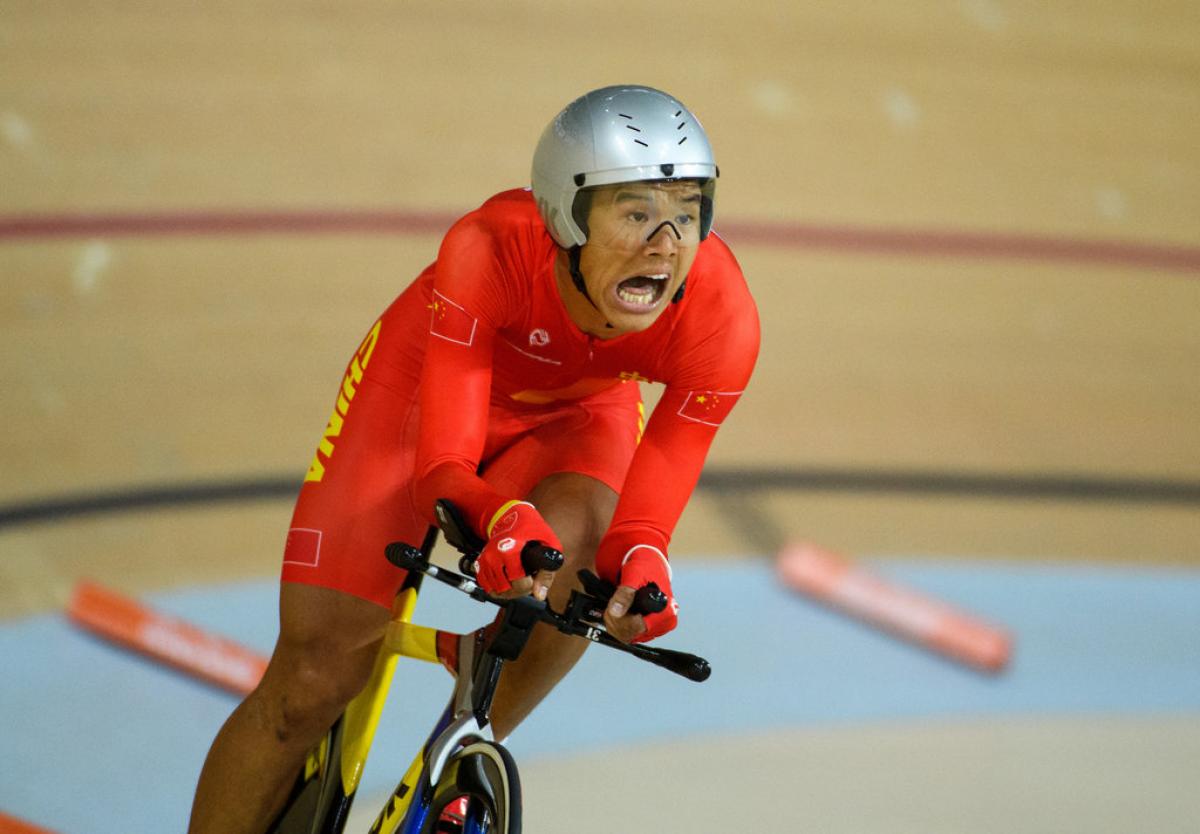 ⒸOIS
By Santiago Menichelli | For the IPC
For an athlete who spends hundreds of hours a year preparing for major international competitions, winning a medal would mean the world. 
However, with time, one's priorities do change. And multiple Paralympic medallist Zhangyu Li too found himself in similar dilemma of working out a balance between training and parenting.
In early September 2016, when the Chinese cyclist landed at Rio de Janeiro to participate in his second Paralympic Games, his son was just a few months old. 
Li was aiming to defend the three medals from his Paralympic debut at London 2012 - gold in time trial 1km C1-3, silver in individual pursuit C1 and bronze in time trial C1. But an injury threatened to thwart Li's participation at Rio 2016. 
"A long-term training fatigue, combined with my disability, led to severe dizziness during training, which at times affected training and competition," he explained.
Li was well aware  that without training, no medal was guaranteed. He started devoting more time on training and barely managed to spend time with his new-born, whom he fondly calls Tiger.  
However, the father in him was feeling the pain and hence he had his doubts if he could give 100 percent at the Paralympic Games.  
"Since he was born, my son has been the light of my life. Because of my training, I couldn't spend much time with him."
Nevertheless, at Rio 2016, all his reservations were put to rest as he struck two golds and that too by breaking as many world records in 3,000m individual pursuit C1 and 1,000m time trial C1-3. 
He was clearly at his peak but a year later the same injury resurfaced and threatened to end his career abruptly. . 
"I thought about quitting," confessed the athlete when referring to 2017, a year full of uncertainty. 
DETERMINATION
Despite all odds, Li was determined to regain full fitness and 2018 clearly belonged to him. Li won the 1km time trial title and the bronze in individual pursuit at the Track World Championships in Rio de Janeiro.
In Maniago, Italy, he was again on the podium to receive a bronze,that too in the Road World Championship which wasn't his speciality.
THE RECIPE FOR GETTING STRONGER
Li revealing the secret of his success said that he emerged from uncertainty when he managed to keep things simple. 
"I'm trying to make myself happy now, I don't think about it too much," he said.
Li now tries to spend as much time as possible with his son, who is four. However, he quickly adds that the fatherhood does not stop him from giving his best every day to finish every training programme, stay fit and happy."
As for injuries, Li has achieved a win worth more than a world record and now advises other athletes.
"You have to take the time to find the causes of your injuries so that you can overcome them. I feel that all athletes can protect themselves from injuries. An injury can make a great athlete very unhappy."
Li, 31, has been competing for a decade now but still  has a lot more to offer. "I want to make a breakthrough at Tokyo 2020", he declared before signing off.