USA's Shirley Ponders 100m Paralympic Comeback
Sydney and Athens 100m T44 gold medallist Marlon Shirley could return to challenge Oscar Pistorius and Jerome Singleton in London.
18 Apr 2012
Imagen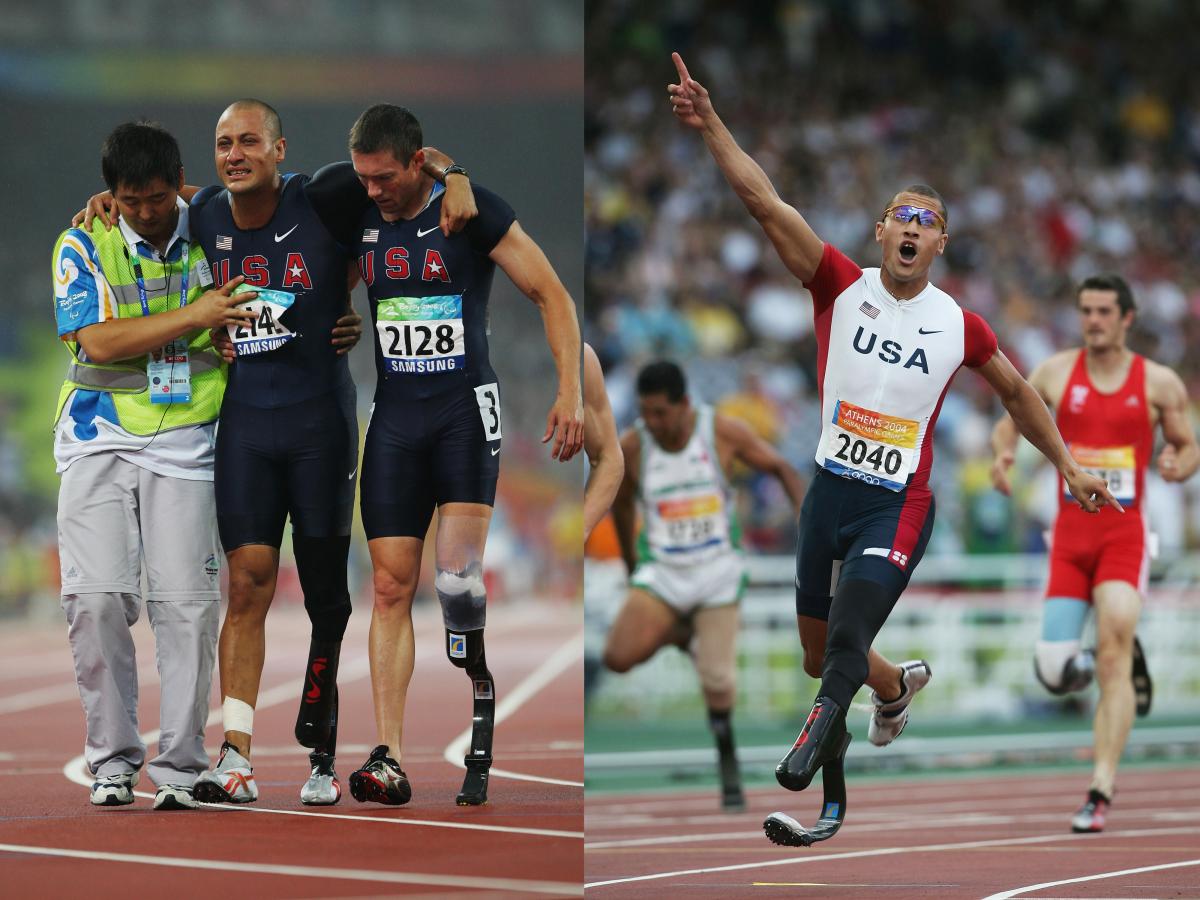 ⒸGetty Images
By IPC
"I've always considered myself a champion. I've always considered myself an entertainer. Going down face down into the track is not the lasting image I want to leave as an impression on people."
USA's Marlon Shirley could add an extra kick to an already spicy lineup in the 100m T43/44 sprint at the London 2012 Paralympic Games.
Shirley's world-record time for single amputees of 10.91 still stands today, and the two-time Paralympic gold medallist is attempting a comeback after falling flat at the Beijing 2008 Games.
The American won the 100m event at the Sydney 2000 and Athens 2004 Games, but then a staph infection put a damper on his Beijing 2008 hopes just five months before the event.
Despite nine operations in eight weeks, Shirley still competed, but it was not a pretty sight.
Nearly eight seconds into the event final, Shirley collapsed on the track, vaulting into a backward summersault. He refused medical service, dragging himself to the finish line to complete the race in 34.43 seconds with a ruptured Achilles tendon.
"I've always considered myself a champion. I've always considered myself an entertainer," Shirley said. "Going down face down into the track is not the lasting image I want to leave as an impression on people."
Shirley competed in a practice race last weekend, and this Saturday (21 April), he said he will participate in an organized race for the first time since Beijing at the Mt. SAC Relays in California.
Nobody knows exactly what is in store the next couple of months for the sprinter, but Shirley's ready to find out.
Miscalculating
Shirley's Paralympic career began with a bang in Sydney, winning gold in the 100m with a world-record time of 11.09, and he took silver in the High Jump.
In Athens, he stole gold again, improving his world record by one one-hundredth of a second before he ran a time of 10.91 at a 2007 meet in Espoo, Finland.
"That 11-second barrier, that was the hardest thing that I've probably ever done in my life was try to break 11 seconds," Shirley said.
Then, in April 2008, a staph infection in his knee put him in the hospital for an entire month. He lost 42 pounds (19kg) in six weeks and thought he may never compete again.
Just a month before the Paralympics, the infection died out. Shirley had already qualified for USA's team, so he was not ready to quit.
"If I was going to fail, I'd rather fail trying, and that's why I decided to go to Beijing," Shirley said.
The American, who has held world records in four different Paralympic disciplines, wanted three 100m titles.
"Beijing was going to be my last Paralympics," Shirley said. "I had been planning on that for eight years. I had everything geared up for that moment. My overall goal was to win back-to-back-to-back gold medals at three Paralympic Games.
"The one thing I didn't calculate was that this medication weakens tendons and ligaments. The events that happened going into Beijing are still just sickening."
Back on track
Shirley does not have any concrete plans yet for 2012 and is waiting to see what comes of his first race.
He is trying to keep all his options open.
"My whole coming back has really just been a four-year programme to get the Achilles strong, to put myself in a position to make the team and run the 100m again," Shirley said.
"I definitely like my chances, or I wouldn't have wasted my time coming back. If I don't feel good, and if I don't feel like I have it and can give 100 per cent, I'm not going to go."
If Shirley fares well the next two months, his toughest test could come 29 June – 1 July at the U.S. Paralympics Trials in Indianapolis, where he would face world champion Jerome Singleton, Parapans gold medallist Jarryd Wallace and Blake Leeper.
Only three Americans can qualify for London 2012 in the event.
Although Shirley has not raced against or seen any of the other three race in four years, he believes his years of experience will play to his advantage.
"We were winning races left and right and setting new benchmarks in amputee sprinting," Shirley said of he and his teammates in the early 2000's. "But it just seems now that somebody wins one race and all of a sudden they're the world's greatest, and that's pretty ridiculous.
"I think that's where my advantage is. I have that feeling and that click factor."
Shirley hopes his consistency on the track – hovering around the 11-second mark – will benefit him over some of his younger fellow Americans, who are extremely fast, yet not necessarily as consistent.
"On a bad day, they can still run an 11.8, but on a great day they can drop an 11.1," Shirley said.
"I just don't think there's anybody in the 100m – and I guess I would be comparing myself in my prime condition when I was not beat up and sewn together – but there's just not anybody that's been close to what I've been able to do in the 100m. So a part of you still thinks that it's still there for me."
Remaining humble
If he qualifies for London, Shirley, a single-leg amputee would line up against double-leg amputee Oscar Pistorius at the Olympic Stadium.
Shirley did not have to face the Blade Runner when he won gold in Sydney or Athens.
"I think you have probably who's going to go down in history as one of the most famous athletes in the world running your sport, and that's Oscar," Shirley said. "There was no Oscar back then. The visibility (of the sport) now is huge."
Pistorius' success, along with that of the other Americans, does not scare Shirley.
Unlike several of his compatriots, Shirley has kept his progress quiet on the media front as London approaches.
"Winning is the greatest self-promotion," he stated.
Looking at his past, he could not be more right.
Shirley won every Paralympics and World Championships from 2000-2008, and he claimed that his "80 per cent" could beat everyone else and his "100 per cent" can break a new world record.
As long as he is healthy and mentally fit, that is.
"It's really hard because you have this vision of what it was like to race at that level and be at that level and what it took to get there. As you get older – it's not that my body feels any different or I feel less capable – but there's a motivation and a drive that does change. It's not easy to practice, and it's not easy to train."
Singleton's 100m time of 11.16 at the 2009 BT Paralympic World Cup is the closest anyone has come to breaking Shirley's world record.
"The 100m is not going to be any slosh," Shirley said. "It's tough. I mean, somebody from America's going to be staying home, and that's what's even sicker about it."
Related Images