Wang Jiachao switching lanes to triathlon
Swimming gold medallist from London 2012 hopes to return to the Paralympics as a triathlete
02 Apr 2020
Imagen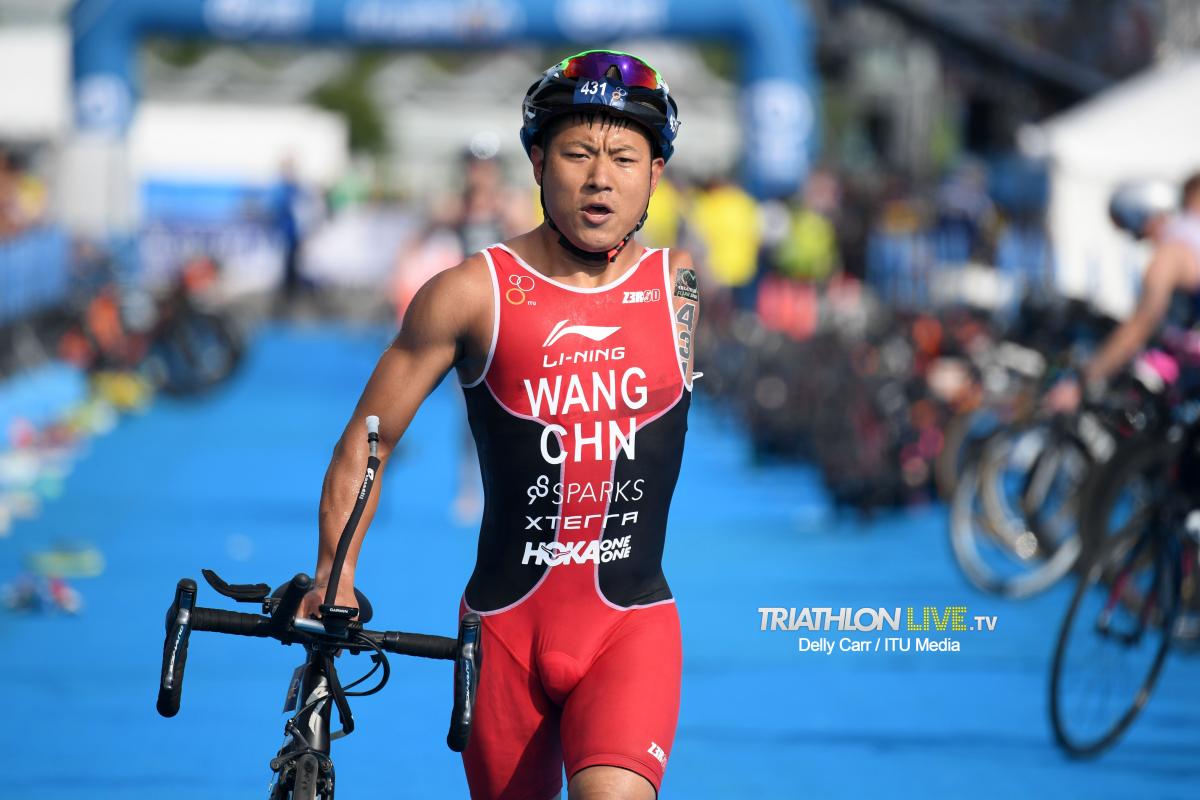 ⒸDelly Carr | ITU Media
By Tokyo 2020
Wang Jiachao has a social media handle called Tetsuwan Atom, in honour of the Japanese manga series Astro boy. "An atom is also a smallest constituent unit of matter yet it has great power. Though I am short, I am strong," he said.
Wang made his swimming debut at the Athens 2004 Paralympic Games at the age of 13, then went on to compete in both Beijing 2008 and London 2012. In total, Wang has won one Paralympic gold, four silvers and one bronze. After his many accolades in the sport, Wang officially retired from the sport in 2015 to concentrate on his postgraduate studies at Yunnan Normal University majoring in physical education.
But once an athlete is always an athlete. Wang's retirement was short-lived - he started training as a Para triathlete when the sport made its debut at the Rio 2016 Paralympic Games.
"My ultimate dream is to walk on the Paralympic Games stage again as a Para triathlete," he said.
The 28-year-old from Yunnan province, China is now the only Para triathlete on the Chinese national team and ranks number 3 at the PTS4 class.
From the village river to a swimming career
At the age of five, Wang was struck by electricity when he climbed unto a transformer which resulted in him losing his left arm at the shoulder.
Although his parents always reminded him that he was no different from other children, growing up with an impairment had become challenging.
"There were many things you could not do, such as climbing trees, cutting grass and ploughing the vegetable field. I got bullied at school as well. The classmates laughed at me for having only one arm," he said. Frequently being reminded about his impairment, he became determined to prove that he "was capable".
When he was 10, Wang was selected to be part of the provincial swimming team. He started swimming in a river near his village.
"I learnt by myself. I swam like a dog paddling in the water, just enough not to drown," he said, laughing at the memory.
It was the encouragement from his mother and his own determination that helped him get through tough training in the first two months.
At Athens 2004, Wang was one of the youngest athletes to compete in the Paralympic Games. "I was about 1.3 meters tall. When I stood beside other athletes, I had to raise up my head to look at them. I felt like a child competing with [adults]," he said.
At that time, he did not really have any idea about the scale and the importance of the Paralympic Games. His coach told him that it was the biggest event and was held abroad. There he took part in men's 100m butterfly S8. "My coach asked me swim as usual, not caring about other swimmers' height. I did not expect that I could finish forth," he said.
The journey to Athens left a delightful memory. He remains proud of his experience.
"In the Olympic Village I met so many foreigners for the first time. I said 'hello' to greet them, but then I did not know how to continue the conversation, so I ended by saying 'goodbye'. I felt good," he said.
Despite the language barrier, he celebrated his birthday at the Athletes' Village with all the foreign athletes he met in the Games.
From swimming to triathlon
In the same year he announced his retirement from swimming, Para triathlon came calling for Wang.
"I was very excited, feeling that I could return to the Paralympic stage through this sport," he said. "My understanding of the Games has changed and has expanded during these years. There is still a chance to create this new possibility."
The change did not come easy. There was no national Para triathlon team back then, so he had to rely solely on himself to get things going. He even covered all the costs of training and competition by doing part-jobs as a swimming teacher.
"I did not know the registration method and the way of training. Everything started from zero," he said.
"It was the lack of support and the difficult situation that all the more strengthened my determination. No matter how difficult the way was, I was willing to go through as long as I could take part in the competitions," he said.
His dedication to his new sport finally gained him support from many people, including Peter Wolkowicz, a German triathlon coach living in Shanghai, who volunteered to coach him. Impressed by Wang's story, Wolkowicz offered to help with his training and helped Wang find a sponsor. In 2018, Wang was finally included into the national Paralympic cycling team.
At the 2018 Madeira Para triathlon World Cup Funchal, Portugal; Wang got a flat tire an hour before the competition. Having no spare tires, an athlete from the Japanese team lent him one which helped Wang win and take the podium. 
People helping me during that crucial time is very important to me. It is like an acknowledgment of my persistence and a confirmation of my belief in the kindness of humans.
He values the relationships he makes during these competitions and considers it as friendship without borders.
"Sport is the most valuable media through which one could not only build a strong body and a strong mind, but also could promote social inclusion and tolerance," he said.
He also plans to establish his own sports physical education training centre in the future to help teenagers.
"I hope I could be a deliverer and pass on the positive things through my experience and smiles."
Positive mind in face of pandemic
Wang sounds hopeful as he was back in Athens. "I hope I can make it to the podium. Maybe a gold medal if I am lucky," he said. "There would be unexpected reward whilst I am making huge efforts in preparing for the Games."
Because he returned to Yunnan after finishing his training in the U.S. in early March, Wang is now self-isolating.
Due to this worldwide crisis, he says many adjustments are necessary, whether it is mental or physical training.
"In face of the global pandemic, safety is the most important thing for all of us. Only when we are safe, we can chase our dreams and targets, so I think the decision to postpone the Games is a rational one," he said.
During this period I will prepare mostly to be positive. No matter what happens next, I will keep an optimistic mind.