Weir Determined to Prove He's Still No. 1 in Christchurch
26 Nov 2010
Imagen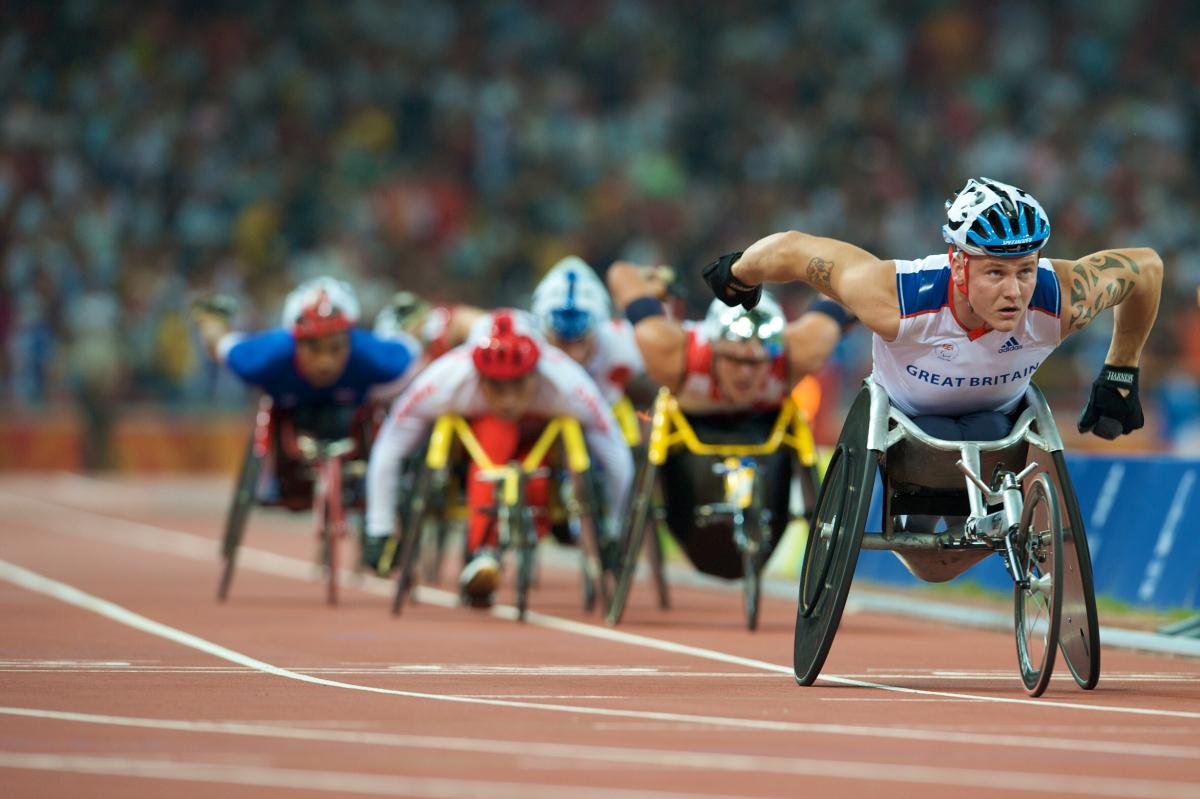 ⒸLieven Coudenys
IPC
New York Marathon winner and six-time Paralympic medalist David Weir is determined to win gold at January's IPC Athletics World Championships in New Zealand to prove a point to the people who have started to question him as world's best wheelchair racer.
The British athlete will be one of more than 1,000 athletes from 70 countries taking part in the World Championships in Christchurch and his class of T54 wheelchair racers is likely to be the most eagerly contested with some of the biggest names in Paralympic athletics competing for medals.
In recent years Weir has been the starring light in T54 racing regularly beating the likes of Australian Kurt Fearnley, South African Ernst Van Dyk and Canadian Josh Cassidy.
However, in 2010 the 32 year old Londoner has had to contend with a new man on the scene in Swiss 'Silver Bullet' Marcel Hug, an athlete who has beaten him on numerous occasions during the season and taken a number of his world records.
"I want to prove a point in Christchurch that I am still one of the best," Weir told www.paralympic.org, the International Paralympic Committee's website.
"Just because I've been coming second behind Marcel people think there is something wrong with me. But they haven't looked at my times and the fact I've set three personal bests this year.
"I've not done three PB's since 2007 so I'm getting quicker, not slower. It's just that everyone else is catching up and so many of us are together now," he added.
In addition to setting fast times during 2010, Weir also believes he has identified what he needs to change to compete with Hug in 2011.
Part of his preparation for the new season has included taking part in the New York marathon, an event he emphatically won despite not competing in the Big Apple for five years.
David Weir said: "My training for New York was the best I'd had since 2007. It was more consistent, my times were consistent, my average speeds were consistent so I knew I was back to my old self. To win it was great."
Buoyed on by his success in New York, Weir has set himself targets for 2011, a process he does annually to sustain his motivation for the sport.
"I want one gold medal in Christchurch," explained Weir. "I say that going into all major Championships because the T54 men is the toughest in the world.
"If you win one, great, but if you win more you're a great racer. I'd be happy to come away with gold in one and top three in the rest.
"I don't want people to get complacent just because a few people have beaten me this year. I want to prove a point that I'm still number one," he warned.
Brought up in boxing mad family - his brother Alan was a professional - Weir first sampled wheelchair racing as an eight year old when invited to take part in the London mini-marathon.
"My dad took me to the qualifying which was just on a street in London," explained the lifelong Arsenal FC supporter. "I had to cover something like three miles in my chair in under an hour. I did it and qualified for my first mini marathon.
"In the actual race I didn't come anywhere as I was racing in my day chair but I caught the bug for racing from there."
For the next few years Weir shared his new found passion for athletics with his love of basketball. It was not until the age of 12 though that he decided to pursue athletics seriously due to the buzz it gave him.
David Weir said: "The individual winning and mentality of training on your own was good. If something went wrong it was your own fault whereas in basketball if some of the top players were off form you could lose a game and you'd have to try cover for them.
"Racing is an individual thing. If you get it wrong, it's your own fault and you have only yourself to blame."
After making his international debut as a 14 year old, Weir competed in his first Paralympic Games three years later in Atlanta finishing a credible seventh in the 100m.
He sat out the Sydney Games but was back for Athens 2004 claiming a silver medal in the 100m and a bronze in the 200m.
"Winning a couple of medals in Athens got me going," said Weir, "It gave me the hunger and the passion do better and better."
Two years later at the 2006 IPC Athletics World Championship Weir, in his own words, 'put down a marker as one of the best racers' winning gold in the 100m, 400m and 1,500m and a silver in the 200m.
At Weir's third Paralympic Games in Beijing in 2008 he won another four medals – gold in the 800m and 1,500m, silver in the 400m and a bronze in the 5,000m – despite going into the Games lacking confidence due to a bout of glandular fever towards the end of 2007.
After his win in New York though Weir is likely to head to Christchurch full of confidence in an event that will see the last major gathering of athletes before the London 2012 Paralympic Games.
Other big names competing in the World Championships as well as Weir include South Africa's 'Blade Runner' Oscar Pistorius, Irish sprinter and 'Fastest Paralympian on Earth' Jason Smyth and the Brazilian sprinting duo of Terezinha Guilhermina and Lucas Prado.