Will summer star Tatyana McFadden be in Sochi?
The wheelchair racing champion is vying for one of the spots on USA's limited nordic skiing roster for Sochi 2014.
13 Aug 2013
Imagen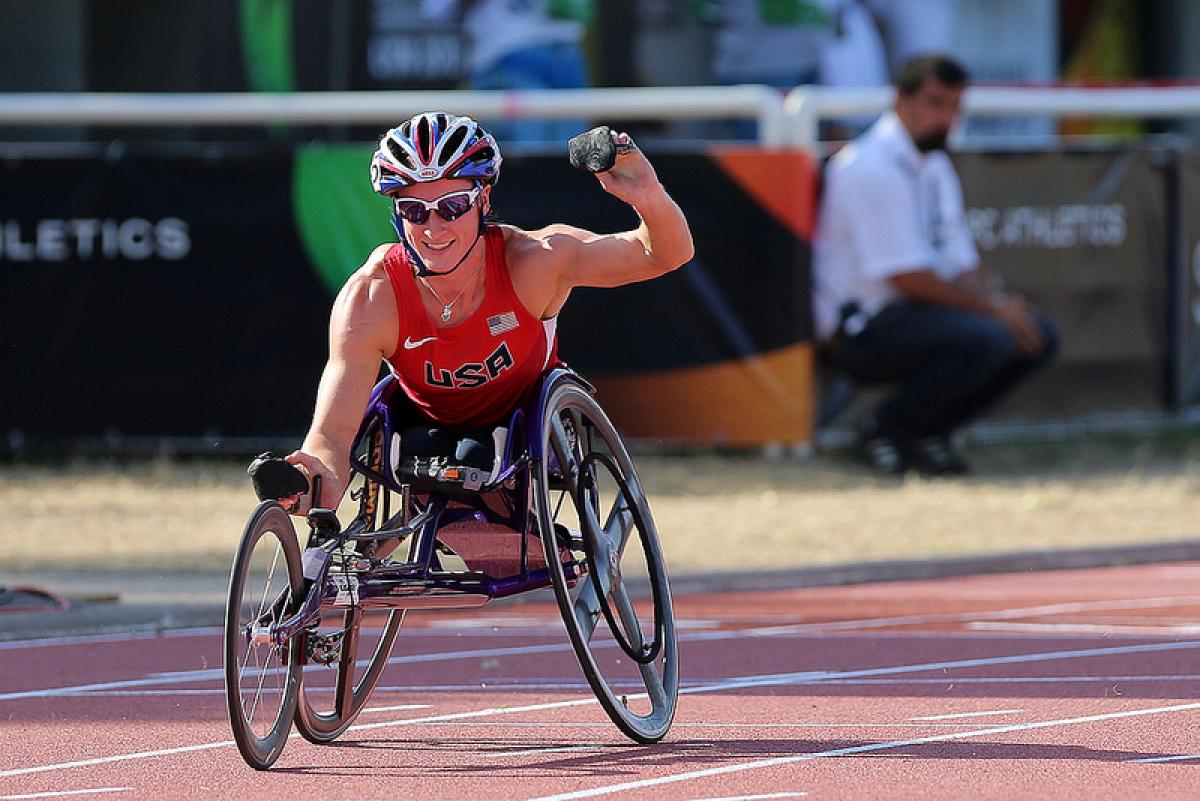 ⒸF-Perville
By Robert Murray | For the IPC
"Coming from a sport where I have a lot of knowledge and then coming to a sport where I didn't have any knowledge, you need that help and you need that advice and it's great to get advice from people who are experts at it."
There's a reason American Tatyana McFadden is nicknamed "Beast."
After winning a record-breaking six gold medals in dominant fashion at the 2013 IPC Athletics World Championships in Lyon, France last month, McFadden has her sights set on Paralympic success in 2014 with the USA's nordic skiing team.
McFadden was named to USA's 2013-14 World Cup squad back in June. She accomplished this feat due to the same endurance and strength that her made her such a success on the IPC Athletics circuit on the international level.
"I think it is the next step," said McFadden. "It's a tough sport, it's a fierce sport. It's going to be fun. It's going to be exciting. It's going to be intense. I'm excited to try this. I think it will make me an overall stronger person."
A taste of success
McFadden's name has quickly become synonymous with success in international para-sport competition.
McFadden now holds 15 World Championship medals, 11 of them gold.
On the track, she rose to the top spot on the podium in 2012 for the first time in her Paralympic career, adding to a haul that now includes 10 Paralympic medals, three of those gold.
After getting a taste for Paralympic gold, McFadden doesn't want to wait until 2016 to get the opportunity again.
"Everybody comes into it from a different perspective, a different angle or situation," said John Farra, the USOC's High Performance Director for para-skiing.
"She is so unique in that she is such an endurance monster. It's pretty rare to have someone come into the sport with such a high level of just raw fitness, especially in the endurance."
McFadden made her nordic skiing international debut back in January at a World Cup competition in the USA.
Sochi 2014 Paralympic Winter Games qualifications state that for an athlete to be eligible for the Games, they have to be ranked and have at least one race of 180 points or less by 17 February 2014.
McFadden accomplished that requirement in her first World Cup race.
As Farra pointed out, the main challenge that exists for athletes making the transition from wheelchair racing to nordic skiing is that the surface in nordic skiing isn't always flat and predictable like in athletics.
In nordic skiing, athletes are on a set track that keeps them locked into the course, except for when they have to make sharp turns.
"It's a very physiologically demanding sport," said Farra. "It's unlike wheelchair racing that I imagine on a track has a lot of ability to glide. Our sit skis on cold snow or wet snow – it's a grind the entire time. We're constantly dealing with different snow conditions which totally change the sport on any particular day."
Farra went onto point out the fact that the longer distance nordic skiing events can last for the better part of a hour. McFadden's longest race at the 2013 IPC Athletics World Championships – the 5,000m T54 – lasted just over 12 minutes.
Is the 'Beast' the best?
McFadden is fully aware of the physical requirement it will take to be successful in the sport, though.
Even with the uphill challenge ahead of her, she has brought the same approach to nordic skiing that made her successful in track and field.
"You need to be strong, you need to have the endurance and I definitely have that background," said McFadden.
"Coming from a sport where I have a lot of knowledge and then coming to a sport where I didn't have any knowledge, you need that help and you need that advice and it's great to get advice from people who are experts at it."
In December, McFadden will travel to Canada for the IPC Nordic Skiing World Cup opener in Canmore, Alberta. The final hurdle comes in the form of the US Nationals, where McFadden can further solidify her bid for a spot on the team for Sochi.
While she is eligible now, according to Farra, there are a number of athletes vying for a limited number of spots. Unlike the races McFadden's been involved with on the track her whole career, this one could come down to the wire.