12 world records fall on first day in Berlin
Stunning start to final World Para Swimming World Series event before Mexico City 2017.
07 Jul 2017
Imagen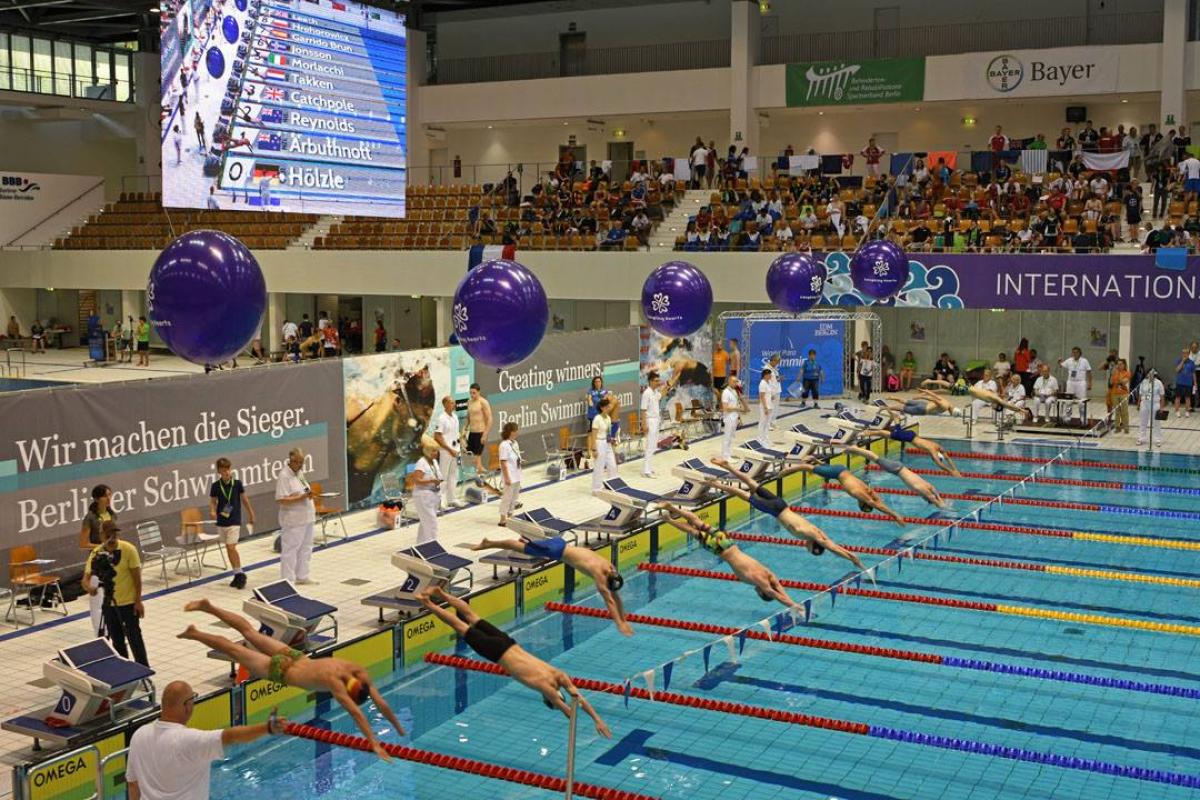 ⒸIPC
By IPC
The German crowd witnessed some glittering performances on day one of competition at the final World Series in Berlin, as 12 new world records were set across different classes.
The men's 200m backstroke saw four different swimmers setting world records in a thrilling final. USA's Robert Griswold (S8) won the race with 952 points after clocking 2:17.77. "I am really proud of my race. I have not swum in two years competitively, but I knew I had a lot in me. It is great to be here in Berlin," said Griswold.
But Great Britain's Jonathan Fox (S7 – 2:32.68), who finished second (940), the Netherlands' Olivier van de Voort (S10 – 2:06.41), third (928), and Fox's compatriot Jordan Catchpole (S14 – 2:18.31), sixth (767), also set new world records in their respective classes.
The races are decided by points according to the swimmers' classes and the time they clock. As these are multi-class races, more than one world record may be set in a single event.
Hosts Germany celebrated two wins through Max Gelhaar (731 points) in the men's 400m individual medley and Jan Nic Arnold, Stefan Loffler, Marlene Endrolath and Svenja Erni (449) in the mixed 4x50m individual medley.
In the women's 400m individual medley, British swimmer Jessica-Jane Applegate lowered her own world record in the SM14 class by clocking 05:13.91 to win the race with 789 points.
Two world records were also set in the women's 200m backstroke by Great Britain's Megan Richter (S8 – 2:45.97), who ended second (825), and USA's Aspen Shelton (S13 - 2:30.69), fourth (816). But it was Hungary's Bianka Pap who finished first with 883 points.
Great Britain's Thomas Hamer (945 points) won the men's 200m freestyle. "I am very happy for coming in first, it is a good starting point," he said.
Italy's Monica Boggioni (1042), who had broken the S4 world record in the heats with a time of 03:02.84, ended first in the women's equivalent. Canada's Aurelie Rivard (02:10.98), who finished seventh (868), also set a new world record in the S10 class.
Japan's Keiichi Kimura was "very happy" after leaving triumphant from the men's 100m butterfly with 976 points, but the Netherlands' Marc Evers also had a reason to celebrate as he broke the world record from the S14 class with a time of 58.82.
In the women's equivalent, Spain's Sarai Gascon (905 points) sealed gold. "I am very happy with my time and gives me confidence to go for more at Mexico City. I am feeling really good," she said.
Gascon's teammate Oscar Salguero Galisteo (892 points) won the men's 100m breaststroke and Dutch swimmer Lisa Kruger (982 points) topped the podium among women. She said: "It was a great race. I am happy with the time and have good feelings for the Worlds."
The competition continues until Sunday (9 July).
Live streaming of the Berlin World Series is available on https://www.paralympic.org and World Para Swimming's website.
Full results can be found on Internationale Deustche Meisterschaften (IDM)'s website.