After six world titles, Swoboda aims to add Paralympic gold
The Austrian para-canoeist is coming off another KL2 win but knows competition will be stiffer in Rio 2016.
10 Sep 2015
Imagen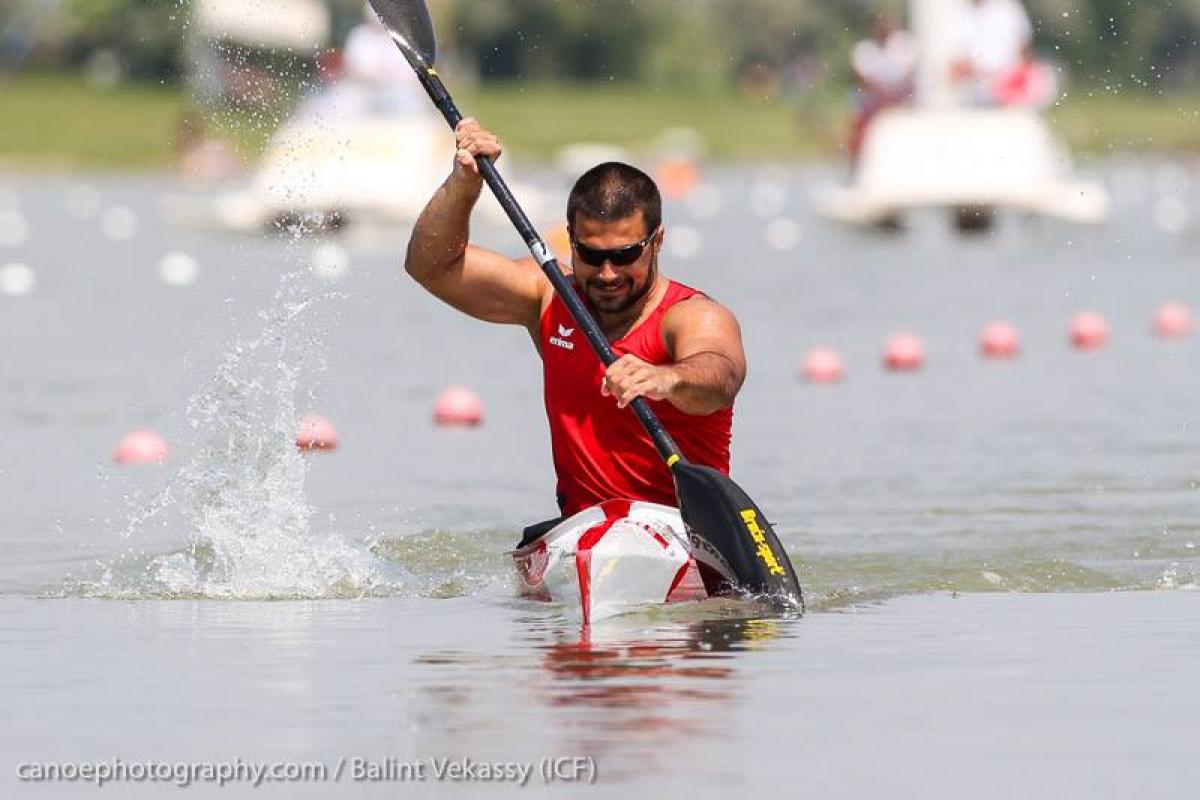 ⒸICF
By Laura Godenzi | For the IPC
"I do not have to worry about the qualification anymore, and I can fully concentrate on my training."
Austria's Markus Mendy Swoboda has dominated the para-canoe World Championships scene. Now, with the sport just under a year away from making its Paralympic debut at Rio 2016, Swoboda is ready to take his game to another level.
Swoboda is fresh off his sixth world title after winning the men's KL2 200m at the International Canoe Federation (ICF) Para-Canoe World Championships, held 19-23 August in Milan, Italy.
Just two weeks later, Swoboda also won the test event held 4-5 September in Rio de Jainero, Brazil. But he knows his two biggest opponents – Australia's Curtis McGrath and Brazil's Fernando Rufino de Paulo – are not far behind.
"The competition in the KL2 category is increasing and the races get closer and closer every time," Swoboda said. "This [my gold medal in Milan] makes winning the title again even better."
Swoboda's victory secured his country a Paralympic spot, giving him some breathing room.
"I do not have to worry about the qualification anymore, and I can fully concentrate on my training," he said.
"The opponents do not rest and a lot of things can happen in one year," Swoboda added. "Being considered as the favourite brings along a lot of pressure, since I want to meet all expectations."
At the World Championships, McGrath and Rufino de Paulo were only split seconds apart in the second and third-place spots, with McGrath taking the silver. Swoboda finished just about a second ahead of them.
The test event in early September was more of an opportunity to get a first impression of the current conditions on-site.
His programme during his stay was also relaxed. With his hotel room having a view of the infamous Copacabana beach, Swoboda got a taste of what Rio 2016 will offer next year.
"I am not a big fan of sightseeing, but I am enjoying Brazil's culinary side, including Rio's large beef offer, which I love," he said. "This [Copacabana] is definitely one of the most beautiful spots in Rio."
The location is at sea level and the weather is pleasant, not too hot. …I heard that it is often very windy at Lagoa Stadium. However, the conditions will be the same for all competitors next year."
With under a year to go until the Paralympic Games begin, Swodoba knows he has to grind.
Last year's focus in practice was on endurance and aerobic conditioning. This season, he will concentrate more on speed and strength.
"My coach knows what I need to perform at my best in Rio and I leave the training planning to him," he said.
Tickets for the Rio 2016 Paralympic Games are now on sale for Brazilian residents. Overseas fans will be able to buy from authorised vendors in their countries.