Chippington continues golden run at Para-canoe World Championships
Germany's Tom Kierey wins his second gold medal.
22 Aug 2015
Imagen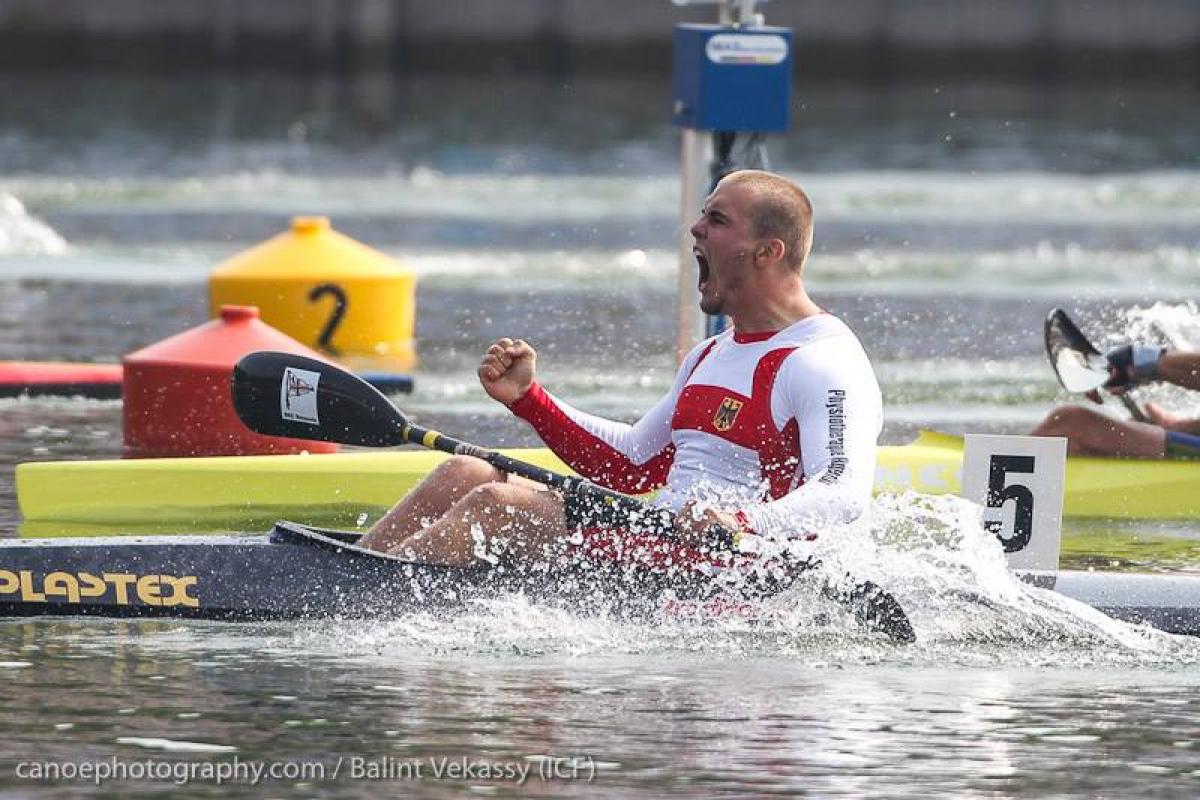 ⒸICF
By By International Canoe Federation
With a year to go to until the Rio 2016 Paralympic Games the heat is turning up on the pressurised world of para-canoeing. But whilst it gets tougher to stay at the top, Great Britain's Jeanette Chippington continues to keep ahead of the pack extending her Worlds medal winning to nine after winning the women's KL1 200m Final on Friday (21 August).
Beating the relative newcomer, Germany's Edina Muller by over a boat length, Chippington looked her usual composed self. But, having spent the past two days coming to terms with finishing the heats in the uncustomary second position, she admitted that underneath it had been a nerve-jangling experience.
"I am so relieved because that was a real tough one, the toughest so far," said Chippington afterwards.
"I was lying in second position after the heat and when you feel that World Championship medal is going to possibly slip through your grasp it puts a lot of pressure on you. I am so, so pleased to win today."
Previous to canoeing Chippington had amassed a stack of medals in para-swimming. But the years of experience do not lessen the pressure. And she knows that being the best mentally prepared athlete in the Rio Games next summer will go a very long way.
"We have a great team and all the backing so that is taken care of," she continued. "I will work on the end of my race and the mental preparation. In Rio the pressure is going to be up there so it's whoever handles it the best."
One of the athletes likely to challenge her for the gold in Rio is the fast improving German Edina Muller – Paralympic wheelchair basketball gold medallist in London - who took the silver in her first World Championships.
"This was my first really big competition," said Muller who had also won silver in this summer's European Championships. "And I got a little closer this time so maybe next time it will be gold. I don't know but I'm going to work on that.
"That's was my first World Championship. I trained all winter through the ice and snow and this is kind of the reward for that so it sounds really good."
Another German, Tom Kiery, had won a gold in the 2013 para-canoe Worlds kayak event but did not make the podium in 2014, confirmed his return to the top of the world in the Men's KL3 200.
"It's amazing and a great comeback from the last year when I was a little bit depressed," said Kiery, who finished in 39.270 seconds.
"This year we worked hard on the last hundred metres and on my body weight and now it works.
"The race was like a deep black tunnel but I only knew when I got close to the British guy after 100 metres that I had a chance to win and I did it."
Asked what is next he added, "You can ask everybody in the A final and we all want gold. We train for this medal and that's the next step."
Finishing second was Britain's Rob Oliver, who showed a big improvement over his fifth place in Moscow a year ago.
"This has been a fantastic year, my first year of being a 100 per cent full time athlete and I'm just glad it's paid off," said Oliver who gave a roar 20 metres from the line to spur himself on to his first sub 40 second performance..
"I won the Euros and to be second here is just massive progression," said Oliver. "Breaking 40 seconds today was a massive thing I wanted to do, this year's biggest goal. I put everything into it and now I feel like I've absolutely smashed it."
Australia added to its medal haul in its most successful para-canoe World Championships yet. Susan Seipel, who on Wednesday won her first ever Worlds medal, a bronze in the women's KL2 200m final, went two steps higher by capturing the KL2 200m title.
"It feels amazing to be World Champion and I was so happy to come over the line first," said Seipel, who beat Russian Nadezda Andreeva by over four seconds. "I haven't been working as much in the V as I have in the K so I'm so glad I got it.
"It's great to have so many medallists in the team and they're all so supportive so it's been a fantastic week."
Brazil had begun the week with medals and they ended with another today, Raiza Ribeiro Benivides finishing with bronze in the women's VL2 200.
"I've never been to a World Championships before and I'm very proud because I hadn't been training in this kind of canoe so to win a medal is much more than I expected," she said.
"I want to be a part of the Brazilian team in Rio next summer but I know that the level will be very high, so I will train as hard as I can now."
Results
Men's KL3 200m A Final
1.Tom Kiery (GER) 39.270
2.Robert Oliver (GBR) 39.739
3. Leonid Krylov (RUS) 39.784
Women's KL1 200m Final
1.Jeanette Chippington (GBR) 56.865
2.Edina Muller (GER) 57.513
3.Svitlana Kupriianova (UKR) 59.365
Women's VL2 200m Final
1.Susan Seipel (AUS) 59.916
2.Nadezda Andreeva (RUS) 1:04.289
3. Raiza Ribeiro Benivides (BRA) 1:05.536