Agitos Foundation camp a success in Mexico
Athletes and coaches go back home from Mexico City 2017 with more knowledge and great results
11 Dec 2017
Imagen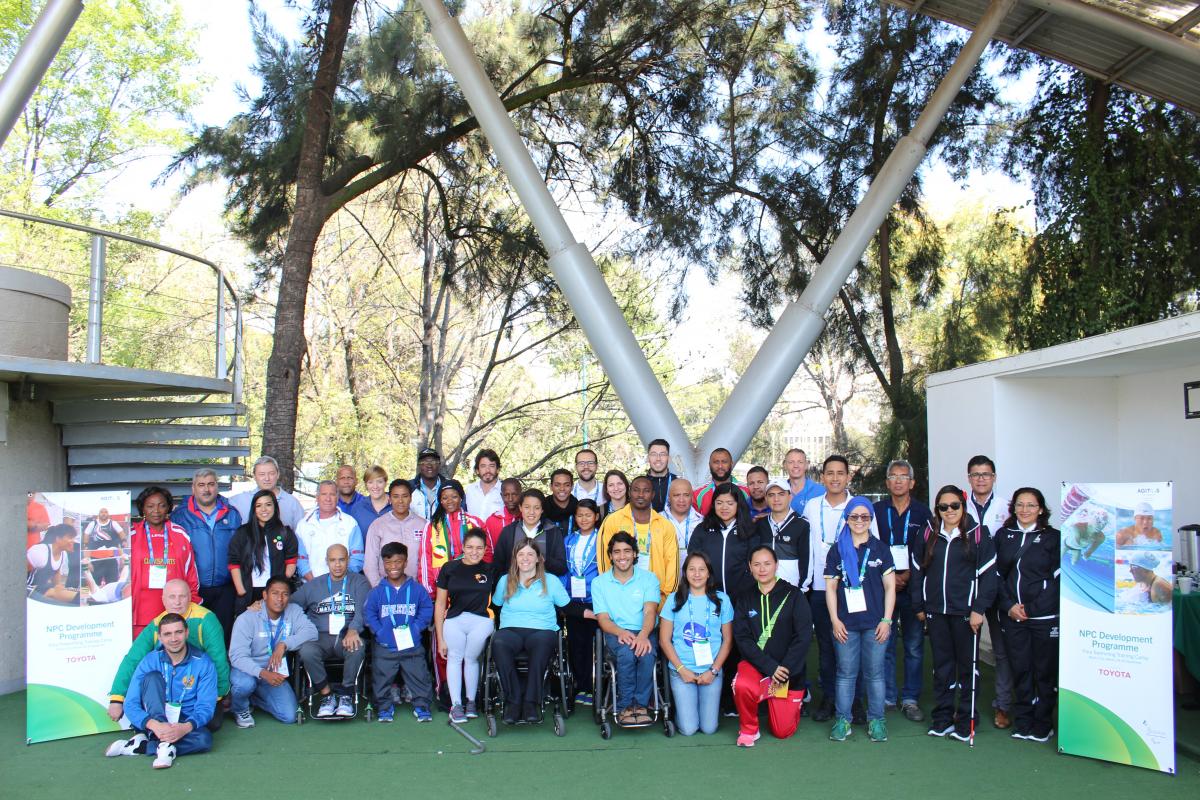 ⒸAgitos Foundation
By Agitos Foundation
"It was really refreshing to see in here so much good knowledge coming from the coaches. Everybody had something to offer and the idea that we share knowledge came though really well on the course"
The 2017 World Para Swimming and World Para Powerlifting Championships are over, but for some athletes and coaches the competition was also a great opportunity to develop themselves both on and off the field of play. Prior to the competition, from 26-28 November, they took part in the Agitos Foundation Mexico City 2017 Training Camp, an initiative to encourage worldwide representation amongst competing athletes.
The 3-day activities had 30 participants from 15 countries, who received support from the Agitos Foundation to compete in Mexico City. Para swimming had representatives from Dominican Republic, Ecuador, El Salvador, Kenya, Panama, Peru and Serbia, while Para powerlifting was represented by Armenia, Aruba, Azerbaijan, Benin, Guatemala, Lithuania, Republic of Congo and Tajikistan. Seven Mexican athletes and coaches have also joined the training camp.
In the morning sessions, athletes from both sports attended workshops led by Proud Paralympian leaders Arly Velasquez and Daniela Luchina, who talked to participants about the history of the Paralympic Movement, the Paralympic values, ethics and communications. In the second day, athletes also had the chance to learn about social media best practices with Russian-born Mexico-based Youtuber Ale Ivanova, one of the top influencers of the country with more than 1,5 million followers across all social media platforms.
Meanwhile, coaches had sport-specific sessions led by New Zealand's Para swimming National Development Coach Gary Francis, Malaysia's Kamaruzaman Kadir, World Para Powerlifting Head of Development, and Colombia's Para powerlifting educator Jenny Ortiz Cardenas. In the afternoons, athletes and coaches and educators gathered at the facilities the Mexican Paralympic Centre (CEPAMEX), where they could improve their technique.
Para swimmer Lourdes Alejandra Aybar Diaz, from Dominican Republic, was pleased to improve her knowledge and get knew advice on her swimming style. "I enjoyed a lot as there were many things I didn't know about the Paralympic Movement's history. And in the training sessions Gary made some observations about my stroke and showed how to improve it. I think all observations were pertinent and will be helpful when I'm back to my country", she said.
Aruba's Para powerlifting coach Parish Adolphus Richardson, went to Mexico City with 20 year-old Gregory Chong, who finished 20th in the men's up to 80kg. "Gregory is my first athlete with an impairment and this was a big step, because he took me to a limit that I didn't know before. I feel proud and grateful for being at the training camp and when I am back to Aruba I'll immediately start recruiting new other athletes."
Beyond the acquired knowledge, some of the participants were able to take some great results home. Ecuador's Para swimmer Belen Garcia won bronze in the Women's 100m Breaststroke SB9, while Mexicans Matilde Estefania Alcazar Figueroa (gold in the 100m Freestyle S11, silver in the 100m Breaststroke SB11 and bronze in the women's 100m Backstroke S11) and Nancy Nayely Lomeli Santos (gold in the women's 50m Butterfly S6) completed the Agitos Foundation Training Camp's medal table. In Para powerlifting, Azerbaijan's Elshan Huseynov also had a great result, finishing fourth in the men's up to 107kg.
Para swimming educator Gary Francis said: "It was really refreshing to see in here so much good knowledge coming from the coaches. Everybody had something to offer and the idea that we share knowledge came though really well on the course.
"It was also good to understand the difficulties that some of the coaches and countries have in terms of facilities, equipment and training environments and understand some of the things they have to overcome. I feel quite invigorated and positive about what I saw when they left the room for the last time today."
The Agitos Foundation Mexico City 2017 Training Camp is part of the NPC Development Programme, which aims to build capacity within National Paralympic Committee's around the world. Supported by the IPC's Worldwide partnership with Toyota, the programme will run until 2024 and will reach over 140 countries, aiming to strengthen the capacity of NPC's and create a sustainable impact on the growth of the Paralympic Movement.