Singapore hosts Para athletics and Para swimming technical courses
NPC Development Programme delivers first courses to coaches and classifiers in Southeast Asia
07 Dec 2017
Imagen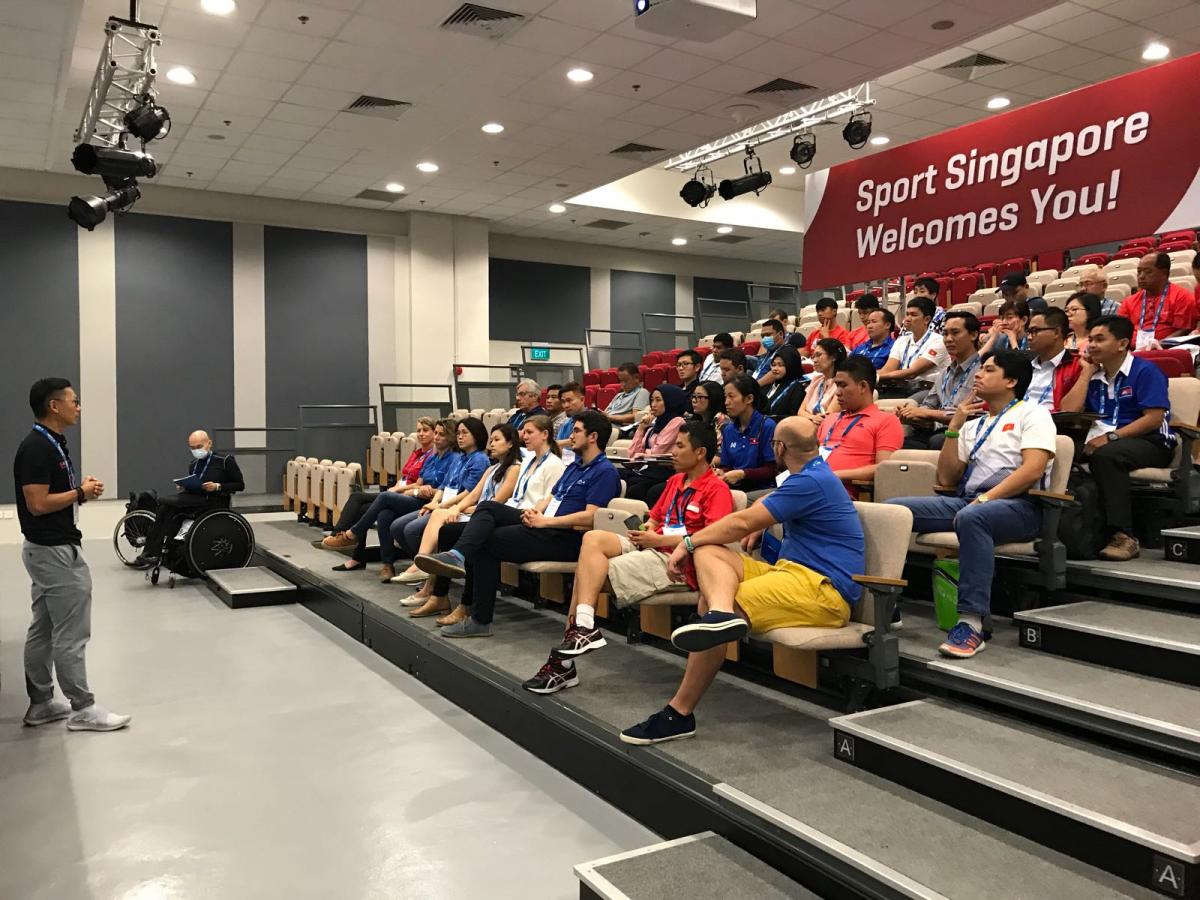 By Agitos Foundation
"These workshops play an integral role in the enhancement and strengthening of required sports technical skills and knowledge, and to equip representatives with the necessary experiences to contribute in an impactful way to the development of para sports back in their respective countries and to the region as a whole."
A total number of 50 classifiers and coaches from 12 Asian countries attended the Para athletics & Para swimming Sport Technical Courses: Agitos Foundation Sessions, hosted in Singapore from 25-27 November and 5-7 December.
Throughout the workshops, held in the Singapore Sports Hub, participants from Brunei, Cambodia, Hong Kong, Laos, Malaysia, Mongolia, Myanmar, Philippines, Vietnam, Thailand, Timor-Leste and hosts Singapore had chance to enhance their skills and knowledge.
Three courses happened simultaneously from 25-27 November: Introduction to Para Swimming Coaching, World Para Swimming Level 2 Classifier Course and World Para Athletics Level 2 Classifier Course. The second part of the programme, with the Introduction to Para Athletics Coaching course, was held from 5-7 December. All activities were delivered by the Agitos Foundation in partnership with Sport Singapore and the Singapore National Paralympic Council.
Kevin Wong, chairman of the Singapore National Paralympic Council, said: "These workshops play an integral role in the enhancement and strengthening of required sports technical skills and knowledge, and to equip representatives with the necessary experiences to contribute in an impactful way to the development of para sports back in their respective countries and to the region as a whole."
Kim Por Kerk, director at Sport Singapore, said: "We would also like to express our sincere gratitude to the International Paralympic Committee (IPC) and the Agitos Foundation for the meaningful partnership over the years. This has allowed us to deliver and host these courses on your behalf in Singapore for all friends of the Southeast Asian Nations."
These are the first workshops in the region funded by the NPC Development Programme, which aims to build capacity within National Paralympic Committee's around the world. Supported by the IPC's Worldwide partnership with Toyota, the programme will run until 2024 and will reach over 140 countries, aiming to strengthen the capacity of NPC's and create a sustainable impact on the growth of the Paralympic Movement.