IPC and Agitos Foundation handover #FuerzaMexico donation to UNICEF
Fundraising campaign raised USD 40,000 to support the humanitarian efforts in Mexico
09 Dec 2017
Imagen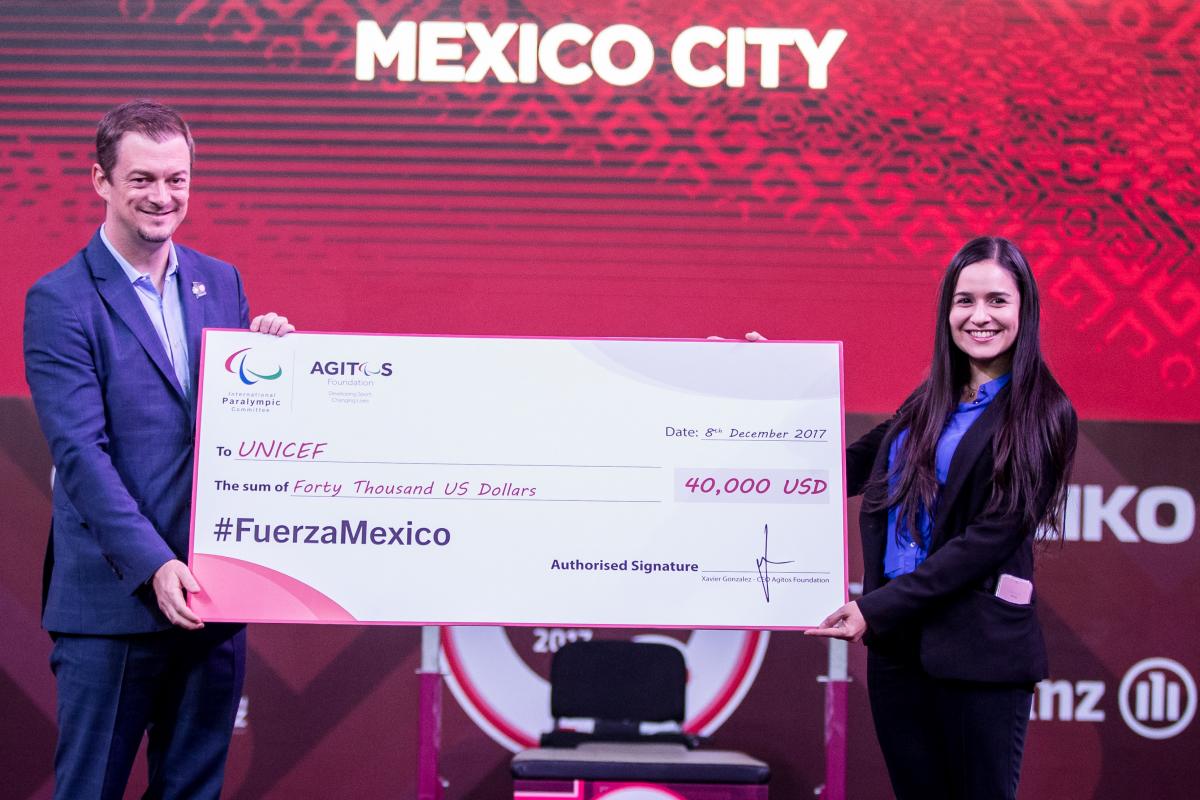 ⒸDaniel Zappe/MPIX/CPB
By IPC
The International Paralympic Committee (IPC) and the Agitos Foundation made on Friday (8 December) the official handover to UNICEF Mexico of a cheque for USD 40,000 from the #FuerzaMexico fundraising campaign launched to support UNICEF humanitarian efforts in the country following the earthquake in September near Mexico City.
The handover took place during the final day of the World Para Powerlifting Championships in Mexico City. IPC president Andrew Parsons presented the cheque to UNICEF Mexico Early Childhood Development Officer Jimena Lazcano.
#FuerzaMexico received donations from the IPC´s international partner Allianz, the IPC, National Paralympic Committees and World Para Swimming partner SWANS. People from all over the world have also made contributions to the fundraising campaign.
Parsons said: "The #FuerzaMexico campaign was launched after a number of members within the Paralympic Movement asked how they could support the relief efforts in Mexico following the postponement of the World Para Powerlifting and the World Para Swimming Championships due to the earthquake.
"I would like to thank the NPCs, our partners and everybody that has committed to our fundraising campaign. I would also like to thank Allianz for the support and the sizeable donation made to #FuerzaMexico. The whole Paralympic Movement united to support Mexico and once again we have seen the strength and resilience of the Mexican people to deliver two amazing World Championships.
"UNICEF has been an important partner in this campaign and has worked tirelessly since the first moments to ensure those affected by the September quake received the necessary assistance. We know that there is still a lot to be done and we are really proud the Paralympic Movement can make a contribution to UNICEF's work."
Lazcano added: "Since the earthquake we have seen an impressive demonstration of solidarity from and with the Mexican people. For UNICEF it is really important to make alliances to be able to attend those who need support, especially children. The IPC and the Agitos Foundation have shown how we can best join forces during difficult times."
ESPAÑOL
IPC y Fundación Agitos entregan donación #FuerzaMexico a UNICEF
Campaña recauda 40.000 dólares estadounidenses para apoyar los esfuerzos humanitarios en México
El Comité Paralímpico Internacional (IPC) y la Fundación Agitos realizaron este viernes (8 diciembre) la entrega oficial a UNICEF México de un cheque por 40.000 dólares estadounidenses de la campaña de recaudación de fondos #FuerzaMexico lanzada para apoyar los esfuerzos humanitarios de UNICEF en el país luego del terremoto en septiembre que afectó a la Ciudad de México.
La entrega se llevó a cabo durante el último día del Campeonato Mundial de Para Powerlifting en la Ciudad de México. La competencia debió reprogramarse para diciembre debido al terremoto. Andrew Parsons, Presidente del IPC, presentó el cheque a Jimena Lazcano, oficial del Fondo de las Naciones Unidas para la Infancia (UNICEF) de UNICEF México.
#FuerzaMexico recibió donaciones realizadas por Allianz, patrocinador internacional del IPC, el IPC, Comités Paralímpicos Nacionales y SWANS, patrocinador de World Para Swimming. Personas de todo el mundo también realizaron contribuciones para esta campaña.
Andrew Parsons dijo: "La campaña #FuerzaMexico fue lanzada luego de que un número de miembros en el Movimiento Paralímpico preguntaran cómo podían apoyar los esfuerzos humanitarios en México luego de la postergación de los Campeonatos Mundiales de Para Powerlifting y Para Natación como consecuencia del terremoto.
"Deseo agradecerle a los Comités Paralímpicos Nacionales, nuestros patrocinadores y todos aquellos que se hayan comprometido con nuestra campaña de recaudación de fondos. También me gustaría agradecerle a Allianz por el apoyo y la considerable donación que realizó a #FuerzaMexico. Todo el Movimiento Paralímpico se unió para apoyar a México y una vez más hemos visto la fortaleza y la resiliencia del pueblo mexicano para llevar a cabo dos grandes Campeonatos Mundiales.
"UNICEF ha sido un socio importante de esta campaña y ha trabajado sin descanso desde los primeros momentos para asegurar que los afectados por el terremoto de septiembre reciban la asistencia necesaria. Sabemos que todavía hay mucho por hacer y estamos orgullosos de que el Movimiento Paralímpico pueda hacer una contribución al trabajo de UNICEF".
Jimena Lazcano añadió: "Desde el terremoto hemos visto una impresionante demostración de solidaridad para con el pueblo mexicano. Para UNICEF es realmente importante realizar alianzas para apoyar a aquellos que lo necesitan, especialmente a los niños. El IPC y la Fundación Agitos han demostrado cómo podemos unir fuerzas durante momentos de dificultad".