Al Ain 2022: Claudia Kunz-Inderkummen dreams of gold to inspire young athletes
Switzerland's vsion impaired shooter wants to celebrate her birthday with a medal during the World Championships in UAE
04 Nov 2022
Imagen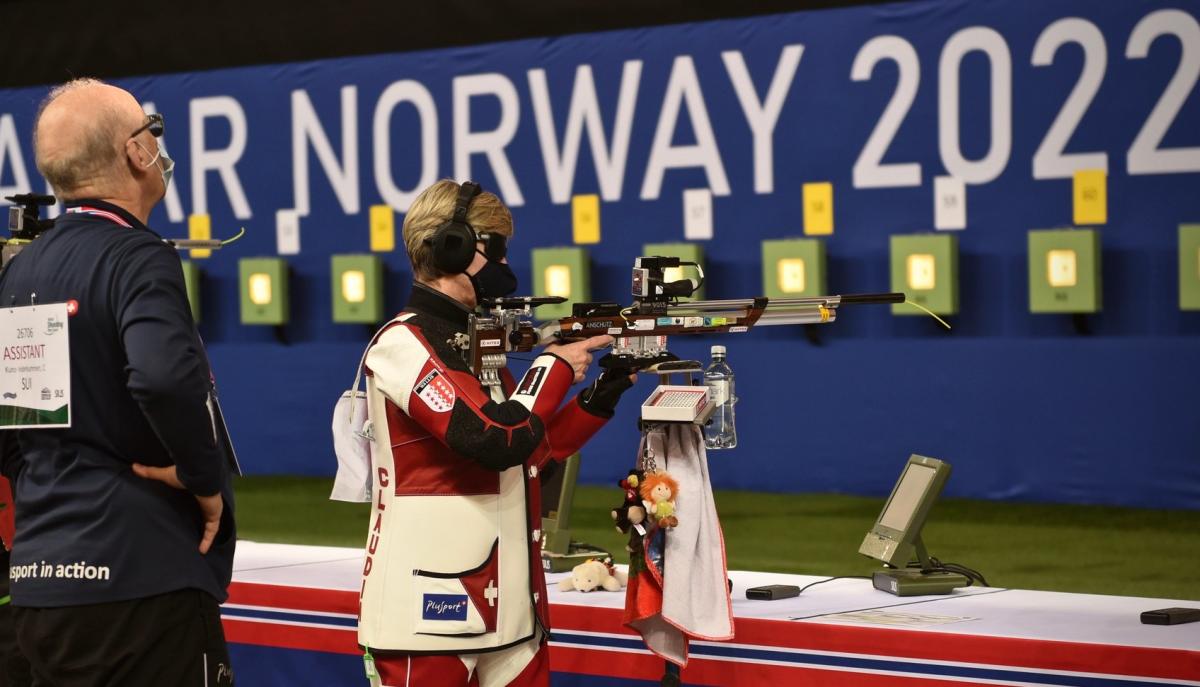 ⒸAudun Klette/LOC
By Josephine Struckmeier | For World Shooting Para Sport
Only shadows and light are what Claudia Kunz-Inderkummen can see when she opens her eyes. Nevertheless, she never let it stop her pursuing the dream of becoming an athlete. In fact, the Swiss still surprises people when they hear the sport she chose to compete in: shooting Para sport. 
Vision impaired shooting became part of the Shooting Para Sport World Championships in Sydney, Australia three years ago. Athletes use air rifles to shoot at a target
10 meters away. An audio signal guides their aiming and the pitch of the signal gets higher as the aim gets closer to the centre of the target. 
Athletes also have to wear blackened glasses, which are completely dark, to ensure fair competition. The introduction of the glasses represented a heavy change for Kunz-Inderkummen.
"It was a huge psychological problem, because the glasses showed me how it is to be completely blind. A situation that could be a permanent condition for me, as I don't know how my eye illness is about to develop," she said. 
From football to shooting
At the age of 33, Kunz-Inderkummen was diagnosed with macular degeneration, an eye condition that causes a loss of central vision. When she was younger, she was a professional football coach in Switzerland and trained teams up to the third league. After her eye condition got worse, she decided to pursue a completely different kind of sport.
 "I once noticed that I couldn't see the ball anymore, so my time as a football coach clearly was over. By a coincidence I got into shooting Para sport and stayed there. I did not want to find a Paralympic form of football, I wanted to start something completely new," she said, still emotional recalling her career start.
Now a successful athlete, she will be in competing in two events at this year's World Championships in Al Ain, United Arab Emirates which kicks off on Sunday (6 November), the VIP - mixed 10m air rifle prone SH-VI and the VIS - mixed 10m air rifle prone SH-VI.
There in Al Ain, she hopes to celebrate her birthday with a medal. The preparations to the World Championships had a strict training programme including with a few changes. 
"I noticed at the Shooting Para Sport World Cup in Munich that I had a few issues with my posture, so we had to do a few adjustments. Now I'm including them into my training routine and prepared to Al-Ain," she said. 
Inspiring newcomers
The Swiss is also strongly committed to nurturing young talents. By offering open trainings in her home canton Wallis or publishing news about the sport through the press, she shares her passion for shooting Para sport with potential newcomers. 
Vision impaired shooting is not part of the Paralympic Games programme, but Kunz-Inderkummen hopes one day it will be.
"I'm 58 years old, so I will never attend the Paralympic Games. But I wish all young blind shooting athletes to get that chance," she added. 
The Al Ain 2022 Shooting Para Sport World Championships will be livestreamed on World Shooting Para Sport Facebook page. Live results will be available here.
You can follow all the action and behind the scenes on World Shooting Para Sport social media channels on Instagram and Twitter.