Algeria's Khemgani helps make African history
Wheelchair basketball's Djamila Khemgani helps a continent make Paralympic history.
10 Sep 2016
Imagen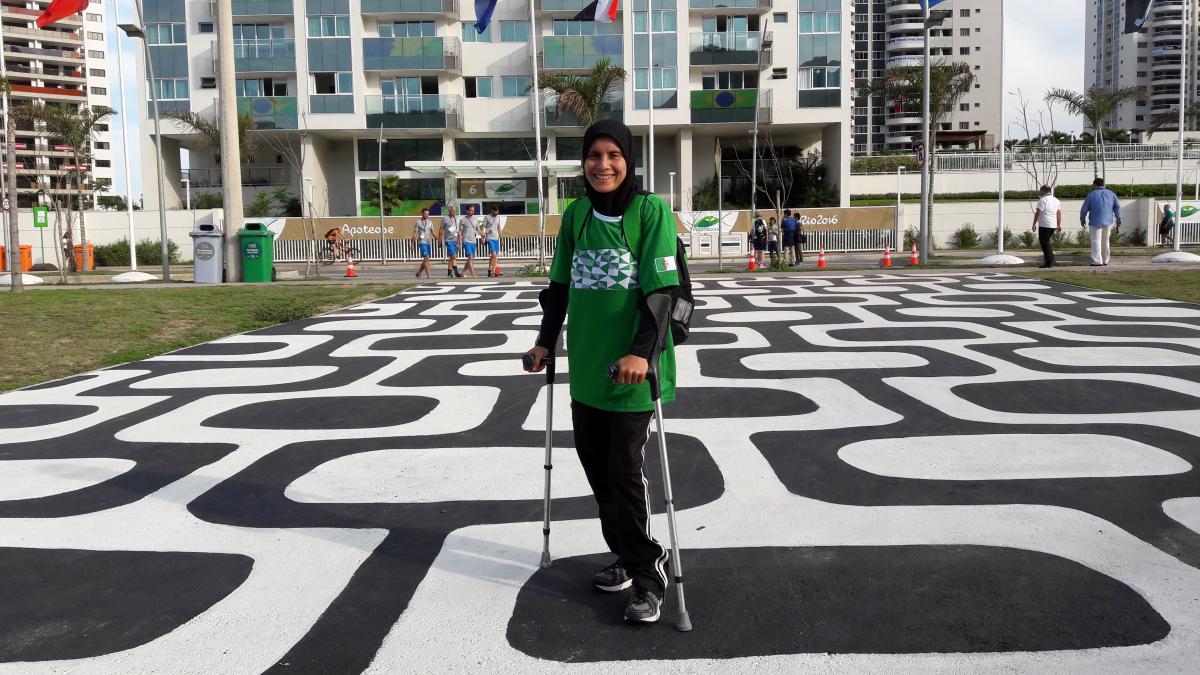 ⒸIPC
By IPC
Djamila Khemgani grew up playing wheelchair basketball with guys in Algeria – because there were no women's teams to play in.
She did something about it.
After helping form a national team in Algeria, and bringing together three other nations to compete in an African Championships, Khemgani's efforts paid off.
At Rio 2016, Algeria is making history as the first African women's wheelchair basketball team playing in a Paralympic Games.
"It's a dream," Khemgani said about being in Rio.
Her coach Mohammed Tahar added: "Playing in an African Championship was a dream. And going to the Games was bigger."
Khemgani got a polio injection when she was very young, but something went wrong with the procedure. She suffered a fever and lost the feeling in her legs.
She started playing wheelchair basketball when she was 15 years old after a coach suggested she try the sport.
But when she joined a team, she was the only girl on it.
"Of course it is a challenge for women, because it's a country where it's hard to convince women to play because they are expected to do other things," Tahar said.
When asked how she got the courage to join a men's wheelchair basketball club, Khemgani laughed.
"I grew up playing with males," she said. "So it made no difference.
"For me it was very easy to accept and go for it because when I was young I always played with the boys. So when I was invited to play wheelchair basketball with them it was normal."
For the first time last October, the International Wheelchair Basketball Federation (IWBF) Africa Zonal Championships hosted a women's competition in Algiers, Algeria. It featured four teams: Algeria, Morocco, Nigeria and South Africa.
Algeria defeated South Africa for the gold, earning a qualifying slot at Rio 2016.
So far, Algeria is 0-2 in pool play at Rio 2016. They lost to China on Thursday (9 September) 88-16, and 107-29 against the Netherlands on Friday. Khemgani led her team in scoring in both games.
"The team knows it is going to be difficult," Khemgani said. "But our objective is to finish eighth."
Rio 2016 marks the first time the IWBF will have women's teams representing all four of their zones at the Paralympics – quite a change considering the women's event was added to the Paralympic programme at the 1968 Tel Aviv Games.
Much of that achievement can be put down to Khemgani's initiative.
"Her biggest contribution was to talk to females to play basketball," Tahar said. "When they had eight teams to form a tournament, that was when the federation looked at them and decided 'OK, they're strong, let's make the national team'."
"Come watch and see why she is the captain," Tahar said.
"She has the most experience. It was her mission to fight to have a team. I wanted to have a women's Algerian team and she was influential. From 1997 she has been playing with men and since then has been trying to form a women's team. She helped form the national team, and so she deserves to be captain."
Algeria picks up pool play against France at 17:30 (BRT) on Sunday (11 September) at the Rio Olympic Arena.