Ammar Ali finds peace in wheelchair fencing
Despite difficulties Iraq's Paralympic medallist stays true to his home
20 Nov 2018
Imagen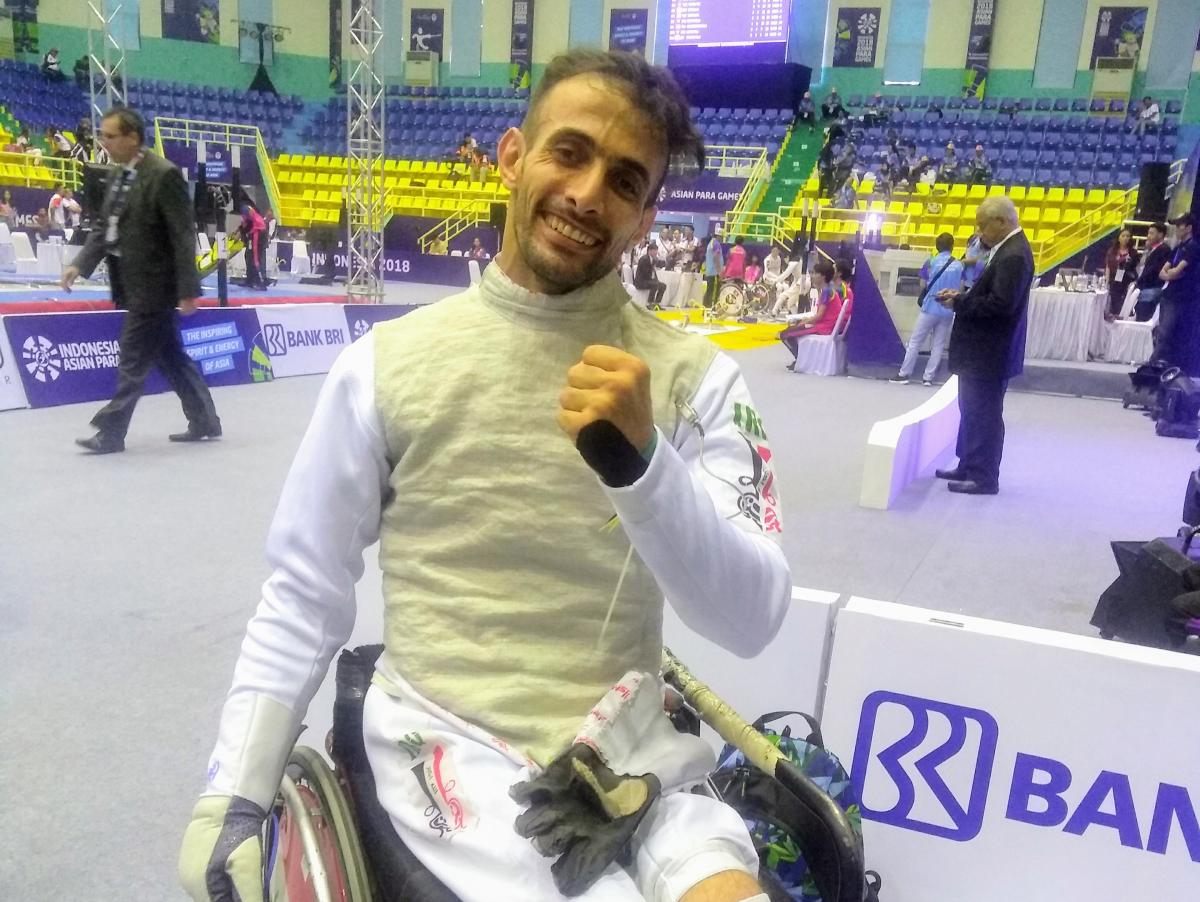 ⒸAsian Paralympic Committee
By Asian Paralympic Committee
"Problems still persist in Baghdad. There's bomb-blast happening and one is not always safe. But I have always stayed here and this is my home"
Ammar Ali vaguely remembers the incident of 23 March, 2007 that changed his life completely. Eleven years later, the memories might be fading but the trauma is still fresh.
A bomb blast near his home in Baghdad left him paralysed affecting both his legs — it had damaged his spinal cord forcing him to use a wheelchair ever since.
Ali, Iraq's first Paralympic medallist, admitted that life is difficult in a wheelchair especially in the war-torn Baghdad, where one's life is at potential danger every now and again.
But he is trying to find happiness and peace through his achievements in wheelchair fencing.
At the Wheelchair Fencing World Cup in Georgia recently, Ali clinched a gold medal in the men's epee category B event and in doing so, he also qualified for the Tokyo 2020 Paralympic Games.
This was his first gold medal in the season following his silver-medal show at the Indonesia 2018 Asian Para Games.
"I am obviously very happy to win a gold and that too in the first qualification tournament for Tokyo 2020. The competition was good and it's a special medal as this is my first gold this season," the 33-year-old said.
"Now I will prepare for the World Cup in Kyoto, Japan. A decent performance at Kyoto will put me in good stead for the Tokyo Paralympics," the former world champion added.
"All these moments bring me joy, peace and happiness. It also makes me feel proud and thankful to God for this life. But I know this cannot change everything," said Ali, who proved too strong for British world champion and world no. 1 Dimitri Coutya winning it 15-10 in the final.
Ali also moved to the third place in the world rankings, the only Asian in the top-10 of epee category B table following his gold medal show in Georgia.
Back to carpentry
On his return from the World Cup, Ali is back in normal life routine now.
He used to work as a carpenter before the incident back in 2007, and is happy to still practice it but his areas of work have changed.
"I used to work in the ceilings and now I do miniature carpentry. I work in furniture and doors and also own a workshop. I do this for my living and happy that I could continue doing despite the circumstances," Ali said.
Ali said he never played any sport before taking up fencing. And fencing happened "by chance" while he was recovering from the injury back in 2008.
"It was on recommendation that I tried it out. When I was doing my physiotherapy in Baghdad, some of the members of Al-Thura Sport Club came to us and told us there were games for the disabled," he said.
"They chose me because I have good physical characteristics for this game like long arms. I also liked it at first instance," recalled Ali.
Now, Ali and the Iraqi fencers have a training place in Baghdad. But situation is not always normal in the war-torn city.
"Some days we train for three and other days for six hours depending what our coach [Raheem Al-Furaiji] plans. We mostly train in Baghdad and before major events like Paralympics, Asian Para Games and World Championships we train overseas.
"Problems still persist in Baghdad. There's bomb-blast happening and one is not always safe. But I have always stayed here and this is my home. So, it's okay for me.
"Life is difficult for one in a wheelchair here but I am managing things and trying to live a normal life. Thankfully, I can get some peaceful moments through fencing," added Ali
Unforgettable Rio
Just four years after he took up the sport for the first time, Ali made his Paralympic debut at London 2012 where he placed sixth in individual epee.
It was not long before he made a mark at the 2013 Wheelchair Fencing World Championships and 2014 Asia Championships taking the silver and bronze medals, respectively.
A year later, he became the world champion and won the Asian Championships in individual epee category B to qualify for the Rio 2016 Paralympic Games.
Among Ali's important awards and medals is also the BP Courage Award he received at the Paralympic Awards last year in Abu Dhabi.
It was a prize for his determination to persevere and excel despite the adversity that the Iraqi conflict has brought. But also a consequence of Ali's history-making moment at Rio 2016, when he won Iraq's first Paralympic medal.
"That was the most memorable moment of my career, the silver medal. It is every player's dream and I got it after overcoming a lot of pain and challenges. So, it's special," Ali said.
"Now my dream is to go out to Tokyo and get a gold medal," he added.