Angélica Bernal envisions growth of wheelchair tennis in Colombia
The 25-year-old reached the top 10 in the world rankings while she introduces dozens of kids with disabilities to wheelchair tennis
26 Apr 2020
Imagen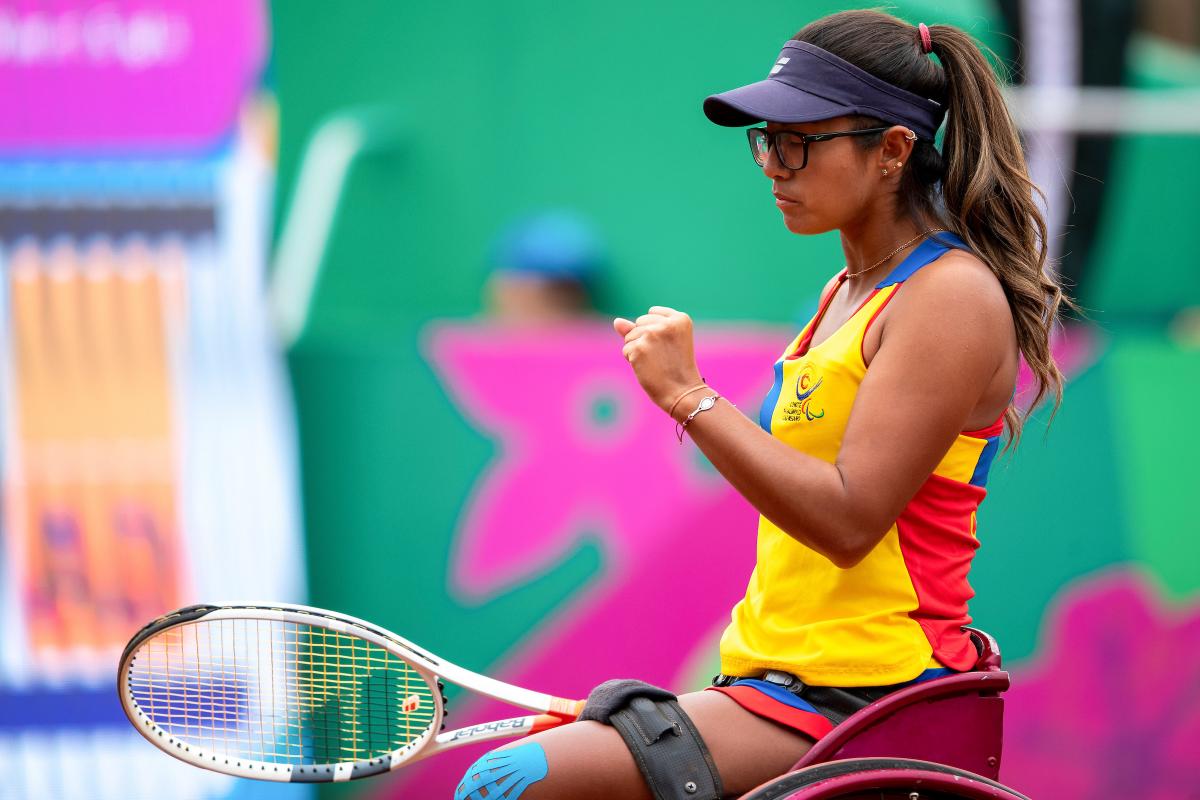 ⒸLima 2019
By Santiago Menichelli | For the IPC
Colombian Angélica Bernal is as generous in her efforts on the court as she is off it to get more and more kids with disabilities to embrace wheelchair tennis.
"After winning a few tournaments, we came up with the idea for me, my parents and coaches to give more children with disabilities the opportunity to play wheelchair tennis. There were no children or women playing until then. The idea was to encourage and strengthen the sport. That's why we started Semillas sin Barreras," she said.
Bernal knew that it was not enough to be a pioneer in her country. It was necessary to get down to work, and that's what she did.
For a decade now, her tennis school has been teaching wheelchair tennis to children and teenagers with disabilities. At first, Bernal herself, accompanied by her father and her coaching staff, gave the lessons. But the demands of the circuit forced them to hire a teacher to replace them, a resource that for some time now has been provided by the District Institute of Recreation and Sport (IDRD) of Bogota.
Bernal has planted seeds for wheelchair tennis to flourish in the South American nation. "The idea is to continue forming a seedbed for Colombian tennis. Every time I am in Colombia, I accompany the children and the coach and play with them."
"It is important to be an example for many people with disabilities who see that they do not have many options in life, to show them that they are very capable of fighting for their dreams, of representing a country. With work, discipline and determination, many things can be achieved.
"All the wheelchairs I've left are for them. We get them rackets too. Everything we can do is for them."
Some of the kids who learned to play with Bernal are now considered the future of the sport in Colombia. "Some of them have represented us as part of the Colombian junior team and the Bogotá team in the Para National Games," she said proudly.
WORKING FOR SPORT
The Colombian tennis player studies international relations and political science. 
Bernal's goal when she finishes her wheelchair tennis career is clear: "I want to work in some international or Colombian organisation for Paralympic sport and for the sport of my country."
Wheelchair tennis will grow in Colombia once more children can feel the same way as her. "Tennis is what makes me happy; it is my job, but also my hobby and what I enjoy doing most. I have been able to travel and help many more people."
NUMBER 1
Bernal enters the court with a white tip, elegant look and a shiny hairstyle. Once the match begins, the Colombian will fight each ball fiercely. She claims to have learned that from her hero Maria Sharapova. The Russian tennis player "has been my idol because of her passion in every match. She showed that you can be delicate and look good but still give it all."
She also wants to follow Sharapova on the path to success and become the best on the planet. "Since I started, my dream is to be number one in the world. I still need a little more preparation and competition against the best in the world."
Bernal warns that "tennis is one of the most complete sports because you have to be very good physically to withstand a three-hour match, but you also have to be very intelligent to face each point and have impressive mental strength to be constant throughout the match."